Meet Arvind Krishna, IBM's first 'geek' CEO as Big Blue drives into the cloud era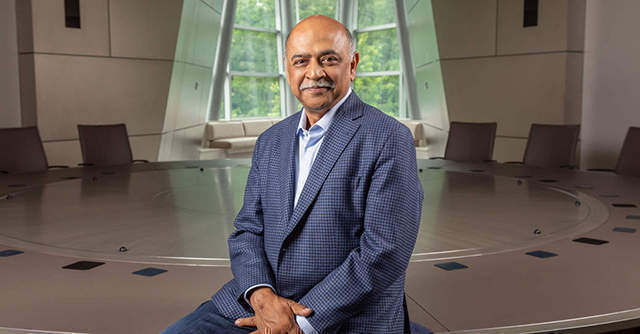 A few months shy of completing his third decade as an IBM employee, Arvind Krishna is now part of the elite club of Indian-origin CEOs at the helm of global technology companies.
Krishna, an alumnus of IIT Kanpur who takes over from outgoing CEO Ginni Rometty in April, joins the ranks of Sundar Pichai, CEO of Google parent Alphabet, Microsoft CEO Satya Nadella and Shantanu Narayen, CEO of Adobe.
Soon after IBM announced Krishna's election to the CEO's post, Amit Somani, managing partner at venture capital firm Prime Venture Partners and a former IBM executive who worked with Krishna, tweeted, "Having worked for Arvind at IBM Research and then Software Group, I can attest he's the first geek CEO ever in IBM's history."

Krishna, 57, joined Armonk-headquartered IBM in December 1990 and worked through a myriad of roles for the first 18 years. This included research work on the initial Watson computers (Watson, now an AI-based computer system was officially launched in 2010 as a Q&A computer) and managing the database/warehouse products for the company. He subsequently went on to leadership roles in the information management software function and the development and manufacturing of the systems and technology group.
Prior to the elevation to the CEO's post, Krishna's last few roles were all in key cloud verticals within IBM apart from his role in the development of the cloud-based AI-platform Watson. In 2015, he was elevated to the post of senior vice president, director of research, and in 2017 he was also made senior vice president of the hybrid cloud.
He assumed the role of senior vice president cloud and cognitive software early last year, just months after he played a pivotal role in IBM's acquisition of open source software provider Red Hat for a record $34 billion. It was the 109-year old technology giant's biggest ever acquisition, aimed at accelerating Big Blue's strategy for a world now increasingly dominated by cloud computing.

Read: Will the $34 billion Red Hat buyout boost IBM's cloud business?
In today's rapidly evolving technology landscape, a deep understanding of emerging technologies in a cloud-centric world has become essential to successfully run many of these technology companies. At Microsoft, under Nadella, the Redmond-headquartered technology company's adoption of cloud and open-source has helped the company to become a trillion-dollar revenue firm, despite being late to the cloud party.
Today, despite Amazon Web Services (AWS) having a head start in the cloud market, Microsoft's Azure is increasingly being preferred by large enterprises.

The same goes for Adobe. Narayen transformed the San Jose, California headquartered company by taking the PDF and Photoshop platforms to the cloud, helping the company to grow rapidly since he took charge in 2007.
Like Nadella and Narayen, Krishna's deep domain expertise has been a crucial factor in his elevation to his latest role. "He is a brilliant technologist who has played a significant role in developing our key technologies such as artificial intelligence, cloud, quantum computing and blockchain," Rometty said in a statement on Thursday.
It is famously known that under Krishna's leadership as director of research, IBM trained Watson on ProjectDebater. The AI bot was able to debate live against professional debating champions from Europe and Israel on a host of topics at IBMs Think 2019, which Krishna hosted.

It is also noteworthy that IBM was at the top of the heap in terms of US patents in 2018 at a record 9100 patents. More than 3000 of these were related to work in AI, cloud and quantum computing, areas in which Krishna is said to have worked extensively within IBM.
The combination of Krishna and Red Hat senior vice president and CEO James Whitehurst, who was simultaneously elected to the IBM board as president, gives the technology giant what looks like a winning combination of a seasoned Big Blue executive and an open source expert, who will together co-lead IBM into the next era.
For now, the CEO-elect has some big shoes to fill. Rometty, who will continue to serve as executive chairman till the end of the year when she retires, was responsible for reinventing 50% of IBM's portfolio, building a $21 billion hybrid cloud business and establishing IBM's leadership in AI, quantum computing and blockchain.

On the flipside, Rometty's aggressive strategies did not help the IBM stock much and its market capitalization is currently half of what it was when Rometty took charge about eight years ago. It was at around $220 billion when Rometty was elected CEO in 2012 and now stands at $121 billion.
Geek CEO or not, Krishna has his work cut out for him in terms of taking IBM back to its better performing days.
---