Recently launched entrepreneurship platform Propel aims to raise a $7 million or Rs 50 crore fund to invest in early stage technology startups, a senior company official told TechCircle.
Propel was launched with a $3.5 million fund, backed by Nivasoft, an information technology services firm based in New Jersey. Propel promoter Srinivas Moramchetty is the founder and president of Nivasoft.
Propel is now in discussions with HNIs (high-networth individuals) and NRI (non-resident Indian) investors to raise another $3.5 million by the first quarter of next year, Moramchetty said.
"We are just getting started with Rs 25 crore funds. My idea primarily is to not look at any institutional investors, but to engage with HNI and NRI investors as first option, tapping my networks and connections in the US. We will raise a total of Rs 50 crore and that will give us adequate breathing space," he said.
Propel plans to invest up to Rs 2 crore in seed stage companies. Though sector agnostic in approach, the fund will have a heavy focus on artificial intelligence, data, machine learning, deep tech, sports-tech, health and education.
Moramchetty said the fund will work with founders on many fronts beyond funding, including idea validation, mentorship, legal assistance, go-to-market strategy, cross border support, and industrial connections to help them grow faster. It will also help startups with connections to venture capital firms, branding and digital strategy, marketing, and sales strategy assistance.
Propel is currently evaluating startups and capital disbursements are expected to start in three months. It plans to fully deploy the Rs 25 crore fund by the end of this year before looking at the next set of investments from the follow-on tranche.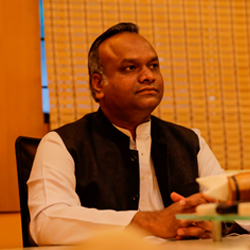 The fund has set up an advisory board consisting of policy makers and technology veterans. Notably, Congress legislator and former Karnataka IT minister Priyank Kharge has joined the fund as an advisor. An active policy maker and startup evangelist, Kharge set up several entrepreneur and innovation initiatives as the state's IT minister including Karnataka government-sponsored startup pitch event Elevate.
"I have interacted with more than 500 startups one-on-one and heard many stories on why they fail. Even as a minister, the only thing I was doing was to provide tools to succeed. Post my ministerial stint as well, startups continue to reach out to me for assistance. I decided to join Propel in an advisory role to use my experience and learnings to help shorten the learning curve for startups," Kharge told TechCircle.
Apart from Kharge, Propel's advisory panel includes Saravana Mani, head, open innovation, Future Group; Vishal Verma, managing partner at Edgewood Ventures; and Shrenik Dagli, head of technology at QBE North America.
With the significant industry connections of its advisor and mentor community, Propel aims to open global doors for its portfolio companies, especially to the North American and European markets.
"Our efforts are to take our startups to global markets. We want to help them build world-class products and services. We have enough resources and connections outside India, so the idea is to take our startups to international markets and accelerate their growth," Moramchetty added.
---