More than 900 million Indians, or about 64% of the population, will be online by 2023, networking major Cisco said in its annual internet trends report.
In about three years, India will outpace the rest of the world in terms of growth in internet users, the report said. Between 2018 and 2023, the number of internet users is expected to increase at a 7% compounded annual growth rate.
The country will also witness a higher number of mobile users at 966 million during the forecast period, growing by 26%.
As of 2018, the country had 398 million internet users, about 56% of the population.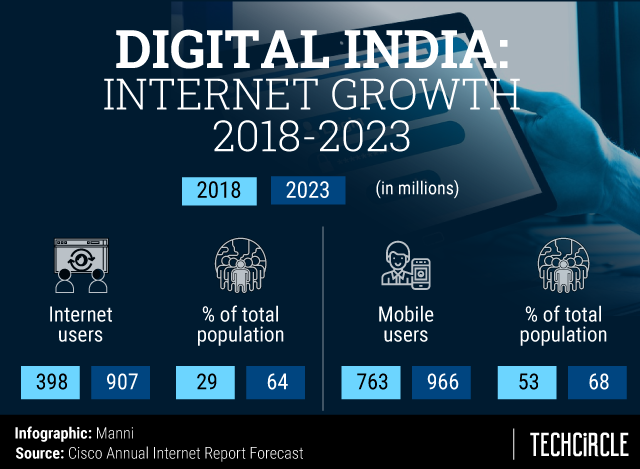 Globally, internet users will increase to 5.3 billion by 2023 compared to 3.9 billion in 2018.
The rise in internet usage will be led by faster Wi-Fi connections, machine-to-machine (M2M) applications and 5G technology.
In India, M2M connections, which include smart meters, video surveillance and healthcare monitoring, will constitute 25% of the total devices and connections. Smartphone devices will reach 781 million in 2023 compared to 611 million in 2018, while Wi-Fi connections will reach 6.99 billion, higher than 360 million.
Demand for newer apps will fuel internet adoption, the report said. App downloads are expected to double to 46.20 billion by 2023, with the most being in social networking, video streaming, business productivity, ecommerce and gaming segments.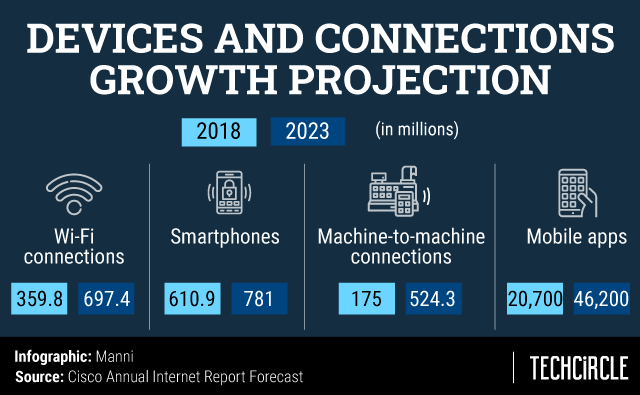 The rise in mobile apps is likely to come from yet-to-be-launched 5G technology in India, which is pegged at 67 million by 2023. India will also witness a two-fold jump in 4G connections while 3G and below connections will be 38.7% of total mobile connections.
"As digital literacy, mobile penetration, and internet connectivity grow deeper into the hinterland, a massive shift will be created in internet usage and consumption patterns across the country. This rise in connectivity and changing consumption patterns will challenge service providers' ability to service their customers in an optimal manner," Anand Bhaskar MD at Cisco India and SAARC region, said.
According to the Internet and Mobile Association of India (IMAI), India has 451 million active monthly internet users, second only to China. While India has an equal number of urban and rural active internet users, states like Punjab, Himachal Pradesh, Kerala and Haryana have higher internet penetration.
---