The world is headed into a hybrid computing era driven by connectivity, cloud and edge: Satya Nadella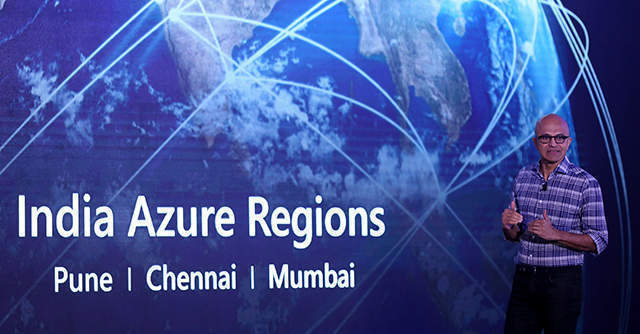 The rapid pace of global connectivity and a projected 50 billion connected devices by 2025 will see computing power move to cloud and edge to create a hybrid computing world, Microsoft CEO Satya Nadella said on Tuesday.
The opportunity, he said, was much bigger than the personal computer and smartphone revolution.
"Data is going to have gravity and computing will migrate to where it is getting generated. So that means you need to take what is in the cloud all the way to the edge. And we have a very robust distributed platform," Nadella said at a Microsoft event in Bengaluru, addressing mostly a developer community.

Microsoft acquired open-source developer community platform GitHub about two years ago and today most of the Microsoft's Azure cloud platform is built on open-source programmes. Previously the Redmond headquartered technology giant worked with proprietary software.
Watch: Erica Brescia and Maneesh Sharma on GitHub's strategy to build its India community
India with more than four million developers houses the largest number of developers anywhere in the world and are major influencers in the technology platform a company chooses today.

Nadella said that the edge and cloud can build digital twins at customer locations such as a construction site or a factory and the solutions can accomplish processing without any latency. He added that the platforms are built with capabilities so that developers need not reinvent the wheel but just need to build products on top of Microsoft platforms.
"Technology fibre is getting embedded everywhere whether it be energy, retail or finance. From a car to a refrigerator to a coffee machine, ubiquitous computing is getting built into all devices," Nadella said.
Unlike in the past, the customer experience layer is being built into technologies n line with customer expectations who wanted it to be untethered, he added.

According to Microsoft, this ubiquitous computing in its parlance is called tech intensity, which is a result of technology adoption and the capabilities, which are accelerating rapidly.
"This is creating exponential power. Technology is the most malleable product and is abundant. We need to harness that to fuel economic growth," Nadella said. He added that the cloud has also democratised AI with the compute capability now available to small and large companies alike.
Microsoft is today the world's second-largest cloud player and the largest enterprise technology company, with most of its products available on the cloud and can be accessed over a browser as apps.

"With multiple Azure regions across the world, meeting data residency laws or regulations are built into Microsoft apps," Nadella said noting that there will be over 500 million business apps in the next few years. India has three Azure data centres with one each in Mumbai, Chennai and Pune.
India born Nadella is currently on a three-day visit in the country.
---