Exclusive: Online grocery startup FreshWorld raises bridge round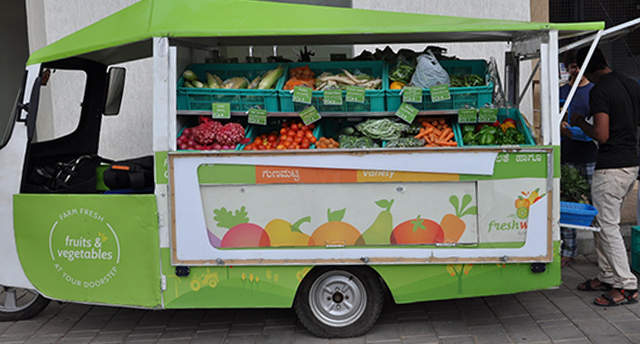 FreshWorld, a fruits and vegetable retailer owned by Retailworx, has raised an undisclosed amount of bridge funding from Indian Angel Network (IAN) Fund and Venture Farmer, a Bengaluru-based family office, a top company official told TechCircle.
The company plans to use the funds to develop and launch a mobile application for customers. It also plans to go green by migrating the legacy lead-acid battery stack on its delivery fleet to a cleaner and energy-efficient lithium-ion battery stack, Rajiv Rao, founder of FreshWorld said.
The company last raised funds in January 2019 when IAN invested $1.1 million in a seed round.

It had secured a couple of angel rounds in the past, including a Rs 2.9 crore (a little over $400,000 at current exchange rates) infusion from several investors, one of which was IAN in August 2016.
Bengaluru-based Freshworld operates on a farm-to-fork model by procuring fruits and vegetables directly from farmers and retailing them through street vendors using battery-operated carts. Each cart uses communication technologies besides a tablet and a printer to provide receipts, track inventory and analyse data. Users can locate the nearest cart in their locality just like an Ola or Uber from the company's app and procure the fruits or vegetables.
The company claims to have rolled out 40 battery operated carts in the last four years.

"FreshWorld, which has been a pioneer in bringing electric vehicles on the road in Bengaluru, is bringing 21st-century technology to pushcart vegetable vending. With app-enabled e-carts it's taken the leap now," Nagaraja Prakasam, IAN said.
"The FreshWorld app will have an unparalleled and unrivalled capability of providing 'instant gratification with touch and feel to customers who order on the app. Digitally order and traditional fulfilment by allowing customers to pick and choose the ordered fruits and vegetables will form a strong and differentiated business model and this initiative will help us in achieving our goal of being an innovative and cost-effective and disruptive FnV (fruit and vegetable) retailer," Rao said.
The firm was founded in 2012 by Rao, who has two decades of experience in the telecom industry.

Grocery Factory, another startup in the e-grocery segment, recently raised funding from a group of high net worth individuals (HNIs) in August 2019. It delivers staples and home care products directly from manufacturers to consumers (M2C) via its three-wheeler delivery vans. The vehicles carry QR codes of all the products available. Besides ordering on its mobile app, users can scan the codes to place new orders, which will be delivered in 24 hours.
---