More and more Indian organisations acknowledge that data is the new currency, and are transforming into data-driven businesses to keep pace with the digital economy. In order for India to become a $5-trillion economy by 2024-25, we need some bold steps to develop a robust and inclusive digital ecosystem, with a strong data security fabric.
In today's dynamic business landscape, it has become imperative for every business to either acquire or enhance capabilities to efficiently collect, process as well as utilise diverse datasets. Be it the Government of India empowering more than 1.2 billion citizens with digital identities (Aadhaar), or some private firm looking to expand into new markets, data has become a key growth enabler.
This becomes all the more significant when viewed against the backdrop of rising data theft via cyber-attacks, which in addition to causing a devastating impact on individual firms or citizens. It can also potentially set the global economy back by as much as $6 trillion annually by next year, as per research firm Cybersecurity Ventures.
A worrying trend is that more than six million data records are either lost or stolen each day, globally, according to the Breach Level Index, with just 4% of such breaches protected by data encryption.
Transforming India into a secure economy
This presents an alarming picture. With India now the second-fastest digitising economy among 17 leading global economies, data security concerns are on the rise. We need a robust data management and security infrastructure to catapult our nation into a $1 trillion digital economy, potentially help create up to 65 million jobs, and move another step closer to the ambitious $5 trillion economy vision.
Government to Citizen (G2C) services today span the entire gamut of education, healthcare, energy, nutrition and the like, incubating more new digital ecosystems across a range of industry sectors, from agriculture to financial services, logistics to healthcare, as well as in areas of skilling/reskilling and e-governance. This alone is expected to create new economic value pegged at around $500 billion in the next five years.
Further, global businesses, startups and innovators are figuring out newer ways to tap India's existing, fast-growing internet user base of 560 million, paving the way for investments in emerging technology-led innovations.
The next big initiative, 'Building for Bharat,' aims to bring the next 500 million (internet) users from India's heartland online. Data security will be a fundamental element to make this project a success.
A new India needs a new, secure technology platform
In order to ensure data security initiatives are effective, both the government and private entities should upgrade their IT operations to a new, more secure and robust platform, one that combines the best of human and machine capabilities.
A number of Indian businesses are at different stages in their digital journey, having shifted core operations to cloud platforms. The move to cloud has unlocked increased operational efficiency and catalysed faster product/service enhancements. But in the new decade, to future-proof your business, you've got to upgrade to the next generation of cloud to really disrupt the market quo, dramatically boost productivity in the shortest time possible and sustain success.
A next-generation cloud to drive our data-driven economy to new heights
An aspirational India needs a new springboard in the form of a next-generation cloud — one that's capable of securing the data of over 1.3 billion citizens. For instance a self-driving, self-securing, and self-repairing autonomous database, powered by advanced machine learning algorithms designed to automatically apply security patches, to pre-empt breaches, without the need to wait for human intervention, while managing data of any size.
A majority of security breaches have occurred when businesses have failed to update/apply required system security patches (despite such patches being available) on time. This is bound to benefit both state agencies and the corporate sector alike.
High availability of systems owing to autonomous capabilities; seamless portability between physical data centres and a multi-cloud environment; flexible cost models that suit organisations of all sizes; and most importantly, core-to-edge automated security infrastructure are the hallmarks of a second-generation cloud, making it a very compelling growth platform in the new decade.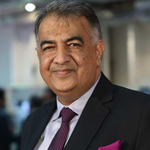 Shailender Kumar
---
Shailender Kumar is Regional Managing Director, Oracle India. The views in this article are his own.
---