Startup founders expect a weaker funding environment in 2020, as compared to 2019 when 75% of founders surveyed by venture debt firm InnoVen Capital had a favourable funding experience.
About 58% of the founders believe that the environment will be more challenging in 2020 in the context of the "failed WeWork IPO, lacklustre public market performance of tech IPOs as well as the impact of coronavirus," the firm said on Tuesday, announcing its fifth annual startup outlook report.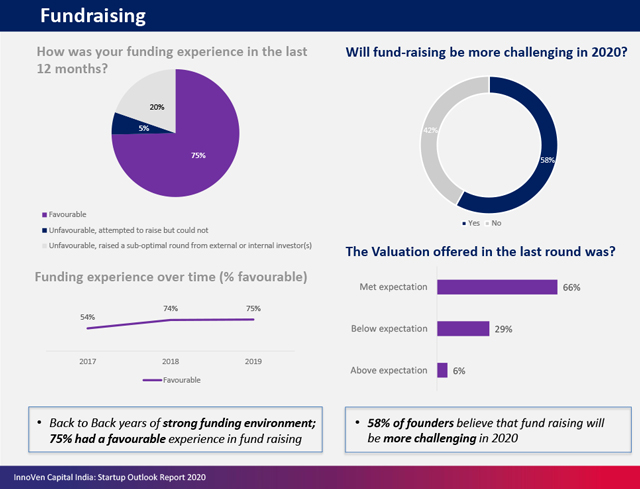 The survey collected data from about 100 founders and a few senior leaders, from early-stage, growth stage and late-stage startups.
"It should be noted that the survey was carried out in February when Coronavirus (Covid-19) impact was largely concentrated in China and it's logical to conclude that the sentiment has turned more unfavourable over the last week," Ashish Sharma, CEO at InnoVen Capital India said.
Read: Scalability major reason for startups' failure to raise follow-on round: Innoven Capital
The top two criteria founders use to choose lead investors are strategic fit and strength of the institutional brand. The reliance on Chinese and Japanese investors has gone down, with 42% of founders looking to engage with them as against 55% in 2019, the report added.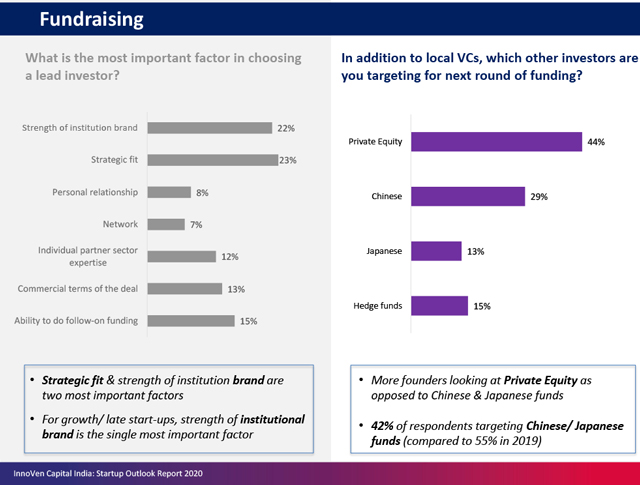 The founder respondents picked fintech and artificial intelligence as the "most over-hyped sectors," while consumer brands startups were voted as the "most under-hyped sector in 2019," the report said.
Fintech, largely neo-banks and enterprise technology, are expected to be "hot" in 2020.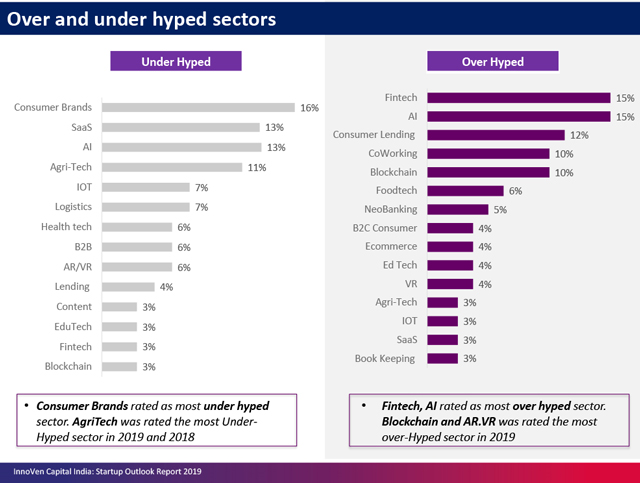 Only 35% of respondents rated the government's efforts to support the startup ecosystem as either good or excellent. A stable regulatory environment and better incentives for domestic players to compete against global giants were identified as the two most important areas.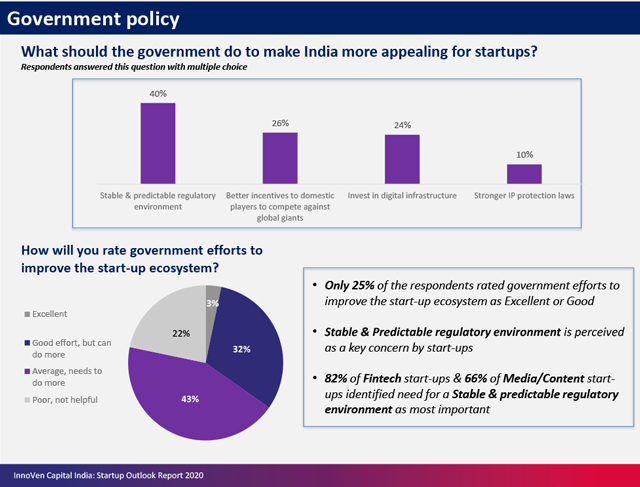 While most founders were appreciative of the efforts, a majority of them felt that the government needs to do more. Some 82% of fintech startups and 66% of media or content startups identified the need for a stable and predictable regulatory regime as the key area of concern, the report said.
---