As the number of people who choose to stay indoors or work from home increases on a daily basis, so does the amount of time they spend online. So, who benefits from your increased online presence, apart from social media and streaming website companies, of course?
The answer to that would be hackers, who are riding the Covid-19 wave.
The past three weeks saw a 10-fold jump in the number of new websites created, according to information technology security solutions provider Check Point. It said about 16,000 websites related to Covid-19 have come up since January -- of these, close to 6,000 have sprung since the second week of February.
What is the problem, you ask? Isn't it smart to have information about this dangerous virus out there? Of course. But of the 6,000 websites created since the second week of February, close to 2,200 were flagged suspicious, while 93 were confirmed as malicious websites run by hackers, the California-based security solutions provider said.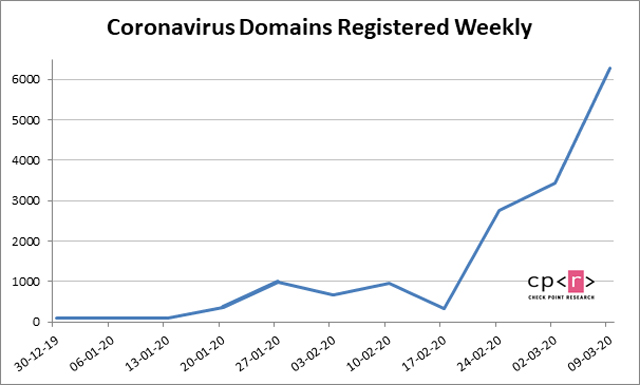 Rise in the number of websites related to Covid-19
For the period between December 30 and February 24, Covid-19 related domains are 50% more likely to be malicious than other domains, according to a recent supplementary report by Check Point. In fact, the report showed that hackers had more love for Covid-19 than even seasonal themes such as Valentine's Day -- in both 2018 and 2019, the number of malicious Valentine's Day websites showed an increase of over 200% compared to the previous months.
Read: Microsoft ups ante against Necurs, the cybercrime network that infected 9 mn systems globally
The rise in numbers could be attributed to cybercriminals using the global media interest in Covid-19 to engage in malicious activity, the report said. It also pointed out the trend of a drastic rise in social media discussions on cybercrime at a time when Covid-19 websites were also hitting new highs in terms of page views.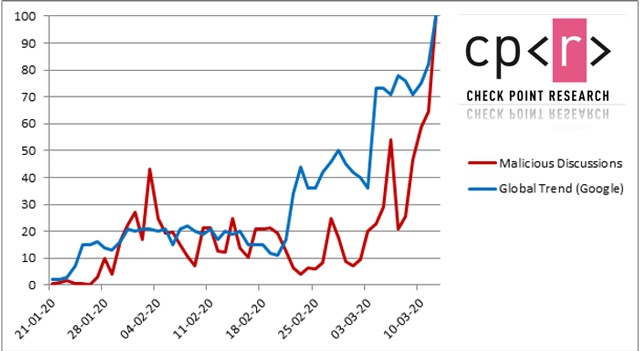 Discussions on hacking forums and Covid-19 searches on Google both increased between February 18 and March 10. Source: Google Trends
"Covid-19 special offers"
The exploitation did not stop with the malicious websites. Hackers targeted other smaller hackers and sold them malicious malware and phishing tools. They promoted the tools as "Covid-19 specials", with discount codes such as "Coronavirus". These wannabe cyberattackers would, in turn, carry out attacks such as email phishing and compromise social media accounts.
Read: APIs in financial services are the new hot target for cybercriminals: Akamai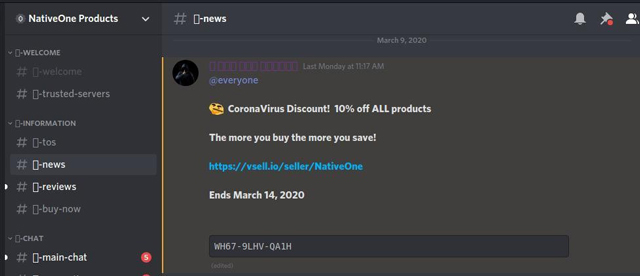 A hacker group offers 10% Coronavirus discount
A hacker group by the name NativeOne advertised some "goods" available for purchase at special rates. These goods included a discount for .Zip Bypass, which can be used to bypass a file from security features of Gmail, Outlook and Google Chrome.

Hacking products on display
In another incident, hacker group SSHacker, whose tagline read "dedicated to providing the best hacking services since 2005" offered a 15% discount to their Facebook hacking tool.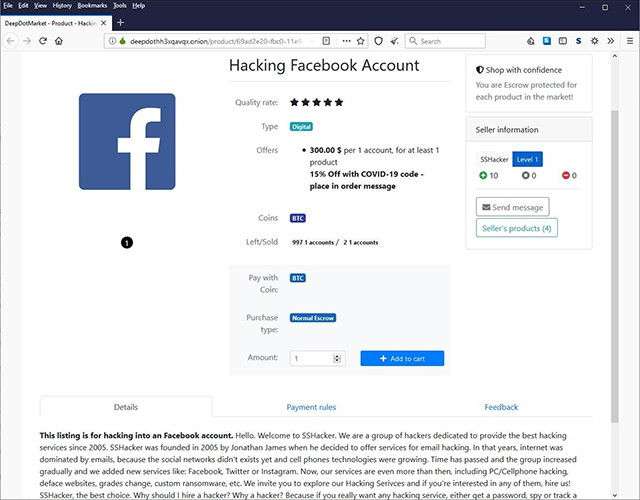 Facebook hacking tool offered at a 15% discount, with the code Covid-19
Keeping up cyber hygiene is just as important as washing one's hands regularly, Check Point said.
To safeguard oneself from such attacks, Check Point said people must be cautious with emails from unknown senders -- they must not open unknown attachments or click on links in the emails. The research firm also urged users to only make purchases online from authentic ecommerce players.
---