Amazon India has suspended deliveries following the imposition of restrictions by government on the movement of goods across the country in the wake of the Covid-19 pandemic that has disrupted supply chains.
The company will temporarily stop taking orders and disable shipments for lower-priority products, it said in a blog post on Tuesday.
The etailer will prioritise its available fulfilment and logistics capacity to deliver essential products.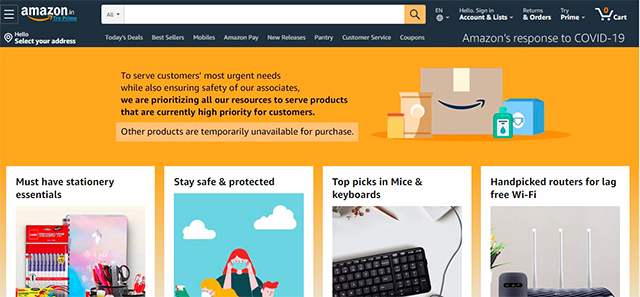 A screengrab of Amazon India's homepage (Photo credit: TechCircle)
The list of critical products listed on the statement include household staples, packaged food, health care, hygiene, personal safety among others.
However, Amazon India's home grocery verticals paint a different picture.
"Inventory and delivery may be temporarily unavailable due to increased demand. Confirm availability at checkout," Amazon Fresh homepage displayed to all its users.
Amazon Fresh caters to perishable groceries such as meat and vegetables, whereas Amazon Pantry delivers non-perishable groceries such as cooking oil, toothpaste, wheat among others.
"Dear Customers, due to unforeseen circumstances, Amazon Pantry service is temporarily unavailable in your city. We will be back soon," Amazon Pantry's homepage displayed to users across Delhi, Bengaluru, and Mumbai on Wednesday.
The blog post added that the platform is seeing an increased demand for "priority products and important services" at a time when a large number of districts and states are taking precautionary measures with extensive lockdowns and restricted movement of goods and people.
Prime Minister Narendra Modi said on Tuesday that the government will impose a nationwide lockdown from the midnight of Wednesday for 21 days, in an effort to reduce the spread of the Covid-19.
"There will be a total ban on venturing out of your homes," Modi said in a televised address.
The highly contagious Covid-19 or Corona Virus Disease-2019 spread to one lakh people in 67 days. The next lakh infections occurred within 11 days, followed by another lakh in just four days, Modi said.
India has so far reported at least nine deaths and about 500 detected cases of the infection.
---