India's bustling startup ecosystem hasn't yet plunged into a funding winter but private investors have started to err on the side of caution. Inside rounds -- follow-on investments that involve only existing investors -- and bridge rounds are becoming more frequent in the country's early-to-growth dealmaking market.
April, when the Covid-19 induced global lockdown got underway in full swing, has already seen 10 such deals taking the tally from March onwards to 14. Overall, investors, a mix of hedge funds, venture capital firms, angel networks and private equity firms, have put $165 million to work across such deals.
Inside rounds in trying circumstances, such as the Covid-19 crisis, often take place at discounted valuations -- commonly at the same valuation as the last round or lower -- though the same could not be verified with respect to the deals cited in this article.
"… Series A onwards, the speed at which startup valuations are changing right now is unprecedented. Flat rounds in the short term will be considered a success," Mumbai-based seed stage venture capital firm 100X.VC said in a recent research report.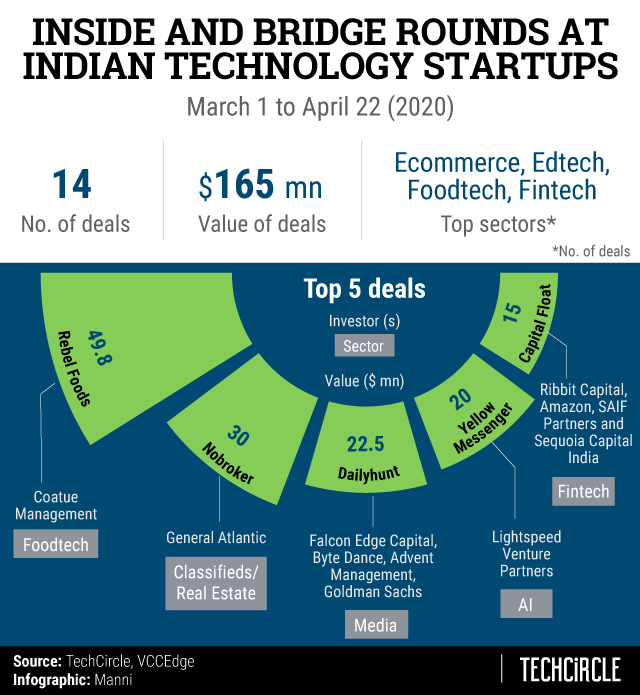 At a time when attending to one's regular affairs, such as going to office and meeting a friend has become obsolete, thanks to the nationwide lockdown, investors are equally stretched to identify and meet new companies with an interest towards risk investments -- a process that requires physical presence in meetings, carrying out due diligence and signing of term sheets.
"Even if you are ready to be funded, but nobody can meet you, they can't make a decision, they can't travel, they can't do due diligence," Anup Jain, managing partner at Orios Venture Partners told TechCircle, earlier in March.
Read: Coronavirus India LIVE Updates
"... so a startup doesn't just have to be a consumer startup. It's just that the market is such that meetings are not happening or the VC being talked to is sort of busy with firefighting for his current portfolio and hence is not concentrating on a new portfolio company. So in that case, your deal can just fall through or it can just take extra time," Aditya Singh, principal at Stride Ventures told TechCircle in an interview last month.
The maximum number of startups that benefited from inside rounds included ecommerce, edtech, foodtech and fintech companies.
Cloud kitchen player Rebel Foods disclosed a top-up investment worth $50 million from hedge fund Coatue Management, at a time when other food delivery services face a tough business quarter with consumers excusing themselves, fearing Covid-19 contamination.
"Now any startup that has a runway of 12 months, burn increases, runway comes down to 6 months. So the runway comes down, plus sales will not pick up overnight. So it will take the startup time. Then if the sales dont pick up, his next round gets delayed where VCs will be like okay prove the muscle more. So the next VC round coming in takes time," Singh added.
Another Bengaluru-based startup, Nobroker Technologies Solutions, which owns and operates real estate platform NoBroker, raised $30 million as part of an ongoing growth round from private equity firm General Atlantic.
The third largest inside round was at yet another Bengaluru-based startup, Ver Se Innovations, which owns online news aggregator Dailyhunt. It raised $22.5 million in a growth round led by New York headquartered hedge fund Falcon Edge Capital. Beijing-based content aggregator Byte Dance, too participated in the round, slipping in right around when India amended its FDI policy to prevent "opportunistic takeovers" during the pandemic.
The fourth largest investment trickled in with a $20 million deal at conversational artificial intelligence (AI) platform Yellow Messenger from Menlo Park, California headquartered venture capital firm Lightspeed Venture Partners, a returning investor.
Making it to number five, was a working capital lender for small and medium enterprises (SMEs) Capital Float, with a $15 million cheque from returning investors Ribbit Capital, Amazon, SAIF Partners and Sequoia Capital India. The company expects to significantly increase its lending capacity once the lockdown is lifted, it had said.
Ecommerce turned out to be an investor favourite, given the surge in demand for services that don't rely on customers making trips to stores for their daily needs. Non-essential services however have seen a dip in demand with government restrictions over the same.
Omnichannel beauty ecommerce platform Nykaa raised $13.2 million in a funding round from returning investor Steadview Capital, to free some runway at a time when its operations were suspended.
The other two ecommerce deals that figured into the list was social commerce platform Shop101 and digital-first kitchenware products brand Indus Valley.
Shop101 enables small merchants to create mobile storefronts and sell products via social media, an activity that is unanimously restricted given the lockdown in place. Separately, rival app Meesho laid off several people from its 700-800 workforce, to chop its costs at such times.
---