Online payment gateway Razorpay saw digital payment transactions on its platform drop by 30% in 30 days of the Covid-19 induced lockdown.
"A significant drop of 30% in online payments in the last 30 days is something we are seeing for the first time after demonetisation." Harshil Mathur, CEO and co-founder, Razorpay said.
The Bengaluru-based payment solutions startup released a report titled 'The era of rising fintech' based on transactions held on the Razorpay platform between February 24 and March 23 (before lockdown) vs March 24 and April 23 (during lockdown).

Most impacted sector
Source: Razorpay
People are using online payment platforms to pay for utilities, with the segment registering a 73% increase in transactions. This was followed by IT and software by 32% and media and entertainment by 25%. Online donations during lockdown also witnessed an increase of 180%, reflecting users' desire to contribute towards charities.
Segments like logistics, travel and real estate saw a decline in online payments. While transaction in logistics dropped by 96% due to gaps in supply chain, travel sector declined by 87%. Next to follow were real estate (83%), food and beverage ( 68%) and grocery by 54%.
Online transactions in cities like Ahmedabad, Mumbai and Chennai also took a hit of 43%, 32% and 25% respectively during the 30-day lockdown.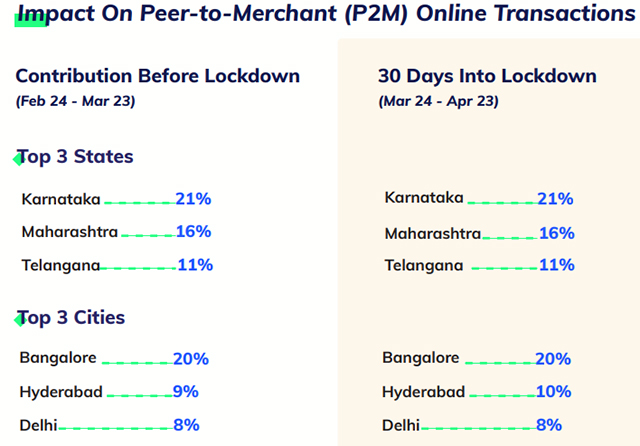 The patterns in which the states and cities were contributing to digital payments before and during lockdown did not change; although the value of transactions have decreased considerably as compared to the number of transactions.
Source: Razorpay
States such as Karnataka ( 21%), Maharashtra (16%) and Telangana (11%) saw the highest number of transactions during the same period. Gujarat, Madhya Pradesh and Tamil Nadu witnessed a major drop in transactions by 41%, 39% and 26% respectively, the report said.
In payment modes, UPI (unified payment interface) made the highest contribution of 43% followed by cards (debit and credit) with 39% and net banking with 10%, the report added.
However, compared to the 30 days before lockdown the report found transactions via UPI, cards and net banking declined by 37%, 30% and 28% respectively.
Among UPI apps, Google Pay contributed the highest with a 46% share followed by PhonePe with 29% and Paytm with 10%. During the lockdown, Paytm saw a drop by 47%, Google Pay by 43% and PhonePe by 32%, the report said.
Mobile wallet transactions in tier-2 cities saw an increase in the last 30 days, owing to increased contribution to PM Cares Fund and cashback offers. Transactions via JioMoney increased by 66%, AmazonPay by 63% and Paytm by 43%.
"While COVID-19 continues to create uncertainty on a number of fronts, this pandemic is also a turning point for the fintech industry in many ways, one such being the tremendous adoption in the use of digital payments, especially in Tier 2 and 3 cities, in the last 30 days of lockdown," Mathur said.
Founded by IIT Roorkee alumni Mathur and Shashank Kumar in 2014, Razorpay enables payment solutions for Indian businesses.
---