Indian consumers' appetite for online shopping will increase from 46% now to 64% over next six to nine months, according to a study from Capgemini Research Institute, the digital think tank of French multinational technology firm Capgemini.
About 75% of Indian consumers are optimistic about a recovery in the next six months compared to 48% of consumers worldwide. The research added that 78% of Indian consumers will prefer to increase usage of digital payments going ahead.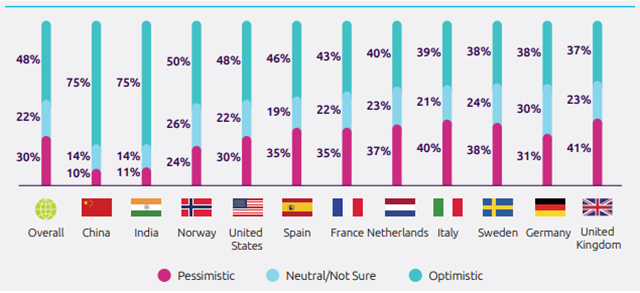 Consumer sentiment about recovery in the next six months - by country
Source: Capgemini Research Institute
Hygiene is expected to be the top priority for online shoppers, with 89% of Indian consumers expecting to be more cautious about issues of cleanliness, health and safety post-Covid-19 pandemic. About 75% of the Indian consumers said they will shop from retailers adopting safety practices in stores.
Read: Retail sales in India can recover by May, if lockdown not extended: study
Some 62% of consumers will switch to brands that show higher levels of product safety, the report said.
The study titled "the consumer and COVID-19: Global consumer sentiment research in the consumer products and retail industry" surveyed more than 11,000 consumers around the world including India.
Countries in the study included the US, UK, Germany, France and the Netherlands among others. The data was collected at the beginning of April 2020.
Over the next six to nine months, Indian consumers (from 59% to 46%) will decrease their shopping at physical retail stores.
The study also found that over 65% of Indian consumers will increase the purchase of groceries and household supplies during the course of the next six to nine months period.
This is followed by China (56%), US (42%), and Italy (41%). Conversely, luxury goods will see a major fall in Spain, with 69% of consumers saying they will buy less. This is followed by Sweden (67%), France (65%), and Norway (65%), the study found.
Other studies have shown that Indian consumers' online spending habits have changed post lockdown.
Overall, online shopping in India has fallen 16% since the nationwide lockdown began in March, a separate study by Cupertino headquartered online payments firm Wibmo had recently found.
Online shopping fell by 30% during the one-day curfew, which was imposed on March 22. Although consumers returned to shop after the initial shock was over, there was a change in the way people spend money online. Utilities, which accounted for 55% of online spend before the lockdown, is now at 72% post lockdown.
---