Access to the internet is no longer a luxury but a necessary service that enables people to upgrade their skills, find employment and even socialise. The high cost of the internet, however, is preventing many from being online, curbing their chances of bridging the digital divide, according to a new study from Capgemini Research Institute.
About 40% of offline people living in poverty have never used the internet due to its cost. The complexity of using the internet (36%) and a perceived "lack of interest" stemming from fear (38%) was also cited by certain segments of the offline population, according to a statement.
Being offline, according to the Paris headquartered firm's findings, has socio-economic implications, including social exclusion, lack of opportunities, reduced employability, access to information. This increasing gap in preferential access to the digital world will lead to wider inequalities across the world.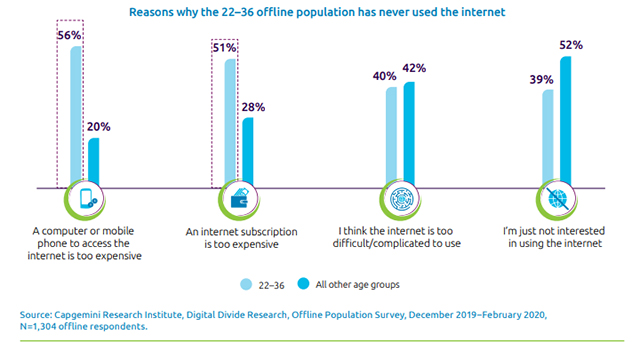 About 43% of the offline population is aged below 36 years, according to the study titled the great digital divide: Why bringing the digitally excluded online should be a global priority. The study also showed that 28% of the offline population surveyed is employed full time, with 75% of living in poverty.
"Children in urban areas are exposed to the digital world almost from the time they are born. However, children in tribal, rural communities may never even have access to primary education, let alone the digital world. While literacy levels are going up across the country and connectivity is improving, people in remote areas remain excluded as a result of not having access to reliable, high-speed connectivity," Amit Chakravarty of the India-based international crops research institute for the semi- tropics (ICRISAT) said in a statement.
Lack of access to the internet can inhibit career mobility, with 44% of offline respondents saying they would be able to find better-paying jobs and educate themselves if they had access to the internet.
As of 2018, over half of the world's population was using the internet, with around 3.7 billion people being offline.
For the survey, Capgemini collected data from 1,300 offline people in face-to-face discussions; 3,700 people via an online survey and interviews of executives at 22 non-profits, charities, and private companies working in the digital inclusion space. Of the total offline people interviewed, 59% had previously used the internet.
Capgemini surveyed people in France, Germany, Sweden, the UK, the US and India. Participants were from different walks of life such as labourers, vegetable sellers, tailors, and stay-at-home women, maintenance workers, freelancers, students and retirees.
Although a lot of focus is given on digital access to developing countries, around 13% of the population in developed countries is still offline, the study found.
The Covid-19 pandemic has further exposed the digital divide, with lockdowns and social distancing rules changing how people work and socialise.
"Covid-19 is likely to have a lasting impact on access to public services and attitudes to opportunities like remote working, so there's a collective responsibility for organisations which work to challenge the digital divide do so in a way that it creates a long-term change, not just a quick fix," Lucie Taurines, Global Head of Digital Inclusion at Capgemini said.
Last week, Capgemini said that it is not in a position to commit to an outlook for 2020 at this stage, despite a strong first quarter. It reported a 3.1% increase in consolidated revenue at €3.55 billion in the first quarter of 2020, compared to €3.44 billion last year. Its revenue grew 2.3% year-on-year at constant exchange rates.
However, the company did offer a single-digit hike to all of its junior professionals, which constitutes 70% of India staff despite its CEO Aiman Ezzat taking a 25% pay cut. Capgemini has an employee strength of 270,000 in almost 50 countries.
---