The impact of the Covid-19 pandemic is being felt across industries, heralding the onset of clear and irreversible changes to come. While BAU activities have slowed down or stopped for many industries, healthcare is under more strain than perhaps ever before. Despite the full backing of governments and communities, public and private healthcare systems are fighting an uphill battle against a largely unknown enemy, while also coping with the lack of adequate personnel and resources -- and unlike most other domains, lives hang in the balance.
As dedicated healthcare professionals adapt to meet these ever-changing challenges, it is important to constantly re-evaluate the current position of global healthcare from a technology perspective -- not just to plug the gaps and discover and implement improvements right now, but also to build significantly enhanced healthcare roadmaps for the future.
In this article, we will discuss the key steps healthcare providers and enablers such as the government, need to take and promote to enhance their preparedness for crisis situations such as Covid-19, from a technology and process perspective.
An interconnected healthcare network
Technology already plays a major role where healthcare is concerned. In fact, one could argue that it is one of the major differentiators between today's national and global healthcare systems, and localized healthcare systems that existed earlier, whether it is collaborative research and real-time sharing of data across the globe, or the personal interconnected devices critical to providing real time data in densely populated areas.
We are taking rapid steps to take this partnership further with advanced analytics in population health management (PHM) platforms being implemented for various demographics.
Several countries have already taken a few decisive steps in this direction, further accelerated by the Covid-19 pandemic.
For instance in Germany, lifting restrictions on remote consultations has significantly improved connections between patients and doctors. Other countries such as Australia have also invested in technology-led healthcare, through ambitious plans for blockchain adoption in the near future.
Without question, building a truly digital-led healthcare system is going to be tough but then change always is and this change will bring benefits across the value chain.
Take the US for example. The digital development accelerated by the Covid-19 pandemic will have far reaching effects across policies for the three major elements making up the healthcare value chain -- the payor, provider, and federal and state governments.
Payers: There will be a pressing need to reduce, simplify, or eliminate co-pay and pre-authorization (PA) for treatment as well as re-evaluate cover charges for Covid-19. In effect, this will accelerate employer-led healthcare while at the same time decentralizing online operations.
Providers: The focus is already shifting towards enabling immediate and universal secure online visits to physicians, availability of online testing and at-home preventive healthcare (for both physical and mental needs), and ensuring the movement of vital supplies through an intact supply chain that is integrated with the help of PBMs, pharma and med-tech organizations.
Federal and state governments: These developments will create the need for consistent regulatory guidance for the healthcare industry, connected patient health management programs that focus on Medicare and Medicaid patients, and maintaining the overall integrity of patients' EMR.
Implemented properly, these changes will serve to make healthcare more available, agile, and affordable which is vital for a country like the US, where per a 2019 Gallup survey, over 33% of all the American households surveyed admitted to delaying care for serious and moderate issues due to the prohibitive cost and complexity involved in accessing healthcare. Combined with pre-emptive action and agile policy making by federal bodies, the healthcare systems would be much more capable of tackling and containing pandemics like Covid-19.
Along with actively leveraging technologies, centers for medicare and medicaid services (CMS) have already taken several policy-level actions in this regard. One such decision has been ensuring physician payments for telehealth services, at the same rate as with in-person visits, for all diagnosis work. This is a good sign, and clearly denotes a willingness on the part of the federal agency to leverage technology for success in these trying times.
The technological roadmap for healthcare in 2020 and beyond
Posing a major threat to global healthcare systems, Covid-19 has firmly established the need for active action and the establishment of a robust, collaborative, scalable, and agile digital healthcare infrastructure.
Comprehensive planning focus from private as well as government bodies, and a technology-led roadmap that incorporates learnings from the current situation will pay massive dividends in terms of saved lives, crises management and global recovery.
To come up with an effective strategy and transformation roadmap, organizations in the healthcare industry will need to consider a few key points.
Ensuring regulatory sync-up and synergy: With the CMS approving Medicaid Section 1135 Waiver in over 23 states (guidelines are being constantly upgraded depending on the ground situation across states), the healthcare sector can expect more intervention by federal bodies in view of the current situation and beyond. This in turn absolutely necessitates syncing of regulatory guidelines across international borders with subject matter experts deciphering the best medical practices at all levels.
Undertake strategic digital initiatives: There will be a greater need to develop new healthcare delivery systems through digital advancements and provisions for affordable care measures at a lower expenditure. In order to do this the industry as a whole will need to focus on building accurate analytical models by leveraging pervasive health data, focus on using technologies to facilitate less expensive, faster alternatives to doctor visits, and enhance patient experience while also improving the bottom line and maximizing profits. Industry leaders will also need to leverage cognitive capabilities to drive action in areas that require immediate attention in terms of identifiable business processes and develop affordable care models. This can be done by sustaining existing investments made in core claim administration platforms and achieving efficiency targets at scale.
Urgent dismantling of digital adoption barriers: Sustaining patient engagement outside of a traditional care setting is vital towards building rapport between patients and healthcare providers and driving population management across risk pools. With the telemedicine market valued at USD 12,446.33 million in 2018 and estimated to grow to USD 60,448.47 million by 2024 – overcoming these challenges towards digital adoption is not only the right thing to do from a patient care perspective, but also a profitable venture to undertake.
Utilizing next-gen adjudication systems: Strong growth is predicted for the health plan core administrative market. This means that all health and third-party administrator plans are potential areas where adjudication systems can be implemented for core administrative growth.
Establishing a new normal through PHM, AI and remote monitoring: In this paradigm shift towards a digital healthcare infrastructure, it is important to choose between developing in-house solutions or buying a pre-built market solution with a proven track record. In the case of the latter, it is critical to evaluate vendor qualification through proper selection assessments. This can be done by evaluating cognitive platforms based on product features, costs and customizations required.
Implications across the healthcare value chain
The current global situation will have severe implications across the length of healthcare value chains. Understanding this value chain is important, as it is a vital tool in gauging productivity and overall satisfaction at each stage and touchpoint. Specially since the term value holds some ambiguity when it comes to healthcare – usually being a combination of one or more factors out of quality, speed of delivery, cost of care or even availability.
However, as with any other industry, the payer and the provider are the two key touchstones in healthcare as well. Furthermore, the consideration of volume vs cost is a prominent one as well, with the resultant implications being directly tied to what measures are used to achieve this balance, with technology and remote functionality playing a significant part in this process.
The current scenario is rife with challenges and opportunities in equal measure for the healthcare industry, with a post Covid-19 world almost certain to witness increased investments and importance given to global healthcare, including greater scrutiny and involvement by federal bodies.
A robust, forward-looking digital healthcare system built for compliance with evolving government regulations has a lot to offer, including enhanced customer interactions and improved efficiency through bots, telemedicine platforms, VR and AR for deeper patient-doctor communications, machine learning and AI to drive research at speed and scale and blockchain and cloud based platforms to secure medical data and provide efficient, scalable, rapid crisis management capabilities.
The greatest value of digital-led healthcare systems will not be delivered in form of improved bottom-lines or increased revenues, but in terms of more customized, personalized, empathetic healing experience for patients, and the lives touched, improved, and saved.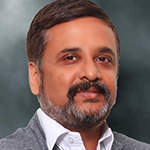 Amitava Sengupta
---
Amitava Sengupta is executive vice president and practice head, digital consulting, at HCL Technologies.
---