Resilient Innovations, which owns quick response (QR) code based payment app BharatPe, laid off around 20 employees last month, even as the company continues to hire across functions. The 20-odd layoffs took place on April 8 and were communicated to the concerned employees over a phone call, one of the affected employees in Bengaluru, who requested anonymity, told TechCircle. The company, however, denied the layoffs and said it had let go of some underperformers as part of its annual performance appraisal process.
The layoffs involved employees in roles such as assistant manager, deputy manager, and key account manager, among others from the company's Mumbai, Pune, Bengaluru and Delhi offices were fired, the employee said.
Responding to queries from TechCircle on the layoffs, Bharatpe CEO and founder Ashneer Grover said, "The stories about layoffs are untrue. We've just completed annual appraisal and have given 20% + salary increments to top performers and have let go of handful identified underperformers as per business as usual. Our on roll employees as on 8th May are infact higher than as on 15th March as a lot of new employees have joined us."
"I have lost my job due to Covid-19 layoffs. I am actively looking for a job opportunity in account management or sales…" another Bharatpe employee said in a Linkedin post.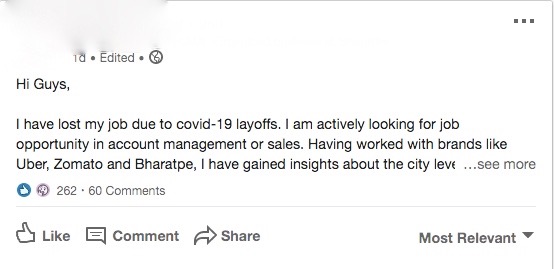 The company did not serve any prior notice on the layoffs and the employees did not receive any severance pay, the employee cited earlier said. It has also fired all field executives, the employee added.
Incidentally, last month, Bharatpe founder Grover spoke about salary increments for top performers, a new office and hiring across functions. He also said that the company had not undertaken any "mass firings or salary cuts…"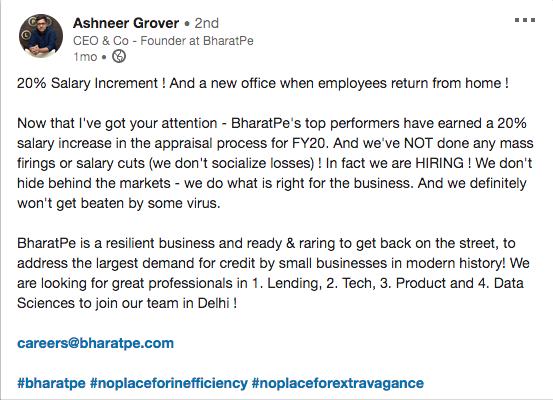 In February, the company raised $75 million in a Series C funding round led by a new investor Coatue Management, a technology sector focused hedge fund, and returning investor Ribbit Capital. Prior to this, it bagged $50 million in a Series B round, led by Ribbit Capital and Steadview Capital.
Layoffs have become common among startups in India and global markets as the Covid-19 crisis deepens.
Last week, San Francisco headquartered ride hailing startup Uber Technologies, had said it would cut jobs of 3,700 full-time employees across divisions of customer support and recruitment. Also, this month, Health and wellness startup Cure.fit laid off several of its employees, including trainers and housekeeping staff, from its fitness classes platform Cult.fit.
Udaan, the B2B ecommerce platform terminated several thousand contractual employees across divisions of sales, marketing, business development, credit analysis team, customer services, last month. Online food delivery platform Swiggy planned to introduce several cost-cutting measures to survive the impact of Covid-19 on its business. The measures will impact several kitchen staff members, a spokesperson for the company said, without divulging more information.
This article has been modified from the original to reflect the company's statement.
---