Amazon India on Wednesday said it has made about 100 changes in its operations to ensure a safe workplace for its on-ground workers with social distancing norms. The safety reassurance comes at a time when its parent holding is under scrutiny in the US.
From changes in several policies, communication procedures, training, shared spaces, process flow to sanitization across its fulfilment centres, sortation and delivery stations, Amazon India said it is ensuring workers' safety, according to a blog post.
Internal policy changes include mandatory temperature screening at all entry, exit stations and face-covering for associates, who are now allowed to carry mobile phones inside the facilities in order to stay in touch with their families.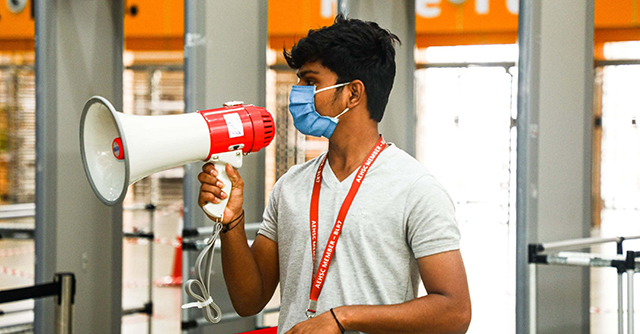 Representative Image | Photo Credit: Amazon India
The changes in process flow include two-metre distance maintenance between associates when items are picked, packed and bagged. Only one person at a time is now allowed to load or unload products, with the arrival time of drivers and delivery associates staggered to avoid crowding at the site.
Some of the other changes include the shift from on-ground meetings to virtual stand-ups, announcements using public address systems, cab occupancy policy changes and 'safety ambassadors' at several entrances to maintain social distancing guidelines.
Additionally, Amazon India is offering associates who come to work monetary incentives over and above their regular salary, a company spokesperson told TechCircle on Thursday, without providing additional details.
The spokesperson said that Amazon India "has created job opportunities for tens of thousands of associates" in its operations network, when asked for an estimate of the number of employees currently at work.
Read: Coronavirus India LIVE Update
Earlier in May, India allowed e-commerce delivery of non-essential items in orange and green zones.
The parent entity in the US has extended the temporary increase in hourly pay, and doubled the overtime pay through May 30, bringing its total salary cost for hourly employees to about $800 million, according to a Reuters report.
About 600 Amazon employees in the US have been tested Covid-19 positive with at least six of them dead, an employee told a local television network on Monday.
On Tuesday, a coalition of 13 US attorneys general, led by Massachusetts Attorney General Maura Healey, asked the company to provide data on Covid-19 related deaths, infections among workers along with evidence of the company's compliance with paid sick leave laws.
Earlier in April, an Amazon warehouse in New York, a Covid-19 hotspot, was found lacking in Covid-19 safety measures. According to multiple US media reports, the attorney general of New York wrote to Amazon stating that it might have violated several federal and state laws at its warehouses.
---