EV maker Euler Motors raises $2.6 mn led by Inventus Capital in ongoing Series A round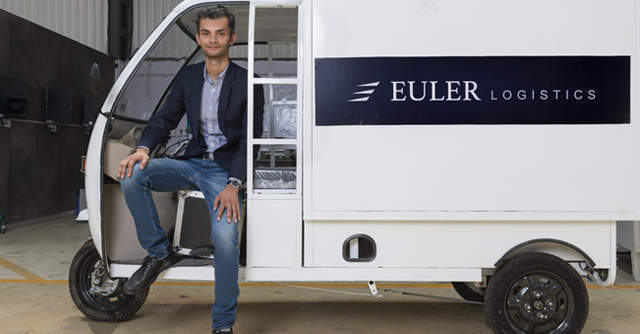 New Delhi-based commercial electric vehicles manufacturer Euler Motors has raised Rs 20 crore (approximately $2.6 million at current exchange rates) as a part of its ongoing Series A funding round.
Venture capital firm Inventus Capital India led the round with participation from existing investors Blume Ventures, Singapore based Jetty Ventures India Investments, and Sujeet Kumar, co-founder of Udaan.
The company had earlier raised Rs 15 crore from Blume Venture, US based Emergent Ventures and Andrew Lee in a bridge round of funding, dubbed a pre-series A round.

The fresh capital will be used to expedite product and technology as well as scale charging and service stations across India, the company said in a statement.
"Euler Motors wants to accelerate the adoption of commercial electric vehicles by creating a full stack ecosystem with Indian centric EVs, charging and service station networks. The Series A funds will be primarily used for hiring talents, R&D and launching our vehicles across the Indian key cities with a focus on localization of the supply chain," Saurav Kumar, founder and CEO, Euler Motors said.
Founded in 2018, Euler Motors offers three-wheeler light commercial cargo vehicles to e-commerce and third-party logistics companies. It has a dedicated manufacturing and R&D facility for production of light commercial EVs along with automotive-grade lithium-ion battery packs.

In the last 18 months, companies such as BigBasket, EcomExpress, and Udaan have employed more than 200 prototype Euler Motors e-vehicles for their last-mile delivery, the company claims. The company also claims to have established over 100 charging infrastructure in Delhi NCR. The network can charge over 200 electric vehicles at any point.
Euler Motors plans to launch its 3-wheeler electric vehicle for commercial logistics by the end of this year.
"For India to unlock the next wave of growth in electric mobility, it is essential to drive the adoption in the commercial vehicle segment with superior electrical vehicles and infrastructure. Euler Motors is an early front-runner in the space and is well-positioned to build the EV ecosystem," Rutvik Doshi, managing director, Inventus Capital India, said.

The renewable energy mobility sector, which has witnessed increased government encouragement, has been seeing greater adoption by ecommerce firms. EV startups have also caught investor attention.
In January, Amazon India said it would add 10,000 EVs to its fleet of delivery vehicles in the country by 2025.
In the same month, The Economic Times reported that Mumbai-based Tata Power plans to take the total number of EV charging stations in India to 700 by 2021. At the time, the company had already installed 100 fast-charging stations in New Delhi, Mumbai, Bengaluru, Pune and Hyderabad.

In June last year, Flipkart said it would introduce electric vehicles for its last-mile deliveries in a phased manner.
Electric two wheeler manufacturer Okinawa recently announced that it plans to launch its locally manufactured e-bike Oki100 in the third quarter of the financial year 2020-2021.
Ola Electric Mobility, a unit of cab-hailing major Ola, has attracted significant investments and has become a unicorn in a short span. A unicorn is a privately-held internet startup valued at $1 billion or more. Since January 2019, Ola Electric has raised $287 million from investors including venture capital firm Matrix Partners, alternative investments firm Pawan Munjal Family Trust, Tiger Global Management, Japanese conglomerate Softbank, Ratan Tata's investment vehicle RNT Associates, former Vodafone CEO Arun Sarin's family trust and two Seoul headquartered car manufacturers, Kia Motors and Hyundai Motor Company.

Ola Electric primarily focuses on deploying charging and battery-swapping networks for the commercial electric vehicles segment. It is heading towards deploying electric vehicles and charging solutions, including battery swapping stations, electric two-wheeler and three-wheeler services.
Earlier this month, Vadodara headquartered TecSo ChargeZone, which owns electric vehicle (EV) charging solutions brand Charge+Zone, raised an undisclosed amount in a bridge funding round from investor collective Mumbai Angels Network.
The Indian government has been aggressively pushing for a transition from fossil-fuel vehicles to electric vehicles. The government had announced a plan to convert India into a 100% electric vehicle nation by 2030, though uncertainties about the deadline remain. It recently announced a plan to transform all two-wheelers with engine capacities of less than 150cc to electric from 2025 onwards.

Last year, the government approved a $1.4 billion scheme to subsidise sales of electric and hybrid vehicles as it looks to control pollution and reduce dependency on fossil fuels. The program, named Faster Adoption and Manufacturing of Hybrid and Electric Vehicles (FAME), will offer subsidies based on the battery capacity of the vehicle, ranging from buses and cars to three-wheelers and motorbikes. The incentives would be applicable only on vehicles costing less than Rs 15 lakh.
The EV ecosystem market in the country is expected to cross $216 billion over the next 10 years, as per a 2019 report from BIS Research.
---