Humanity is faced with an unprecedented pandemic and it is also changing the way we work, act and live. As a silver lining to the cloud, Covid-19 has been the greatest accelerator for digital transformation around us. CDOs and CIOs who have been trying to bring a radical change by virtue of digital transformation were earlier met with muted support from their organizations. This one mega development has transformed the sheer pace at which businesses have to adopt this transformation, not as a choice, but to survive.
The pandemic has definitely changed the way we conduct our businesses and how we interact with people, systems and processes on a day-to-day basis. Businesses can get back to normal only if they agree to transform themselves as per the new normal.
Technology adoption in companies has turned a new leaf to look at not only optimization (read reduce costs) or to acquire new businesses. Companies now have to consider the safety, security and well-being of employees, customers and society at a different scale to gain the trust of people.
There are sectors which have been seriously impacted such as travel, hospitality and education, and they will have to adopt a completely different approach under the new normal. There are sectors such as information technology (IT), workspaces in general, banking and finance, to name a few, which realise that sometimes it takes a pandemic to see the obvious.
Some of the leaders of the Indian IT industry have already announced that 75% of their giant workforces will work from home by 2025. Moves like this, on one hand, will lead to significant cost savings and efficiencies for IT companies but on the other will put significant pressure on commercial real estate markets. Also it will transform the way the companies hire people. Now a company based in any part of the world will have easy access to competencies existing across the globe and that too without even thinking about people movement and visa challenges.
Amidst all of this chaos, technology is becoming the focal point in establishing the new rules of the game under the new normal in the post Covid-19 era.
Looking beyond the initial wave of the immediate technology adoption, which was mainly to maintain business-as-usual and fight the onset of the infection, we will see a clear trend emerging towards telework, touchless, transparency and transformation.
Remote operations, work from home and telework have not only helped to maintain business continuity but also transformed the way people work. As the restrictions of the lockdown ease off, we are not seeing companies scamper to bring their employees back to offices. Certain sectors are not affected adversely with people working from home and they are the ones who will lead the way in terms of providing the right tools, technology and processes for the other industries to follow.
Zoom, Microsoft Teams and other collaboration tools have become household names and are helping people interact with each other both officially and socially. Technology will also have to evolve to ensure cybersecurity in such a distributed world and monitoring productivity of employees while maintaining their privacy.
The interaction between customers and businesses will also undergo a transformation. The world will become more touchless and more and more systems will be developed to adapt to this. Facial recognition, RFID, BLE and other similar technologies will play a vital role in leading this change. For example, if airports have to bring passengers back to the airports, they will have to adopt contactless boarding to minimise the touchpoints. Access controls will also see a dramatic shift from fingerprint based attendance to other touchless means of recording employee attendance.
While technology changes are happening at a frenetic pace, a greater thrust is seen in maintaining transparency to build trust. Retail establishments which have restrictions on the number of people allowed at one time, will have to adopt transparency to drive better customer experience. They can adopt technologies to bring transparency to their customers by utilising mobile, cloud and AI to suggest, based on historical data, when would be a lean time to visit stores.
Some sectors are undergoing a total transformation. Education is one where the adoption of e-learning platforms, AI assisted customised learning, remote proctoring, etc. are changing the traditional methods of learning. Technology is not only helping to enable institutions to conduct classes as usual but also unlocking new avenues to perform better. Apart from giving a focused approach to every child, there is a reverse feedback possible to assess the performance of the instructor as well. Such immediate, direct feedback loops were non-existent in the traditional delivery models.
While digitalization, remote operations, online transactions, manpower savings and contactless systems are the ongoing trends around the world, they will pave the way for rapid progress in the unification of solutions on a global scale -- something that had thus far been characterized by slow progress due to the barriers presented by legal and cultural differences between countries and pockets of companies alike.
Not only to tide over this crisis but, technology will lead the way to the clear blue skies that exist in the new normal post Covid-19.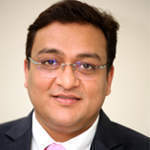 Piyush Sinha
---
Piyush Sinha is deputy managing director of NEC Technologies India. The views in this article are his own.
---