Bengaluru, the only Indian city to make it to the top 30 startup ecosystems in the latest Startup Genome report, slipped eight places in 2020 and is now ranked at 26.
The fall has been attributed to lower levels of funding and the addition of two new entrants in the top 20 startup ecosystems -- Tokyo (rank 15) and Seoul (rank 20).
The Delhi startup ecosystem, which made its first appearance on the list this year, stood at rank 36. Other cities included this year are Copenhagen, Dublin, Melbourne and Montreal, according to the global startup ecosystem report 2020.
"Delhi has produced a steady stream of billion-dollar club startups with at least one such deal every year since 2014. The ecosystem is buoyed by international investors such as SoftBank, Sequoia, and Tiger Global, all of which are actively investing in the market and pushing it close to the top 20 ecosystems in terms of funding," the report.
Mumbai topped a parallel "100 emerging ecosystem rankings," which the Startup Genome released for the first time this year. Other Indian cities that made it to the list include Hyderabad, Chennai and Pune.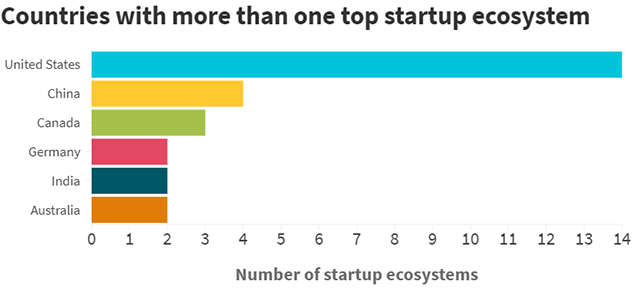 Overall, Silicon Valley in California is the frontrunner among global startup ecosystems, followed by New York City, which tied-up with London for second place. China's capital Beijing and Boston in the US are ranked fourth and fifth respectively.
San Francisco headquartered advisory and research firm Startup Genome has increased its pool of ecosystems twofold to 270 ecosystems for the 2020 report across over 100 countries and assessed them based on performance, funding, market reach, talent, connectedness, knowledge and infrastructure. The company has been ranking startups since 2012.
Startup Genome sourced data and information from Google Trends, GitHub and Meetup. It also considered the impact of Covid-19 crisis on startups and public policy actions taken by governments to support startup ecosystems.
With the addition of new ecosystems, Asia was more visible this year, with 30% of the top ecosystems coming from the region, compared to 20% in 2012, the report said. Of the 11 new ecosystems that made it to the top ecosystems list, six are out of Asia-Pacific.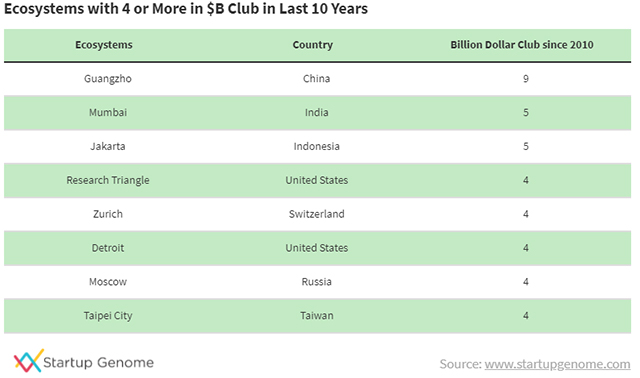 Emerging ecosystems included 49 countries and $348 billion in value terms, with Europe leading in the number of ecosystems with 38 cities in the list. North America with 32 startup ecosystems was placed second while Asia-Pacific with 22 ecosystems was third.
Nearly 60 of these startup ecosystems across over 20 countries have seen either a unicorn or a billion-dollar exit, the report said. Startups have become a top growth engine of the economy and policymakers are putting more energy and focus into the development of their startup ecosystems.
---