A day after the Indian government banned 59 Chinese apps in the country, popular short video app TikTok, owned by Chinese internet company ByteDance, is missing from Google Play Store and Apple's App Store.
Existing users on TikTok are unable to scroll for new videos and the app could not be accessed even on desktop. Other banned ByteDance apps such as video platform Vigo and social network Helo could also not be downloaded from the app stores.
While the Ministry of Electronics and Information Technology (MeitY) issued orders to browsers to block only TikTok from the India app stores on Tuesday, it provided no such directive for the remaining 58 apps. Google and Apple did not respond to TechCircle's queries until the time of publishing the article.
Other banned apps, including SHAREit, Club Factory, SheIn, UC Browser and UC News continue to be available.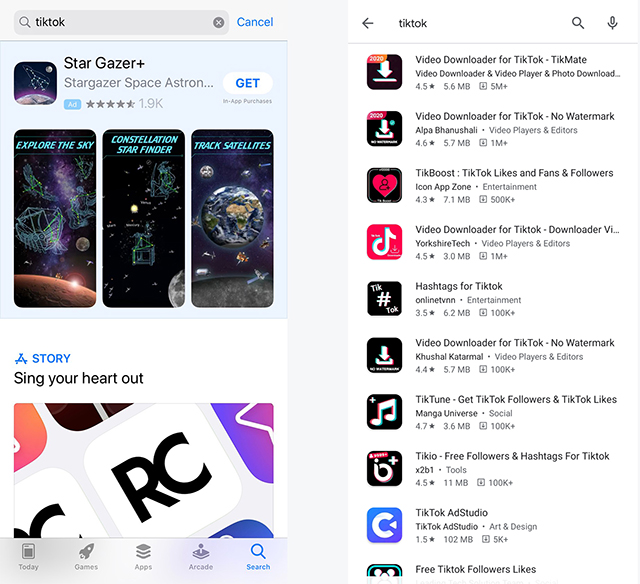 TikTok was missing from the Apple App Store (left) and Google Play Store (right)
TikTok India on Tuesday said that it was invited to meet with government stakeholders for an opportunity to respond and submit clarifications on the matter, India head Nikhil Gandhi said in a statement shared on Twitter.
June 30, 2020
Will the ban work?
While app stores can ban new downloads, telecom companies, internet service providers and device manufacturers will also be required to block the download of the said apps for a complete ban. Multiple Android devices come pre-loaded with apps, usually called bloatware, some of which cannot be removed. Bloatware has also been found to collect user analytics data.
Further, file-sharing apps, apart from those on the banned list such as SHAREit and Xender, continue to exist. Such apps, which include Share Apps, ShareMyApps, APKpure, AndroidAPKbox and JioSwitch, allow for sharing of Android Package Kits (APK) files.
An APK is a package file format used by Google's Android operating system for the distribution and installation of mobile apps. It is unclear how a total prohibition would be met on the apps if APKs continue to exist and be shared through such platforms.
Also, unlike China, the use of virtual private networks (VPN) in India is not illegal.
A VPN allows a user to create a secure connection to another network over the internet, to access region-restricted websites, and shield browsing activity from public networks among other uses.
Historically, government-led bans and restrictions on internet and app services have led to a surge in VPN usages by the general population who want to access state-prohibited portals online.
For example, VPN downloads in Hong Kong soared in May following the news that China will propose a new national security law that will give it even greater control over the territory.
British Virgin Islands-registered VPN service provider Surfshark had witnessed a usage spike of about 700%, week-over-week, the company's media officer Gabrielle Hermier told TechCircle.
"And that's the exact same thing that's happening now in India. The government decided to ban these apps. People are of course trying to buy VPNs and we're seeing an uplift in countries like India because people are entitled to the internet access that they previously had… We definitely see the connection, the correlation between the governmental initiatives and VPN usage," Hermier told TechCircle on Tuesday.
Tel Aviv, Israel-based VPN provider SafeHouse Technologies has warned users against potential security issues.
"The recent restrictions have led users to downloading VPNs and unfortunately less technically aware customers may download potentially malware clones of these banned apps. In this scenario the security threats are far greater than anything we have seen historically and traditional VPNs will not protect these users," Aditya Narang, co-founder and managing director at SafeHouse Technologies told TechCircle.
This was also seen when TikTok was temporarily banned from the Google Play Store and Apple App Store based on an order by Madras High Court in April 2019. It was reported that customers continued to use hacks for downloading the banned app.
Indian apps cheer ban
Twitter-backed Vernacular social media platform ShareChat on Tuesday welcomed the move citing "serious privacy, cyber security and national security risks," according to a statement from its director of public policy, Berges Malu.
"We expect the government to continue their support for the Indian startup ecosystem," the senior executive at ShareChat added. Incidentally, the startup which is backed by Chinese venture capital fund Shunwei Capital has previously had scuffles with TikTok over content rights.
InMobi Group owned app Roposo has claimed to be the top social video platform in India after TikTok's ban.
"As the number one short video app on the Google Play Store, Roposo is very well-positioned to lead this transformation in India. Roposo will continue to build on the trust and love that 65 million Indian users have placed in us," InMobi CEO Naveen Tewari said in a statement.
Meanwhile, TikTok had over 120 million monthly active users in India and was the most downloaded non-game app in May according to a report by SensorTower.
---