According to a study by Data Center Knowledge, the world's data centers consumed 205 terawatt hours of electricity in 2018, which is approximately 1 percent of the total energy consumed that year. The need for a constant supply of power, combined with the takeover of cloud-based services has put the role of massive data centers under scrutiny.
To understand why, we need to look at how the very premise of data centers has changed.
As part of a VUCA (volatile, uncertain, complex and ambiguous) world, current business processes, and, importantly, the game-changing nature of new technologies have played a fundamental role in how we gather and deploy data.
Technological innovations have perhaps been the biggest driver for data storage evolution over the years. In recent times companies have been moving their enterprise data to co-location data centers and public cloud-based data center providers. Global research and advisory firm Gartner projects that through 2022, enterprise IT spending for cloud-based offerings will grow faster than traditional (non-cloud) IT offerings.
In today's day and age, the scalability and flexibility of these distributed data storage networks take precedence above traditional data centers. This is because cloud-based solutions can cost-effectively scale with no immediate infrastructure investment, which on the other hand is not the case with traditional data centers.
The challenge at hand
The challenge for IT decision makers is to choose which part of their business data needs to be on the cloud, and what needs to be retained in internal on-premises data centers. As data center traffic continues to increase, CIOs continue to look for means to outsource data storage and management to cloud service providers. However, they would also need to consider an organization's proprietary data which may need to be stored on-premises.
As a result, CIOs are taking a hybrid approach for their data center decisions, dividing their IT storage between cloud services and in-house data centers. This hybrid model is especially useful in cases where organizations want options to protect and control their intellectual property or proprietary software.
Combined with the advanced security features and scalability that cloud-based solutions offer and data localization and control options offered by in-house data centers, the hybrid approach is vital when catering to an organization's evolving data needs.
Whichever is the model, it must be efficient for storing and accessing huge volumes of data at a faster rate, while offering cost efficiencies and low TCO at scale.
Data is at the center of everything
With cutting-edge digital technologies such as AI and IoT coming into the picture, the demand for more secure and reliable data storage has only grown. New possibilities around what data can help achieve have amplified the discussions around storage strategies. Companies are now exploring reliable options with Flash and NVMe™ (Non-Volatile memory express) Solid State Drive products.
These vertically-engineered solutions power big and fast data ecosystems. Data has thus moved beyond being a passive resource to becoming a core and dynamic component of how businesses will operate. With data at the center, crafting a data strategy that helps anticipate customer needs and business opportunities more sharply and effectively, will become even more crucial for survival and growth.
Future proofing IT infrastructure is the most important step towards achieving data centricity and relevance for the organization's data center framework. A hybrid cloud solution may be the best option. This will help ensure that data is available when the organization wants it, is secure, and is agile enough to support emerging business needs.
What lies ahead?
All this will have to be backed by a holistic and enterprise-wide approach of bringing data to the center of the business strategy -- whether on-premises or in the cloud. Data centers must then be seen not as physical resources but as vital contributors to business strategy.
It's a subtle shift but companies must learn to revisit their understanding of data in shaping their strategy, from time to time.
In other words, they need to put data at the heart of their strategic vision and business activity no matter where it lives. Putting 'data at the center', though, will not be easy, and it will take time. The challenges -- from infrastructure management to people and upfront costs involved -- will have to be addressed by IT decision makers even as they balance the pressures of an ever-evolving digital technology landscape in a VUCA (volatile, uncertain, complex and ambiguous) world.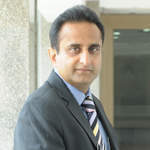 Vivek Tyagi
---
Vivek Tyagi is senior director, enterprise sales, at Western Digital India. The views in this article are his own.
---