The first point of contact for a patient at a hospital is with the receptionist and help desk. The outbreak of the Covid-19 pandemic has led to companies seeking ways to reduce the risk of infection for frontline workers. Bengaluru-based Invento Robotics has designed humanoid robots to allay those fears.
The humanoid robots by Invento Robotics were initially designed for the BFSI sector and visitor management services, but have been deployed for patient registration and tele-consultation at private hospitals in Bengaluru. The firm now plans to expand to other cities as well.
The robots can record patient details including a thermal imaging device for contactless temperature check as well as personal data of patients such as phone numbers and addresses.
The robot was ready in its latest form in April after research of over two months at the company's Bengaluru facility.
"With our OPDs being resumed, the chances of transmitting the virus can also increase. Thus, robotic screening helps us minimise the chances of virus transmission through human contact," said Manish Mattoo, zonal director, Fortis Hospitals, Bengaluru.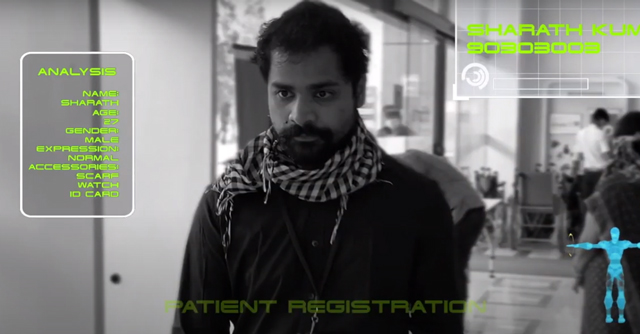 He added that the high infection rates among health care workers across the world have hampered efforts to tackle the pandemic and that prompted the hospital to consider robotic screening.
"We are screening the patients, their attendees and our staff at the hospital entrance to ensure no one with the symptoms of Covid-19 is entering the hospital enterprises," he said.
Founded in October 2016 by Balaji Vishwanathan with Mahalakshmi Radhakrushnun and Bharath Kumar, Invento Robotics is the trio's second attempt at starting up after running an edtech startup, Invento Makerspaces nearly for a year.
"We wanted to change education with a maker-centric approach. We wanted to implement robotics-related programmes at schools," Vishwanathan said. "It turned out to be harder than anticipated as Indian parents were not ready yet," he added.
Vishwanathan wanted to build a robotics company out of India. Before launching Invento Makerspace he worked as a product manager at Black Duck Software in Boston and founded a tech startup called Be Limitless Inc in San Francisco in 2014. In 2012, he co-founded Zingfin.com, a technology company that managed technology and the overall business process.
"The healthcare workers are getting lower numbers of visitors right now. They get around 400 people per day and have to manually get all the details from a patient. The worker/ healthcare professionals are often at risk of getting the virus," said Vishwanathan.
Not just hospitals, the concierge robots from Invento are finding favour with other sectors where the first point of contact is usually help-desk personnel, including BFSI, hotels and the hospitality sector.
Invento has signed up with marquee clients such as Zomato, Diageo, Smartworks, PVR Cinemas, Accenture, Morris Garages, General Motors and HDFC Bank among others.
The company currently offers two variants of its humanoid robots, Mitra and Mitri. It is looking to launch more models to cater to different applications across sectors.
Vishwanathan says that concierge robots drive efficiency. The first variant, Mitra, conducts basic screening for patients suspected of carrying Covid-19 infection by taking temperature and additional information on infected family members, medical history, and other details.
The second variant, Mitri, identifies the patient by a QR-code assigned by the first robot and sends patient details to the doctor, who consults with the patient on video call. The doctor can see the patient with the help from the robot and suggests the next step of treatment. Vishwanathan says they are also adding features like a pulse oximeter to the robot, to test the oxygen levels in patients showing symptoms of breathlessness.
"A patient in this manner will have no contact with any other human and there will be less chance of spreading the virus," says Vishwanathan. However, he says, the robots are capable of taking ECG and other diagnostics like X-rays will be added to the new line of robots.
The company has also recently partnered with Healthians, an online platform that provides health test home service, to build this robot, which is equipped to screen visitors through interactive questions, capture thermal temperature and issue a pass to visitors who are fit to enter premises along with face detection.
A trial run of the robot is presently being conducted in Fortis Hospital Bengaluru to add a layer of safety by automatically screening incoming patients/ attendants and issuing visitor passes.
One of the other offerings by the company for the healthcare sector is using UV light with robots.
The firm's latest offering is Invento C-Astra to help combat Coronavirus especially as people now return to public spaces. Astra brings in state of the art UV-C radiation that has the capability to kill a host of viruses and bacteria. The 250 W radiation can disinfect office lobbies, conference rooms, hotel rooms and public areas in minutes.
This state of the art Human in the Loop technology allows a human fleet manager to constantly monitor the robots with low latency real-time video transmission, get robot maps and diagnostics and enable high-level decision making. This allows the enterprise-grade usage of robots.
Also, the firm is introducing a product in the B2C space Astra-L (Astra-Lite). It has powerful UV light sources to disinfect the packages from 360 degrees and act in less than 5 min to kill more than 99% microbes on the packages.
Currently, Invento Robotics has three paying customers, two hospitals and one large hotel group in Bengaluru --for Mitra, Mitri and the latest C-Astra robots.
The company is also planning to expand its services to Jaipur, Chennai, Gurgaon, and Mumbai.
"These robots are locally made and all the suppliers are based out of Pune and Chennai. But due to lockdown, there was an initial challenge to procure parts for the production of robots," said Balaji. He added that they managed to source the parts and their manufacturing facility in Bengaluru was up and running.
Each robot costs around Rs 8 to 10 lakh, depending on their models. The manufacturing facility is capable of producing 10 robots in a month.
The company had raised Rs 2 crore ($281,330) in a seed funding round led by early-stage ITI Growth Opportunities Venture Fund of Investment Trust of India, a financial services group backed by Sudhir Valia, director of Sun Pharmaceutical Industries Ltd. This was in 2020 and now the company is looking to raise more to expand operations to new markets. Since 2016, Invento Robotics has raised a total of $500,000 (Rs 3.5 crores) from various investors.
"We were looking to enter the US markets late next year, given the crisis and pent up demand. The US has more certification requirements of getting those certifications also ready then once that is done, then we will be ready to export our robots. We are talking to a couple of healthcare providers to partner with, who will, in turn, deploy the robots at hospitals," said Vishwanathan.
---