Online payments increased by 23% in the last 30 days of the nationwide lockdown, according to a study by payments gateway solutions provider Razorpay.
Overall, digital transactions declined by 12% in the last 101 days, compared to a 30% drop in the first 30 days of lockdown.
The study, 101 Days of Covid-19 Era: Impact On Digital Payments, looked at consumer behaviour during the three months of nationwide lockdown that was announced on March 24.
"The digital payments industry couldn't escape the pandemic crisis, we witnessed a dip of 30% in online payments since the lockdown began, and now seeing a rebound of 23% over the last 30 days (June 2- July 3) is a sign of gradual revival of the digital economy," Harshil Mathur, CEO and co-founder, Razorpay said in a statement.
Watch: Razorpay realigns business, resources to capitalise on demand from new sectors
Uncertainty in income has changed consumer behaviour. Paylater, Cardless-EMI and EMI have become preferred payment modes with a growth of 290%, 178% and 125% respectively, the report said.
Also, utilities, information technology (IT) & software, and media and entertainment saw a growth of 73%, 32%, and 25% respectively.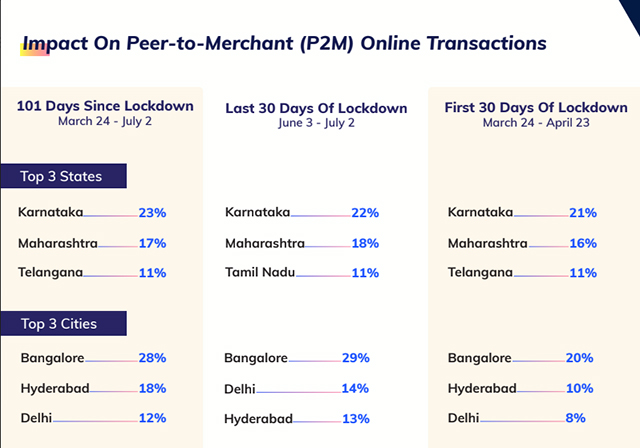 The online education sector has gained traction during the lockdown, with payments in this segment rising by 23%.
Social engagement sector -- personal counselling, dating and matrimony websites-- also witnessed a 32% growth.
Region-wise, Karnataka (23%), Maharashtra (17%) and Telangana (11%) saw the highest contribution during the lockdown and Gujarat, Madhya Pradesh and Tamil Nadu dropped by 35%, 32% and 2% respectively.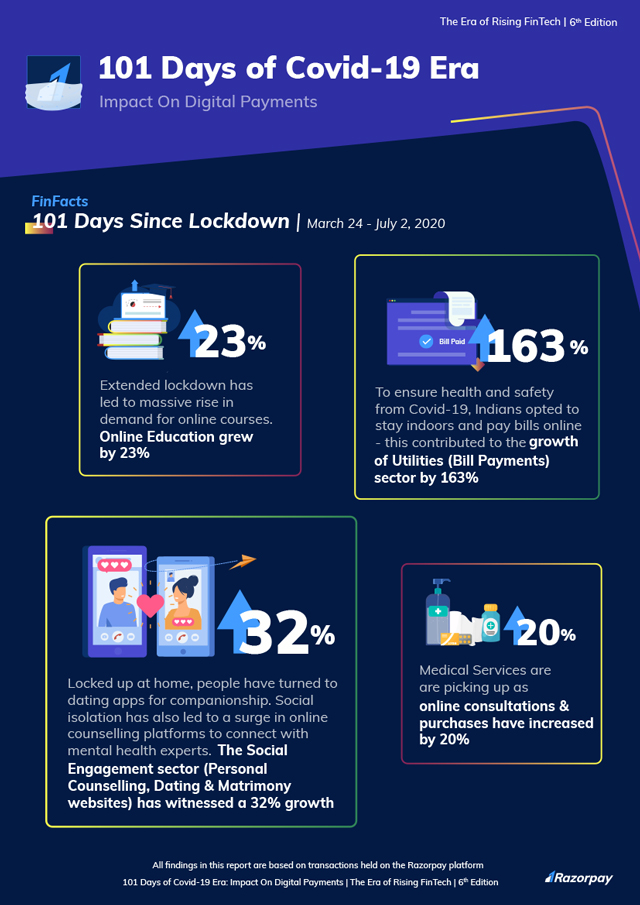 Meanwhile, in the last 30 days, sectors like logistics (687%), real estate (496%), healthcare (166%) have started to see some normalcy.
However, peer-to-peer (P2P) lending and utilities saw a decline by 41% & 13% respectively, as compared to the first 30 days of lockdown.
Sectors like travel and logistics continue to suffer from losses due to the pandemic, According to the study, the logistics segment saw a decline of 96%, in the first 30 days of lockdown.
Additionally, online payments in the travel sector dropped by 87%, real estate by 83%, food and beverage (F&B) by 68%, and grocery by 54%.
---