The three-month-long lockdown implemented in India has put a severe strain on the country's economy. Several industries such as travel, hospitality and retail have been brought to their knees. Businesses have run out of cash, and hundreds and thousands of people have lost their livelihoods.
While India is now slowly reopening, the economy may take months if not years to stabilize and show steady growth.
Notwithstanding the government's efforts to increase economic activity in the country, it is the startup community that will play a pivotal role in the revival of the Indian economy.
The Indian startup ecosystem, which is the third-largest in the world, has dynamically evolved over the last decade. In 2019, more than 1,300 technology startups started operating in the country, according to Nasscom. India also added nine new unicorns last year, with hotel aggregator OYO Rooms and digital payments firm Paytm bagging the biggest fundraising rounds, $1.5 billion and $1 billion respectively.
India's technology startups also raised a record of $14.5 billion in funding in 2019, a whopping 25x growth from just $550 million in 2010. Nasscom's projections also reveal that the cumulative valuation of startups in India could rise to $350-390 billion by 2025 with around 95-100 unicorns. These numbers will likely vary in the upcoming months, but the startup ecosystem is best positioned to bring the Indian economy back from the brink of collapse.
New employment generation amidst the turmoil
As India entered into a prolonged lockdown on March 24, millions were rendered jobless without any source of income. Not only migrant labourers, many white-collar and skilled workers also found themselves victims of mass layoffs and furloughs.
Data from the Centre for Monitoring Indian Economy (CMIE) showed that in May that as many as 114 millions of jobs were cut as companies adopted desperate measures to reduce their operational expenditure. The employment rate declined by 10 percentage points just after imposition of the lockdown, dropping to 29.9% in the week ended March 29.
While the employment rate improved slightly after the government started easing the lockdown restrictions, it is yet to reach stability.
The startup sector, needless to say, can generate livelihood opportunities for India's unemployed (both skilled and unskilled) in the present scenario. For example, an e-commerce startup requires web developers as well as delivery personnel. So, there is equal scope for employment for white-collar and blue-collar employees. Also, since most startups work in small capacities with agile teams, employees have the opportunity to reskill and upskill themselves to adapt to the changing business landscape.
To date, the startup space has been a steady source for employment generation. According to data released by the government, startups registered under the Department for Promotion of Industry and Internal Trade (DPIIT) have created over 560,000 jobs since 2016. Nasscom estimates further show that Indian technology startups created 60,000 direct jobs and 1.3-1.8 lakh indirect jobs last year alone.
The numbers reflect that startups can bring up India's employment rate, which is one of the major indicators of the economic state of a country.
Emerging opportunities will lead to more unicorns
As with all crises, the current health emergency has transformed the world in innumerable ways. Consumer behaviours have changed radically and rapidly with health and safety taking precedence over everything else. This has also paved the way for large-scale digitalization and ground-breaking innovation.
Startups that can adapt to these new trends will witness exponential growth and attract large funding opportunities in the months and years to come. The ongoing crisis is helping investors to separate the wheat from the chaff, enabling them to spot disruptive startups that have the potential to become unicorns.
Of course, it is too early to predict if India will be home to around 100 unicorns by 2025, but the unprecedented situation will certainly lead to more agile, innovative and revolutionary startups in the country. Once the near term challenges subside, India will rely on these startups to resuscitate its economy, generate employment, spur innovation and solve real problems.
The startup ecosystem presents vast and diversified opportunities for the economy, and if India can optimally capitalize on these opportunities, it can emerge stronger from the crisis.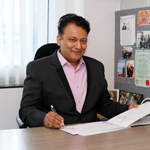 Apoorva Ranjan Sharma
---
Apoorva Ranjan Sharma is co-founder and managing director of 9Unicorns. The views in this article are his own.
---