Video sharing app TikTok, which is among the 59 Chinese apps banned in India, took down 16 million (or 1.6 crores) videos from Indian users in the last six months of 2019 for violating its content policies, according to the company's latest transparency report.
India, the ByteDance owned platform's largest market, saw the most number of content removals, followed by the United States with 4.6 million. Pakistan (3.7 million), United Kingdom (2 million) and Russia (1.2 million) also made it to the list.
Globally, it removed 49 million videos between July and December 2019, which is less than 1% of all the videos its users created, the company said. The removals were for violating its community guidelines or terms of service.
"Our systems proactively caught and removed 98.2% of those videos before a user reported them. And of the total videos removed, 89.4% were taken down before they received any views," the report said.
The company received 500 legal requests for information from 26 countries in the second half of 2019 and while government bodies from 10 countries made 45 requests to remove or restrict content.
Government agencies from India made 30 requests to Tiktok. Out of which, the company removed or restricted 28 accounts.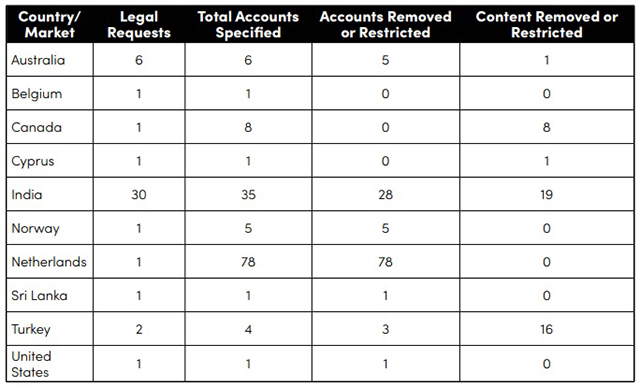 TikTok received most takedown requests from India in H2 2019
A total of 302 legal requests were made from India, including 11 emergency requests. The company shared data in 90% of those cases, the report reveals.
Tiktok said it started rolling out a new content moderation infrastructure at the end of last year which enables it to be more transparent in reporting the reasons for removing videos.
During the month of December, 25.5% of the pulled videos were under the category of adult nudity and sexual activities. About 24.8% of clips violated minor safety policies, which include content depicting harmful, dangerous, or illegal behaviour by minors, like alcohol or drug use.
Content containing illegal activities and regulated goods made up 21.5% of takedowns while 15.6% of videos removed violated suicide, self-harm, and dangerous acts policy. Of the remaining videos removed, 8.6% violated violent and graphic content policy; 3% fell under harassment and bullying policy; and less than 1% contained content that violated policies on hate speech, integrity and authenticity, and dangerous individuals and organizations.
In its inaugural transparency report published last December, Tiktok said it received the most number of takedown requests from India during the first half of 2019. India made a total of 107 requests and TikTok provided some information in 47% of those requests. Government requests to remove or restrict content stood at 11, the highest number of requests made by any government.
Apart from TikTok, Chinese internet company ByteDance owns other apps such as video platform Vigo and social network Helo, all of which were among the 59 China-based apps that have been banned in India.
Other apps on the banned list include SHAREit, Club Factory, SheIn, UC Browser and UC News. The apps were banned citing concerns around the sovereignty and integrity of India.
---