Food delivery and restaurant aggregation platform Zomato said it has more than doubled its year-on-year revenue to $394 million for the financial year 2019-20 from $192 million, even as its losses widened to $293 million from $277 million a year ago.
Additionally, for the Covid-19 hit June quarter of FY21, the company reported a revenue of $41 million with an EBITDA loss of $12 million, as per a blog post.
"In July 2020, we estimate our monthly burn rate to land under $1 million, while our revenue should land at around 60% of pre-Covid peaks ($23 million/month). We expect to make a complete recovery in the coming 3-6 months while continuing to maintain tight control on costs/profitability," Deepinder Goyal, founder and CEO of Zomato, said.
The Covid-19 induced lockdown, which started in mid-March and lasted till June, severely impacted the food delivery business in India, as several restaurants remained shut during the period.
In the last week of March this year, Zomato's food delivery gross merchandise value hit its lowest point, with an 80% decrease compared to the mid-February numbers. As of now, the food delivery GMV has recovered to 60% of pre-Covid levels, the blog post said.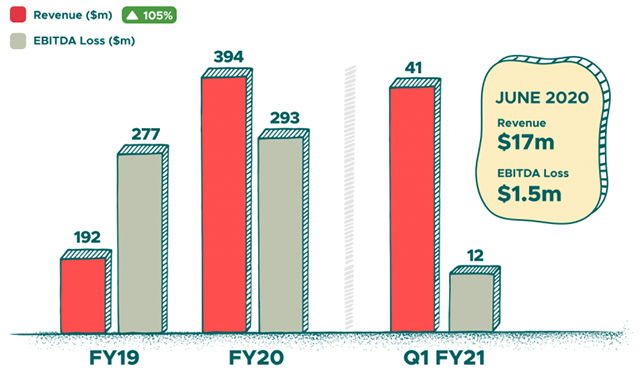 The Gurugram-based unicorn's acquisition of Uber Eats earlier this year helped it gain market share and retain 97% of the combined GMV on the Zomato app, it said.
Zomato's GMV increased from $718 million in FY19 to $1.49 billion in FY20.
The company attributed the loss in demand to young professionals moving from large cities to their parents' homes that are often in small towns, where the food delivery business does not thrive. As offices open up, the company expects a quick recovery in order volumes.
Additionally, the unit economics of Zomato's food delivery business improved in the past 18 months, the blog post said. In the first quarter of FY21, it gained Rs 27 per order, compared to losing Rs 47 per order for the same period last year.
Also, Zomato's revenues from dining out products increased to $56.1 million in FY20, as its loyalty programme Zomato Gold — rebranded as Zomato Pro — saw an uptick in subscribers. The company said the subscriber base of the programme increased to 1.7 million in FY20 from 1 million in FY19.
The firm is set to expand its B2B supplies offering Hyperpure to new cities. The unit recorded a revenue of $14.7 million in FY20 compared to 1.8 million in FY19. It witnessed an increase in its restaurant subscriber base to 2,256 by the end of FY20 compared to 486 restaurants in FY19. Hyperpure claims to provide fresh, hygienic, high quality ingredients and kitchen supplies to restaurants.
---