Indian impact investing sector has affected more than 490 million lives in the country with a cumulative investment of $11 billion spread across 600 enterprises over the last ten years, a study by the Impact Investors Council (IIC) and Asha Impact said.
According to the study, impact investing has seen strong growth with $10.8 billion of total equity capital flowing into the sector over the past decade, at a CAGR (compound annual growth rate) of 26%.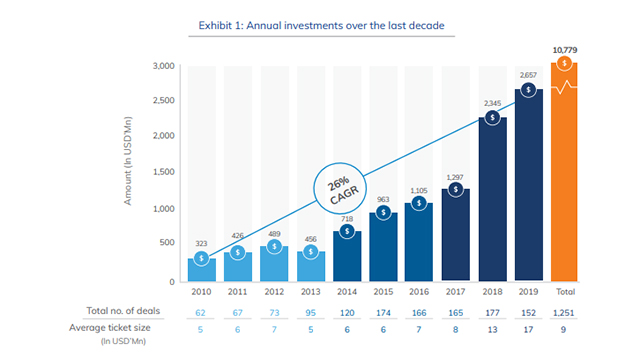 Deployment of funds in social enterprises (2010-19) | Credit: IIC-Asha Impact Report (2010-19)
"The sector has been around since the early 2000's but picked up pace post 2005 on the success of financial inclusion. The impact investing industry faced a test with the microfinance crisis in 2010, but since then funding has grown 8x in terms of annual deployment," the report said.
Every dollar of impact funding has been able to crowd in up to thrice as much commercial capital. Impact investors, according to the report, have played a key role in helping companies raise seed and Series-A funding. Interestingly, commercial funding has dominated in the later funding stages.
On the large scale impact across sectors, the investment has impacted around 200 million people through improved service delivery across four key social sectors: financial services (FS), education, healthcare, and agriculture.
Impact investment, which has traditionally been associated with microfinance, has successfully diversified into core social sectors like agriculture, healthcare and education.
"Financial services used to account for 76% of investments in 2010 but were down to 43% in 2019, and just 30% of total deal volume over the decade," the report said.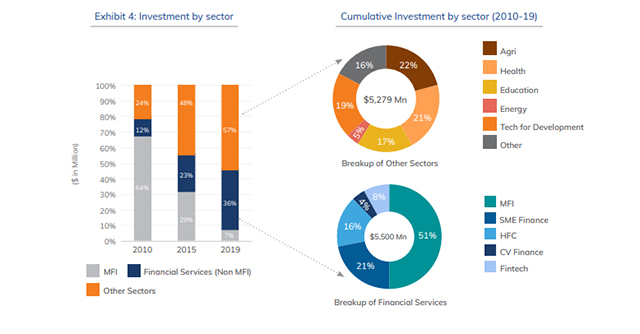 Sector-wise investment break-up | Credit: IIC-Asha Impact Report (2010-19)
In the same period, impact investments in healthcare, education, agriculture, energy and technology for development have increased their share. Within financial services, there has been a dramatic shift away from microfinance to housing, SME, education, healthcare finance, and new fintech models," the report added.
Impact Investors Council is a not-for-profit organisation supported by over 40 investors, including Omidyar Network, Michael & Susan Dell Foundation, Elevar Equity, Caspian Investment Advisors, and Aavishkaar Group, amongst others.
Asha Impact is an impact investing and policy advocacy platform set up in 2014 by Vikram Gandhi and Pramod Bhasin.
---