Increased trust in artificial intelligence (AI), human-like interactions and coronavirus-related concerns have resulted in a significant rise in the number of customers having AI-based daily interactions with organisations, according to a study.
The Capgemini Research Institute surveyed over 5,000 customers across twelve countries and more than 1,000 industry executives across eight major industries for the study.
At 54%, more than half of the customers surveyed have interacted with an AI bot everyday this year, compared to just 21% in 2018, a Capgemini Research Institute study said. In India, more than 55% of respondents said they have had AI-enabled interactions daily in 2020, compared to 46% in 2018, it said.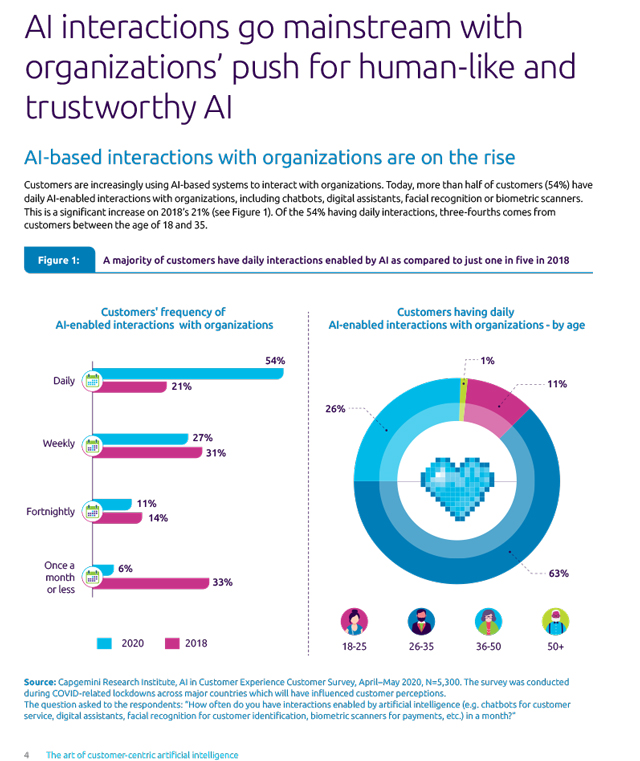 Organisations stepping up their technology deployments also contributed to the increase in numbers, it said. Nearly 80% of both Indian and global organisations have increased AI deployments, with the former enabling 30%-50% customer interactions through the technology in 2020.
While in India, 36% of respondents preferred AI-only engagements during research and browsing, 26% said they preferred it while making a purchase. Global numbers for the former was over 41%, while the latter was 26%.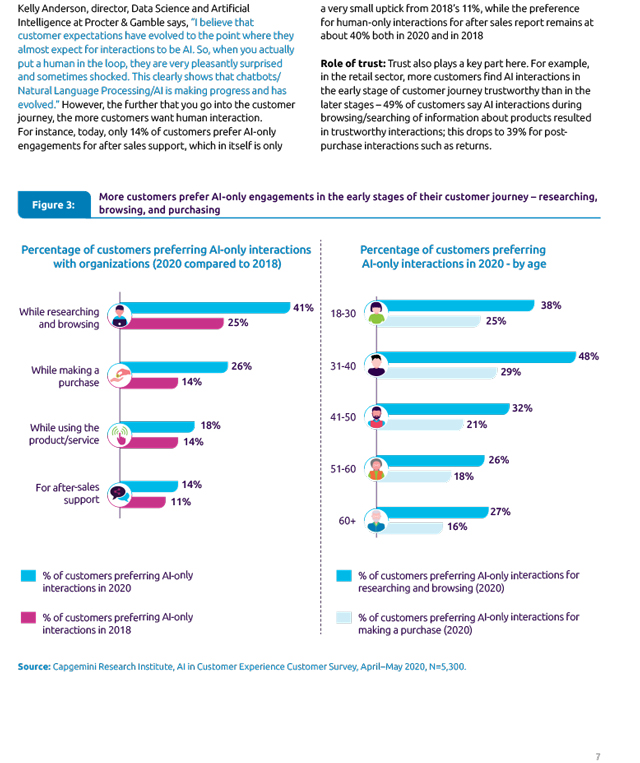 At 82%, 8 out of 10 Indian customers expect to increase touchless interactions during the Covid-19 crisis, while over 77% of global consumers recorded the same response, the report showed.
"I believe that customer expectations have evolved to the point where they almost expect for interactions to be AI. So when you actually put a human in the loop, they are very pleasantly surprised and sometimes shocked. This clearly shows that chatbots/natural language processing /AI are making progress and have evolved," Kelly Anderson, director of data science and artificial intelligence at Procter & Gamble, said.
At 64%, the automotive sector has deployed non-touch AI-based systems the most, followed by the public sector at 62%, the report said.
It may be noted that in a 2018 report published by Capgemini, it identified trust as an area that required improvement. This year's report shows that over two-thirds of customers trust the personalised recommendations and suggestions provided by AI-enabled interactions. Nearly half the customers find AI-enabled interactions trustworthy, compared to 30% in 2018, while the share of customers who did not trust machines for personal data security and privacy dropped to 36% from 49% in 2018.
Although customers have increased their AI interactions since 2018, satisfaction levels have dropped, the report said. At 90%, most Indian customers are not satisfied with AI interactions, while the global number for the same stands at 69%.
---