The Covid-19 pandemic has changed the way we work, shop and communicate. Notions of speed, convenience, and safety are being re-examined and redefined. Shoppers have had to adjust to new challenges when buying everyday supplies amid social distancing, remote working, stay-at-home rules and other efforts to contain the pandemic.
Finding the balance between the need to protect and the need to interact with communities to maintain daily lives is the challenge faced by everyone across the world. During this time, people have started to re-evaluate the need to handle cash as many fear currency notes might be an easy vehicle in spreading the virus. In comparison, going cashless or making payment via digital seems to be more secure as it requires minimum contact between the seller and shopper. According to a recent study done by Mastercard, as many as 49% of consumers in India say that they plan to use cashless modes of payment often.
While the shift to digital payments is not new, it has seen a steady rise over the last few months. Today, people are realizing how digital payments can help deliver health and safety benefits during the kind of social distancing and health protection measures we are seeing around the world. As many countries imposed social distancing measures through nationwide lockdowns, a significant majority of consumers turned to contactless payments for necessary purchases. This crisis has changed the payments landscape and the payment industry has a critical role to play in the Covid-19 containment efforts.
This shift in behaviour is particularly evident at checkout, where people continue to express a desire for contactless cards and voice concerns over cleanliness and safety at the point of sale.
Mastercard global transaction data and consumer research suggest that there has been a significant acceleration in the use of contactless payments.
Contactless and digital payments have grown 15x in India over the last 18 to 20 months. Consumers' requirement to pay fast without handling any cash or sharing identity details is already making contactless payments a game-changer.
Further, 79% of people worldwide and 91% in the Asia Pacific say they are now using tap-and-go payments as it lets them pay for goods or services without physically needing to swipe the card in a machine or passing it to another person. This reinforces how people look for alternatives in-store, seeking to avoid handling cash, pens, and keypads in favour of a safe and quick tap to check out.
In fact, a large majority -- 77 % of consumers in India believe the shift to contactless payments is here to stay. Further, with RBI (Reserve Bank of India) allowing transactions above Rs 2,000 on the tap-and-pin mode of payment, all card payments can now be contactless and this will further enhance the acceptance of contactless payments.
With this changing consumer buying behaviour, small and medium enterprises and local kirana stores are also moving to ecommerce and adopting digital mode of payments as they present a number of benefits for merchants – like speed, flexibility, and security.
As communities and economies emerge from the pandemic, the new consumer mindset sends a clear signal to merchants that online shopping and touch-free transactions are essential to building the business and ensuring customer loyalty now and in the future.
Moreover, digital payments act as a strong stimulus for MSME (micro small and medium enterprises) business growth as they unlock cashflows – the single most important factor for MSMEs to continue commerce – by addressing the challenges in traditional processes through alternative approaches to sourcing, underwriting, and servicing.
With a significant increase in the number of digital payments -- 40% rise in cashless transactions since the beginning of the pandemic -- the exposure to cybersecurity risks, such as phishing, virus attacks or malware has also grown. According to a recent study, global card fraud losses will exceed $35 billion in 2020. It is therefore even more critical for organisations and governments to build awareness and ramp up security and authentication efforts. The right use of new-age technology is a must today to enhance the security of digital transactions to address the risk of fraudsters who track unmonitored, point-of-interaction and standalone devices.
As we weather this ongoing crisis, the future of digital is unfolding with an accelerated transformation -- one that has long been heralded as the future and is now becoming reality -- that will propel India to a less-cash economy that is inclusive, smarter, and safer.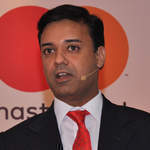 Vikas Saraogi
---
Vikas Saraogi is Head – Merchant Acceptance, South Asia, Mastercard. The views in this article are his own.
---