The global pandemic took everyone by surprise, unleashing an unprecedented and chaotic period with disrupted supply chains, demand fluctuations, and on-time delivery challenges. But, with renewed focus and resilience the industry gradually began taking back control. From retailers to logistic providers to the end consumers, everyone quickly adapted to the new normal. Digital channels were rapidly implemented to ensure on-time deliveries, manage inventories, and mapping restriction-free routes, especially for essential items.
As we now move into the recovery phase and both big and small businesses begin opening, it is important to take the learnings from this period and drive future actions.
Here are the top recommendations that can help companies recover in the post-pandemic times:
Continue process innovation
Adopting digital means, scaling on-demand, quick onboarding of staff is some of the process changes that made a huge difference during this time. Online shopping increased exponentially and the channels once created are here to stay. Therefore, companies need to continue optimizing their operations accordingly, investing in technologies to improve efficiency and ramping up to support increased demand for online shopping.
Ensuring efficient last-mile delivery
With more and more people now opting to order online, it is necessary to ensure a seamless last-mile delivery experience. The inability to scale deliveries or deliver on time are rapidly feeding into the bottom lines of businesses. Which is why they need to think differently, such as leveraging crowdsourcing technologies. Using delivery optimization software, businesses can quickly onboard temporary staff and scale the number of deliveries. This helps in meeting customer demands on time.
Digitally connected consumers are looking for faster deliveries right at their doorsteps, at their preferred time. They prefer complete transparency and control over their payment methods and deliveries. They expect easy cancellation policies, easier returns and safety of payments. Therefore, businesses need to build a seamless brand experience until the product reaches the customer, which can only come by optimizing the speed, traceability, communication, transparency, flexibility and accuracy of the logistics operations.
Manage changing customer behaviour
Customers now expect safe, fast, and contactless home deliveries. Delivery timelines have gone down to the same day or even two hours. They are looking at a seamless experience from the minute they order on their mobile to the time it reaches their doorstep. Businesses need to cope by adding a mechanism to enable contactless deliveries with "tap-and-go" payment options. Safe and timely deliveries are crucial here and companies need to keep focusing on using the latest technologies to ensure faster deliveries.
The impact of Covid-19 will be felt for a long time. But, the opportunity for innovation and adoption cannot be ignored as it will give businesses a better and more combust roadmap for the future.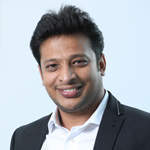 Kushal Nahata
---
Kushal Nahata is CEO and co-Founder at FarEye. The views in this article are his own.
---