Engineering services firm L&T Technology Services (LTTS) on Monday announced a 19% decrease in net profits at Rs 165.5 crore for the quarter ended September 2020. Sequentially, profits were up 41%.
The Vadodara and Bengaluru based mid-size firm had reported net profits of Rs 117 crore for the June quarter, a period that saw Covid-19 disrupting work across sectors.
Revenues for Q2 of FY21 declined 6.2% to Rs 1,313.8 crore. Sequentially, it rose 1.5%.
The numbers came on the back of eight multi-million dollar deals across all industry segments including six deals with a total contract value (TCV) of over $25 million. Revenue from digital and leading-edge technologies stood at 49% during the quarter.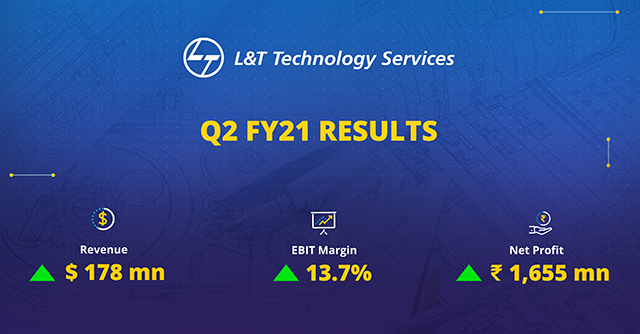 As for revenue share by verticals, LTTS saw growth in plant engineering (8.1%), medical devices (7.1%) transportation (4.1%) and industrial products (4.6%) on a quarter to quarter basis. Only telecom and hi-tech reported a decline.
"We had a strong quarter with broad based revenue growth and an improvement in operating margin performance, in line with what we had guided. Steady order bookings and a healthy pipeline across all segments gives us confidence that the growth momentum will continue," Keshab Panda, CEO and MD, said in a statement.
In Q2, the company had also opened a state-of-the-art lab to work on technologies to improve performance and endurance of electric vehicles.
"Our EV practice is seeing good traction across top auto OEMs and suppliers," Panda said.
---