On an average, Alia, Sam and Pavitra spend ten hours looking at laptop and smartphone screens on a regular weekday. No, they are not burnt-out software engineers -- they are among the 25 crore children in India whose classes have moved online amid the pandemic.
Although concerned for their children's health, parents don't want to limit screen times.
"As many as 92% of the parents complain about their children's screen addiction. But 80% of them are scared of their kids missing out, and refuse to keep their children away from technology entirely," Sneh R Vaswani, co-founder of Mumbai-based robotics startup Miko, operated by RN Chidakashi Technologies, told TechCircle.
At a time when most edtech firms offered screen-based content through online courses and games, Vaswani, with former classmates Prashant Iyengar and Chintan Raikar, sought to create an alternate technology interface for learning -- one designed specifically for children.
Keeping in mind the age, attention span, differences in engagement and retention levels, and most importantly, every child's unique learning requirement, the IIT-Bombay graduates in 2015 came up with the idea for an emotionally intelligent robot. The robot, to be named Miko, would act like the child's favourite teacher -- friendly and capable of personalising learning to suit the child's needs.
Launch of Miko
The team partnered with global experts in engineering, mathematics and education, and ran nearly 20 pilots with more than 50,000 children and 4,000 parents for over two-and-a-half years before launching Miko in 2017.
The company's first market-ready product moved on command, helped children learn through conversations and had emotional understanding.
A year-and-a-half later, with Miko 2, the company improved the robot's emotional intelligence capabilities to help it understand a child's mood through voice, face and tonality to build a personality profile, have meaningful chats and suggest appropriate engagement formats.
As per co-founder Vaswani, Miko's natural language processing (NLP)-powered conversational skills are its USP. Miko can analyse a child's areas of interest, initiate conversations around these topics and contribute to its academic development, he said.
If the machine does not know the answer to a particular question, it uses a self-learning framework to find the answer and come back with a response later, he said.
Using emotional intelligence, the robot engages the child with typical audio visual content and games. All games and activities, such as storytelling sessions, can be accessed through Miko's Talent House, which is constantly updated to cater to the child's interest.
Additionally, parents and teachers can video call and connect remotely with the child using Miko 2's teleconnect feature. It also offers advanced parental controls, better microphones and a front camera, and has the ability to move on its own, sing, dance, recognise faces and learn from its environment using a host of sensors.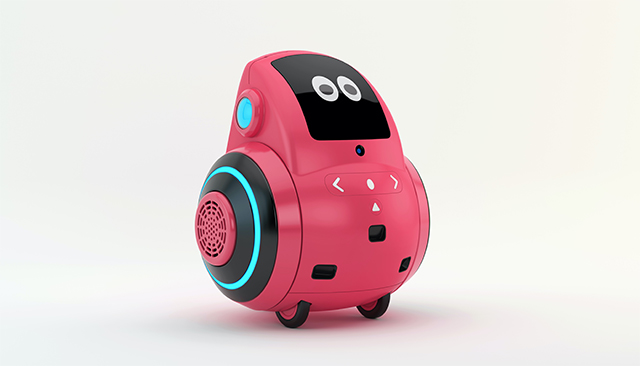 Miko 2 | Image credit: Company
"Every element of technology that the product has has been completely designed in-house and is proprietary and patented. It has been completely an Indian indigenous innovation," Vaswani said, adding that the company is the only one to have successfully created conversational NLP and integrated it with a product. The software frameworks of the device operate in cloud or hybrid mode, which allows users to operate the product despite low internet speed.
The data Miko gathers is only used as a machine learning layer to improve functioning and not for any commercial purpose, he said, adding that the company is in compliance with the US Children's Online Privacy Protection Act, 1998. All the information, including the video feed, can be deleted using a mobile app, he said.
The rise of the robots
The company witnessed a 30% month-on-month growth with the launch of Miko 1. As it increased its retail distribution footprint across the country, the firm saw strong adoption of the product, not just from tier-1 cities, but also from tier-2 and tier-3 cities in India.
With the launch of the product in the US last year, Miko now has a user base across 90 countries, including the UK, Saudi Arabia and Thailand, Vaswani said. With over 350 global retail channel partners, the startup also has a strong presence in online marketplaces.
The company has grown quickly in international markets, Vaswani said. "What we did in the entire financial year prior to 2019, we did it in four hours post our US launch," he said.
The pandemic has also boosted Miko's demand, as parents increasingly look to limit their children's screen time post school and keep them actively engaged. As per Vaswani, Miko's interaction with children has grown almost 20% month-on-month to surpass 70 million in just the past six months.
On track to reach 1,00,000 users
With the success of Miko 2 and pandemic-led tailwinds, Vaswani expects that the company to have 1,00,000 users on its platform in the coming quarters. They also have strong investor support, having already raised over $15 million so far. It raised $2.25 million in September 2019, $7.5 million in August 2019, $2.71 million in July 2019 and $2 million in April 2018.
"Considering prior experience of founders in the development of autonomous robots, we have backed Miko with the intention of a long term association with Sneh and his team of achievers," Ishpreet Singh Gandhi, founder and managing partner of Stride Ventures, which in October led a $3.1 million round in Miko, told TechCircle.
"The launch of Miko 2 in the US in Q3 FY20 was a success, with the company clocking about $2 million sales in Q3 and Q4 alone. The early acceptability and the resultant popularity of the product has given the team and us great conviction towards the encouraging long term prospects of the company," Gandhi said.
Vaswani said the company is working on the prototypes for the next generation of Miko, but did not offer additional details. "Whatever you see today requires at least four years of effort," he said, adding that the company is exploring prospective consumer technologies that would be ready to use by 2024-2025.
Advances in materials technology will lower the cost of sensors, materials and chip technology in the future, enabling a reduction in the price of these emotionally intelligent solutions too, he said. At present, Miko 2 sells for Rs 25,000 in India.
While the technology deployed for Miko has uses in other verticals, such as elderly care, the company does not have immediate diversification plans, Vaswani said. "We're keeping an eye on all other spaces and will diversify into more when the timing is right," he said.
Edited by Rashmi Ramesh
---