WhatsApp Pay goes live in India after two years in beta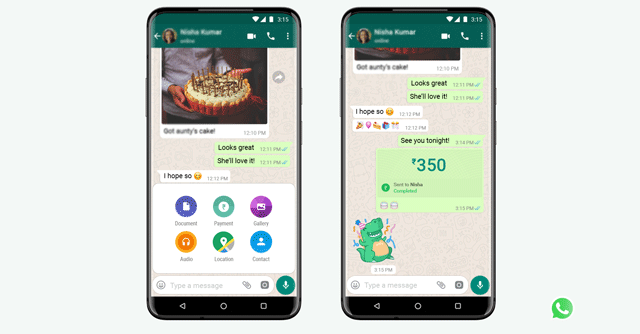 After working its way out of one regulatory hurdle after another for two years, WhatsApp Pay, the UPI (unified payments interface)-based payment feature of the Facebook-owned chat app, finally went live on Friday.
WhatsApp Pay will enable transactions across 160 banks and is working with five processing banks, including ICICI, HDFC, Axis Bank, State Bank of India and Jio Payments Bank to launch the product.
It is pertinent to note that social networking major Facebook holds a 10% stake in Jio Platforms, which is a subsidiary of Reliance Industries Limited (RIL). The partnership with Jio Payments Bank is aimed at an omni-channel push and is expected to bring MSMEs (micro, small and medium) and small retailers or kiranas on WhatsApp for business.

"Payments is available now in 10 Indian regional language versions of WhatsApp. All you need is a debit card with a bank that supports UPI and you can set it up straight away. You can find it in the latest version of WhatsApp," =Mark Zuckerberg, CEO of Facebook said in a video statement.
Retail payments body National Payments Corporation of India (NPCI), which owns and operates the inter-bank payment system, UPI, gave WhatsApp Pay the go-ahead to roll out its services with a caveat of restricting it to 20 million users. This is a fraction of the 400 million plus monthly active user base WhatsApp commands in India, as reported in 2019.
At the same time, NPCI also capped the share of UPI payments by volume for any third party app to 30%, citing 'risk' to the UPI system and eliminating a dominant player from cornering a sizable share of the market.

Launched in 2018, it has been a long wait for WhatsApp Pay to come out of its beta phase, which was restricted to one million users. The feature built on UPI to facilitate in-app transactions was stopped from scaling its services for being non-compliant with payments data storage and processing norms stipulated by Reserve Bank of India in April 2018.
WhatsApp Pay has also been the subject of a case filed by CASC for non-compliance with RBI's data norms. In August, WhatsApp told the Supreme Court that it had complied with all stipulations set by RBI.
---