The Covid-19 pandemic has put digital adoption into high gear. About 92.3% of Indian companies are reinventing their business model, compared to 79.3% global and 86% in the Asia Pacific and Japan (APJ) region, according to the latest Dell digital transformation (DT) index.
The survey by the Round Rock, Texas based global technology company also found that about 94.7% of Indian companies have fast-tracked their digital transformation initiatives this year,
The survey findings also indicated that companies in India fared better than others, with the global peers standing at 79.7% and APJ at 83.6% in terms of fast tracking digital transformation programmes.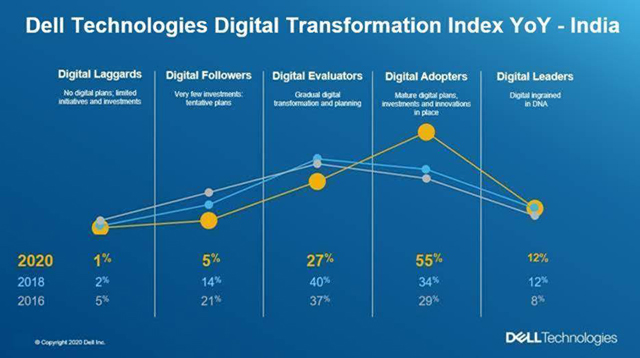 Using a curve visual, the DT Index plots digital transformation progress, from one wave of the DT Index to the next. Credit- Dell Technologies
The current digital transformation index survey took into consideration 4,300 responses from business leaders in midsize to enterprise level companies across 18 countries in the time period between July and August 2020. The study was conducted in partnership with UK research firm Vanson Bourne. It examined the IT strategy, workforce transformation initiatives and perceived performance against a set of business attributes, a statement said.
As compared to the last study in 2018, India's digital maturity has increased from 33.5% in 2018 to 55.3 % in 2020, while globally the numbers rose from 23% to 39.2%, with the APJ region having almost similar numbers.
"We are living in a data era, where constant investment in digital technologies to meet the barriers to progress is a must," Alok Ohrie, President and Managing Director, Dell Technologies India, said.
"This shift in approach by organizations recently is the primary reason why there is a rise in digital leaders in the country," Ohrie added.
Read: About 65% of APAC GDP will be digitalized by 2022: IDC
Although the pandemic accelerated digital transformation across the globe, almost all Indian organisations (97%) are facing barriers to adoption. For Indians, the top three barriers towards DT are data privacy and cybersecurity concerns, with 46.7% of respondents citing the same as compared to only 31.4% globally.
Secondly, 38.3% of respondents in India stated that they were unable to extract the right insights from the data they have access to, as compared to 29% globally and 31.1% in the APJ region.
Another major concern was the newly identified barrier of a lack of economic growth, with 36.3% of respondents citing the same, in contrast to 24.4% and 27.6% globally and in APJ respectively.
However, the numbers showed that India was on par with their global counterparts in adoption of technologies. This included 81% of companies deploying digital workspaces (compared to 80% globally), 80.7% spending on cybersecurity ( 82.1% globally) and 77% focusing on analytics ( 81.7% globally).
When it came to emerging technologies, 93.7% of respondents in India are bullish on augmented reality as compared to 82% globally. While 84.8% of global respondents said they foresee artificial intelligence as a tool to predict potential disruptions, 95% of respondents said they could use AI for the same.
Globally, the leaders were least bullish on blockchain (77.8%), with 90.7% of respondents saying the ledger technology would make the economy fairer.
However, only 22.7% (16.4%) of Indians are planning to invest in augmented reality, while 50% (31.6%) intend to invest in AI, 16.7% (15.2%) had an eye on blockchain.
---