As the world gears up for industrial revolution 4.0, hyperautomation has become critical to driving efficiencies in organisations, Confederation of Indian Industry (CII) said in a new report.
The not-for-profit body said the market for hyperautomation, which integrates technologies such as standard robotic process automation (RPA), intelligent automation, artificial intelligence (AI), process mining, and advanced analytics, is growing at 20% every year and remains on track to reach $5 billion by 2024. Globally, the market cap is expected to touch $9.98 billion by 2022, the report, titled Hyperautomation - The next frontier, added.
Hyperautomation solutions can enable end-to-end process redesign, automation, and monitoring, delivering much greater value and impact. The latest report was published in collaboration with account firm Deloitte.
According to the report, many executives estimate that intelligent automation solutions can decrease their average costs by 22% and increase revenues by 11% over the next three years. Meanwhile, many of those who have already implemented the solutions claim to have benefitted with a 27% reduction in average costs. The report referred to previous surveys by Deloitte as well as Coherent Market Insights.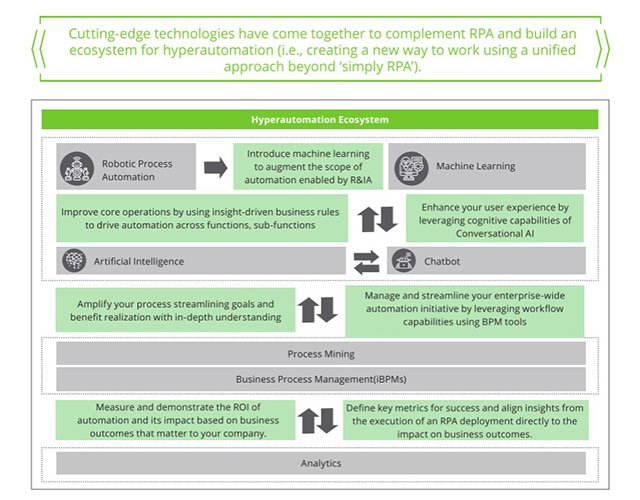 Hyperautomation Ecosystem | Credit: Deloitte-CII
"Considering the evolving nature of the business environment and the ongoing Covid-19 situation, adopting automation has become critical," the report said. "Hyperautomation is a
collection of various complementing technologies and it often leads to the creation of a digital twin of the organisation that can support business operations in parallel to an organisation's physical workforce.
Sectors that are most likely to see disruption with hyperautomation are those with disparate legacy systems and a myriad of intermediate players and processes, the report noted. This includes, but is not limited to, healthcare, insurance, travel and tourism, and the government.
---