Stitching up a new era in digital fashion with AI, 3D technology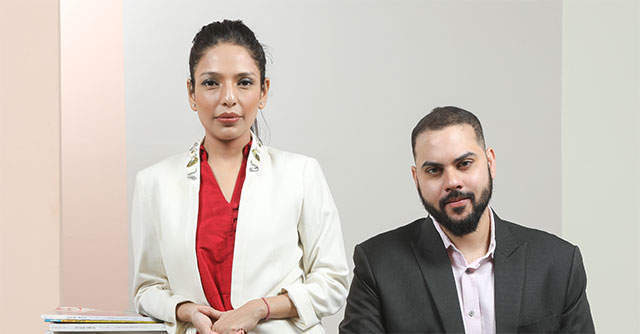 If you've ever shopped online, you know how tough it is to find clothes that fit just right. Despite using the size guide and scanning through dozens of reviews, chances are that you have, at least once, returned the merchandise -- for free and with full refund, of course -- because you were unhappy with the fit.
While this keeps our bank balance and that rational voice in our heads happy, businesses face overhead costs over processes such as receiving, sorting and repackaging the usable goods for resale, and disposing the unsellable merchandise -- in addition to losing a customer.
Last year, brands in the US lost $309 billion in sales due to merchandise returns, $41 billion of which stemmed from the returns of products ordered online, according to a report from Appriss Retail.

In 2015, entrepreneur Shivang Desai and his university batchmate Chandralika Hazarika launched BigThinx Software, with the aim to leverage technology to eliminate the root cause of the 'serial returner' problem and address the oft-occurring sizing, fitting and appearance issues.
The Bengaluru-based deep-tech startup wanted to bring the key advantage of offline retail -- the ability to try on clothes -- into the virtual world.
Measuring market needs and demand

After years of experiments, development and testing, the firm in 2018 created Lyflike, an AI-backed application that produces 3D avatars of people and the clothes they want to buy, Desai told TechCircle.
The platform requires a user to upload three full-sized photos -- a front and a side shot along with a selfie. With AI and computer vision, the solution uses the pictures to calculate the user's body measurements and processes their digital twin. Consumers can use pictures of apparel from online and offline stores to dress up these avatars to understand how the garment will look on them.
Lyflike also displays the estimated size of the recreated item and offers visually similar products from partner brands.

The catch at the time, however, was that the company needed to have enough users and data points to list brands on the platform, while brands wanted a large user base before they joined the system. This, Desai said, created a "chicken and eggs situation of sorts".
The situation prompted the co-founders to shift to a B2B model and lend their product to businesses instead of getting the brands on the BigThinx platform. As part of the shift, BigThinx advanced Lyflike in terms of avatar creation to make it look more realistic. It also took a piece of the Lyflike technology to create a 3D body scanning product called Lyfsize.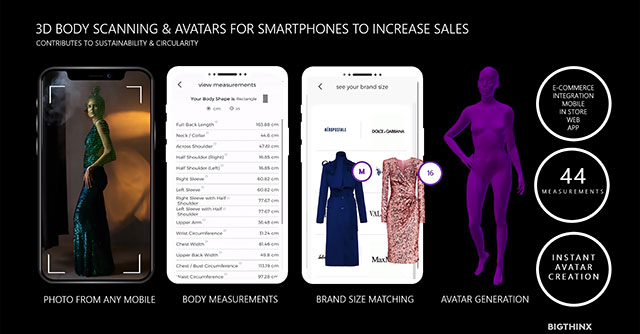 A view of Lyfsize on a mobile screen | Credit: BigThinx
Lyfsize requires just two photos -- no selfie -- and instantly derives 44 precise body measurements of the person to show a list of brand sizes that matches the measurements. The data, which claims to be 95% accurate, can also be used to make customised clothing and designer wear.
Today, both these solutions are available to retailers and fashion brands in a software-as-a-service (SaaS) model. The APIs can be integrated into any ecommerce website, app or physical store, allowing consumers to carry out body scans to instantly find their size or create personalised virtual avatars to try on thousands of products with just the click of a button.

In return, brands pay BigThinx a recurring monthly license fee to use the APIs.
The system bridges the gap between offline and online retail, and improves customer experience, Desai said. The aggregate data collected in the process can also help brands create better fitting products over time, he said.
Additionally, companies will witness increased sales and reduced returns, which will enable them to become more sustainable as they contribute fewer disposable goods to the landfill, he said.

"This data has the potential to cut waste in the supply chain by up to 80%, saving 52 trillion litres of fresh water and reducing 136 billion kg of carbon dioxide every year," Desai said.
Adoption across segments
The solutions have so far been adopted by 15 brands in the fashion and retail sector, Desai said. Its clients include an undisclosed Fortune 100 retailer in the US, independent fashion designers as well as firms in the ecommerce, workwear, bespoke clothing and luxury fashion segments, Desai said.
Anupama Singal, founder of Singapore-based womenswear retailer Anna Rainn, which uses the startup's 3D body scanning solution, said, "Going digital with BigThinx to ascertain the curve measurements and recommending the right size will help us reach more women online and help them buy the right sized clothing."
"The 'future', or rather the 'present', is digital. At Anna Rainn, we are delighted that the BigThinx technology and a few mobile clicks will be able to help women not only save time/effort to know their right size quickly, but also help them to own their curves and be more body positive," Singal said.
BigThinx claims to have helped businesses cut returns by up to 90% and increased order values by 20% on an average, since people tend to shop more when they know how well a garment would fit them.
The company currently looks to expand its presence in the European and US markets. It started its journey in Bengaluru, raised an undisclosed angel round from 9X Media CEO Pradeep Guha in late 2017 and has since taken its operations abroad, establishing a network of business partners in Milan.
The firm was also among the ten startups in the Prada Group and Startupbootcamp's maiden fashion-tech accelerator programme in late 2019, and was part of the Target Accelerator Programme in August this year.
"I invested in Shivang and Chandralika's vision for Bigthinx in 2017," investor Guha told TechCircle. "Since then, I am happy to see the growth and progress of its first product Lyflike. From being selected by Startupbootcamp in Milan as one of the world's top 10 fashion-tech startups, to joining the Target Accelerators and being named by Samsung Next as one of the world's top companies in the avatar synthesis space, the story just gets bigger."
"The usage of body data in the fashion and retail space can impact the entire supply chain and save a lot of apparel waste and thereby help in pushing the world's sustainability narrative," he said.
Business growth
BigThinx is in the process of raising a bridge funding round, dubbed a pre-Series A round, Desai said, adding that the firm is already cash-flow positive. The firm's revenues began to grow earlier this year -- while it witnessed a short blip during the Covid-19 lockdown in Europe the numbers are on the rise again, he said. Since June 2020, the company claims to have clocked about 300% month-on-month growth in terms of revenue.
The startup has also begun to explore different use cases for its technology, particularly in light of the Covid-19 situation.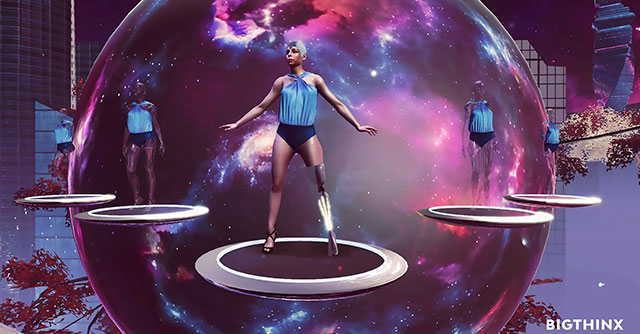 Snapshot from a virtual fashion show facilitated by BigThinx technology | Credit: BigThinx
For example, its personalised 3D visualisation technology could be used in a virtual fashion showcase to display clothing to bulk buyers, Desai said. In fact, the co-founder and his team created a digital runway show for one of the company's clients -- this culminated in putting out an entire virtual fashion show at the New York Fashion Week in September. The show, organised in collaboration with Fashinnovation, focused on the theme of inclusivity and body positivity, and featured 3D digital models wearing digital outfits in a digital world.
Shortly after that, the company also created a virtual showroom, as a replacement for regular ecommerce websites, to allow people to explore and interact with clothing items in 3D and make their purchases.
He said that the company is well established in the $2.5 trillion global fashion industry, and looks to continue the growth trajectory next year, with a target to rope in top fashion brands in the world. After all, GAP recently started exploring the concept of AR trial rooms, while Italian luxury retailer Yoox introduced a virtual fitting room with a customisable digital avatar called Daisy.
As new opportunities open up, the firm will continue to improve and expand the reach of its core products Lyfsize and Lyflike, Desai said. To facilitate the expansion, the company will license the two products to brands in market segments such as healthcare, fitness, insurance and gaming.
The stakeholders in the healthcare and fitness category want to give their customers a way to track their body size and understand whether their workouts and diets are successful, while those in the insurance segment want to use the same data to determine people's fitness level to hand out policies at a lower premium. Similarly, the use of animated, moveable avatars in gaming is an obvious use case as people get to play with a version of themselves on the screen.
"We're testing pilots in the fitness space with large independent gyms in Sweden and Italy, with a goal to draw major chains. In the gaming category, we are in talks with a company from Japan and one of the world's largest gaming companies from the US," Desai said, adding that the discussions for gaming are still at an early stage and yet to materialise.
Edited by Rashmi Ramesh
---