Late in 2014, Shekar Kirani and Abhinav Chaturvedi, partners at venture capital firm Accel, knocked on the doors of the then five-year-old spa and salon software provider Zenoti.
But here's the hitch: Zenoti, formerly known as ManageMySpa, wasn't looking for capital. A discussion with the partners quickly boiled down to a choice that co-founder and brothers Sudheer Koneru and Dheeraj Koneru had to make for the then Hyderabad-based company -- to raise, or not to raise.
Five years on, the company is a unicorn, having closed a $160 million growth funding round from a clutch of new and returning investors on Tuesday. It has raised a total of $251 million so far.
When Accel discovered the startup, it had an annual recurring revenue (ARR) between $4 million and $5 million.
Under the venture capital firm's guidance, the startup expanded overseas to markets such as the United States, whose spa and salon chains would appreciate the product offering better, in terms of pricing and scope.
"The key is that you don't need to raise money. If I didn't want to build a big outcome, if I was happy building a business in India, mainly Southeast Asia, Australia, it's still good business to be built. There's nothing wrong with it. It's just that if you raise money, then you have to go for something bigger. That's all. We made the choice," founder and CEO Sudheer Koneru told TechCircle.
The choice paid off.
The United States, the company's current base, makes up 60% of its total revenue, followed by the United Kingdom at 17%, and the remainder spread across regions of Australia, New Zealand, India, the Middle East, and Southeast Asia. India makes for less than 10% of the total top-line.
Zenoti, owned and operated by Bellevue, Washington-based Soham, creates white-labeled cloud based software platforms for salon and spa chains. The solutions manage appointments, point of sale, website, mobile, employees, customer loyalty, inventory, marketing, analytics and billing services.
How did a startup manage massive business growth and funding at a time when the industry it services is one of the worst hit by the pandemic-induced economic fallout? In an interview with TechCircle, Koneru sheds light on the subject, even as he charts the growth of the company that is set to turn 11 in January.
Koneru spent the early years of his career serving at enterprise software providers, such as Microsoft. He has led the India operations at learning and talent development solution provider SumTotal Systems, following which he moved back to India from the US.
After a year-long sabbatical in India, he donned the investor hat and backed Latitudes Pro, which operated high-end health club facilities and spas. Before long, he took over the position of managing director at the company -- here is where the Zenoti bulb switched on.
"I learnt a lot about the industry… And because there was no good software for its operations, I asked, how do others manage it? They all do the same thing, they struggle. It was hard for me. I come from a software background, and running a brick-and-mortar store is not necessarily my cup of tea. So we sold the business and I started Zenoti." Latitudes Pro was acquired by Apollo Hospitals to create a new unit called Apollo Life Studio, he added.
Zenoti signed on its first client in India, 1997-founded Enrich Salon, at a time when the salon chain had about 25 outlets -- a quarter of what it currently operates. In 2013, prior to Accel's entrance, Zenoti had a presence only in the Middle East and Southeast Asia, in terms of an overseas presence.
Zenoti claims to choose its customers, instead of the other way around. The company works with high-end salon and spa chains that operate multiple outlets in a country. While it declined to share revenue growth figures, the company's top-line has grown 80% from 2018 to 2019, and 100% year-on-year in 2020. Koneru added that he expects the momentum to stay on in 2021 as well.
The single outlet business space in the industry, he said, is very crowded and noisy.
"The high end stores are hard to win. They're very demanding, but loyal. Because once you move them, they're not going to change their software. Our churn parameters are less than 5% -- if you go to all other vendors, you'll find that the churn is 30%. (This is) because single stores keep shutting down, keep churning, keep moving software. It's easy to win them, but it's very hard to keep them," he said.
Zenoti, on its website, tracked the business impact of Covid-19 on appointment trends week-on-week, on a real-time basis, and compared it to the same store sales in the previous year.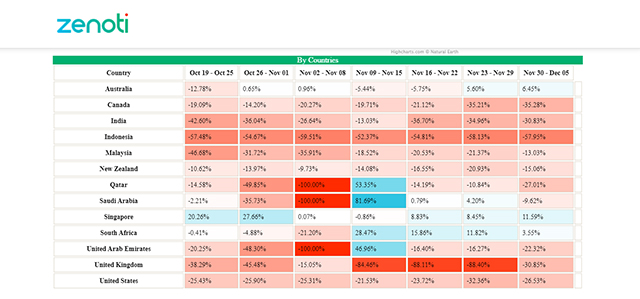 With outlets of US and Europe-based customers shut during the prime time lockdown periods, customers felt they had the time to completely embrace all of Zenoti's product offerings, he said.
"I have the time on my hands because my stores are shut down. We had brands like Hair Cuttery, with about 700 stores... They went live in 45 days in the US across all 700 stores and they actually reopened the business with only Zenoti. Even in the UK, leading salon brands, such as Toni&Guy and Rush Hair and Beauty, reopened with Zenoti," he said.
Zenoti signs clients up on the basis of annualised contracts that are auto-renewed unless the client chooses to opt out of it. "US laws allow for it, and the credit card systems and process work there. In India, however, doing such recurring billing is very hard. It's not practical," he said.
On whether the Covid-19 push to create in-house technological capabilities have eaten up competition for niche vertical SaaS offerings, Koneru expressed dissent. The investment cost to build a software like that of Zenoti is not trivial, he said, since it took the company years to build it with the right calibre and talent.
"That's the magic of vertical softwares. Why is vertical as a business taking off, whether it is the restaurant verticals or salons vertical? These solutions are so custom built," he said.
"For a business to try and replicate it on their own would be very complex, and would take time. It's a lost opportunity. Are you really going to sit and develop software versus running your business? You're good at cutting hair, why don't you make money cutting hair," he said.
Even an open source code provision for such as software, he said, would attract operating costs of running the software, maintaining it, making it available 24/7 in a cloud environment at the enterprises' end, he said.
During the Covid-ridden year of 2020, Zenoti's business never halted. Even as its client's outlets were shuttered for a month or two across geographies, the software and its capabilities were up and running at all times. Zenoti offered payment deferrals for affected clients, but no discounts.
If the 100% growth was not enough, the company still has much backlogged contracts that are yet to be worked on. "Our current plan is about 120% growth next year. But I'm sure it's based on the fact that we have very strong visibility, we have a big backlog of customers who go live on our systems who have signed up," he said.
In terms of profitability, it is not a near term aspiration for the company yet. "Today, we burn about a million dollars a month... Maybe around 2021 or early 2022, we would probably be profitable. But the right now the focus is more on customer acquisition and the action that you can offer for the quarter."
On future plans, the company looks to create inorganic growth through acquisitions in US and European markets. "We grew 100%, but the rest of the players are still struggling today. We think that there are opportunities here in the sense that these businesses are losing money and they might want to exit," he said.
---