Mumbai-based Urban Company has topped the list of internet economy companies that were ranked based on employee working conditions, according to the Fairwork India Ratings 2020 report.
Of the maximum score of 10, the personal care services provider scored an eight, the report said. It was closely followed by Flipkart, which got a score of seven. Swiggy, Uber and Zomato were at the bottom of the list, with a score of one each.
Other companies featured on the list of eleven were Ola, Amazon, Dunzo, Housejoy, Grofers and BigBasket.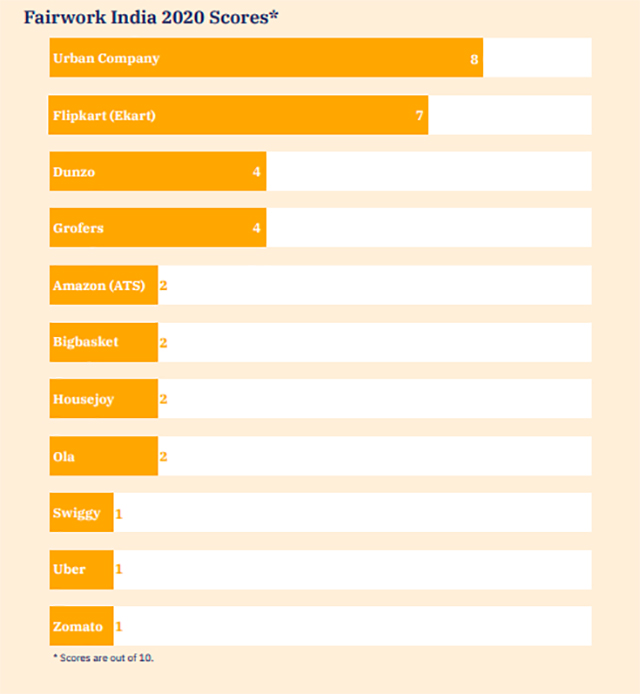 Ratings received by the internet economy companies | Credit: Fairwork India Ratings 2020: Labour Standards in the Platform Economy report
With the exception of Urban Company and Flipkart, platform companies fared poorly when it came to acknowledging a collective voice for workers. However, no platform was agreeable to negotiating with worker associations and unions," the report said.
The ratings were based on the parameters of fair conditions, pay, contracts, management and representation. The results were calculated by taking into account research, worker interviews and evidence provided by the platforms.
Two firms, Urban Company and Flipkart, scored a point each for fair management. While the former received the point for "actively blocking customers who discriminate against service providers", the latter showed "proactive initiatives to employ women and physically-disabled persons in its last-mile workforce".
Most of the other platforms struggled to give evidence that all their workers earned above local minimum wages after accounting for costs incurred by workers, the report said. There was a lack of clarity in the employment status of workers, it said, adding that most were unaware of signing the terms of service laid out by the platforms, nor were they explained these during onboarding.
The report highlighted challenges posed by the growing subcontracting of labour and data by platforms, along with issues such as the attitudes of platforms toward worker discrimination by user groups.
"While the Covid-19 pandemic has brought to prominence the precarious livelihoods of all workers (platform or otherwise), this report shows that the pandemic has only exacerbated a precarity already endemic to platform work," it said.
The Fairwork India Ratings 2020 report was spearheaded by the Centre for IT and Public Policy (CITAPP) at the International Institute of Information Technology Bangalore (IIITB), along with partners at the University of Oxford and the University of Manchester.
Fairwork uses a comparative benchmark to assess working conditions in platform economy companies in over fifteen countries. This is its second edition in India.
---