In March 2018, when Pankaj Chaddah moved on from an active role at leading foodtech platform Zomato, CEO Deepinder Goyal used two notable phrases to describe his co-founder in a blog post: conscience keeper, and a support system during upheavals.
"In the truest sense, we have both grown up at Zomato—started families, grew and scaled the business beyond what we set out to accomplish, had each other's back through the downfalls, while sharing innumerable milestones and cherished memories," Goyal blogged.
Chaddah, who met his wife Pooja Khanna at Zomato, remembers the journey just as fondly. "We were 22-23 when Deep and I started working on Zomato. Honestly, I didn't really put any thought into what all to do in life," he tells TechCircle. Chaddah mostly spearheaded Zomato's marketing and sales operations, but felt the need to do something different.
Chaddah had joined Deepinder Goyal, his colleague at Bain & Company and a senior from IIT-Delhi, to work on a restaurant discovery portal called Foodiebay.com in 2008. It was early days of foodtech in India, and they took the challenge head on.
They rebranded the portal to Zomato, and expanded the business even to countries outside India, ventured into food delivery, raised 0ver a billion dollars across multiple rounds and is currently in the last lap of going public.
"I moved out not knowing what I will be doing next. I knew I wanted to do something different, but I didn't know what," he says. Little did Chaddah and Pooja Khanna know that their next entrepreneurial endeavour would tap into creating a support system for a much larger set of people—Mindhouse.
"When you plunge into something at a very early age and stay in it for about a decade, you end up living in your own world and don't get a lot of exposure," Chaddah recalls. "So, I took about a year off to understand how else people work and what else is happening," he said."
The idea often came up during the couple's travels across North America, South America and Southeast Asia, as they met a lot of people and interacted with many entrepreneurs.
Mental health and wellness was a resonating theme in conversations across their transnational trip and it stayed with them for months.
Returning back home, the husband-wife duo spent months researching on the space, delved deep into how meditation is handled and delivered in India, held numerous interactions with stakeholders in the ecosystem, experts and potential customers. Besides being an important factor in maintaining personal and professional wellbeing, they realised mental health is a huge market opportunity in India and a product from India can also do well globally.
"When we were traveling, we found that mediation and mental health were much destigmatised from a societal perspective. They are much modernised. Meditation has been detached from spirituality and religion. In India, it is still very traditionally looked at. We realized that there is a huge population which has a latent need for this service. When there is a latent need, it can lead to a category creation I guess," he said.
First steps
After six months of research and iterative thought processes, Khanna and Chaddah were convinced they have enough answers to start experimenting and that the opportunity is wide enough to get to a good space in a few months where they would find the product market fit to scale. They set up a small team and launched the first Mindhouse physical meditation centre in Gurgaon in November 2019. The team also released a basic mobile application where users could book sessions.
The centre has in-house instructors who offered meditation classes based on the course-content it developed internally. Mindhouse reached out to users via offline hyperlocal marketing and social media campaigns and saw encouraging response. It provided a pre-decided schedule of classes through the day, from 7 am to 9 pm. In the first month, the company had about 100 regular customers. Mindhouse launched subscriptions in December, at Rs 3500 a month, which worked like a gym membership.
The company opened two more centers in Gurgaon in a partnership model with members-only clubs where it used available vacant space to do meditation classes.
Everything came to a grinding halt when Covid-19-induced lockdown hit in March. Chaddah's Zomato journey came in handy during this early crisis which in turn, fast-tracked his online plans for the startup.
"One of the good things you learn from your first venture is that there is always going to be ups and downs and you should not get boggled by it too much. We knew what we had to do and we quickly got an online product out," he said.
The founding duo reoriented the team towards the new reality, and began focusing on doing what needs to be done to get the product market fit for the app. The focus was swiftly shifted from physical centre expansion to attracting the first 10,000 users on the app. A barebone content app was rolled out within a week since the lockdown. Subsequently, a strong technology and content team was built to launch a full-blown app in the next 3-4 months.
"In hindsight, the pandemic turned out to be beneficial for us. We have always planned to launch an online product like the one we have today, but we planned it for much later. Lockdown made us reprioritise and pull those plans up and we had to quickly build a strong dev team and launch a full-blown app in a matter of weeks," Chaddah said.
Mindhouse envisaged a B2B and B2C path to reach out to the right set of users to get feedback on both app and its content.
The company offered companies one month of free app access to their employees. It was at a time when the pandemic was ravaging the country and people were stressed and anxious. In the span of a few weeks, about 600 companies rolled out the app to their employees which helped the company immensely in fine-tuning and improving the product.
Business model
The digital platform today provides meditation and yoga based mental wellness solutions to users, with techniques that help combat stress, improve sleep patterns, sharpen focus and increase overall productivity. Mindhouse hosts live guided meditation sessions and yoga classes on its mobile app delivered by trained instructors, as well as a catalogue of pre-recorded audio content which can be accessed at any time.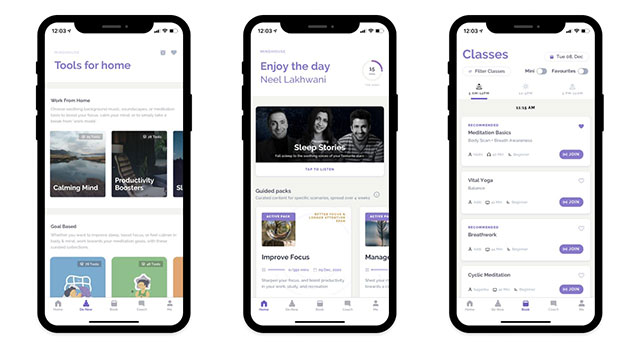 Mindhouse app screenshots | Credit: Mindhouse
Under its current B2B offering, it helps companies incorporate mental wellness into their employee benefits and engagement programs. Companies can buy bulk subscriptions which its employees can use to access the content on the app. It also helps companies start or strengthen their employee wellness programs by offering live meditation sessions to corporate employees. Currently, it has commercial agreements with over 100 enterprises.
On the B2C front, individual users can access the app for meditation and yoga content or choose live classes. The app recommends content based on a user's selected goals from sleep, patience, focus, relaxed mind and relaxed body, and their past experience in meditation. Based on their requirement, it provides a week-on-week program to follow which includes pre-recorded meditation classes. New users get 14 days of free access, post which they have to pay a subscription fee.
Recently, Mindhouse collaborated with celebrities Rahul Bose, Konkona Sen Sharma, and Amol Parashar to launch its own bunch of original sleep stories.
Chaddah says the mobile application clocked 100,000 downloads in the last five months, but declined to divulge any more metrics around its growth metrics or targets. Mindhouse currently employees around 30 employees, which includes 10-15 instructors.
The company has launched its services in UAE and according to Chaddah, the app is seeing increasing organic traction from Canada, US, and Australia.
Like in the case of Zomato with foodtech, online mental health is an emerging sector that's yet to see large-scale adoption or a market leader. Category creation is not just about being the first mover, but creating a breakthrough product that can evolve into a true flywheel and find the right product market fit to achieve scale.
"Early days of category creation require a lot of work, get your hands a bit dirty because it's not a familiar space, and do stuff that gets you to a level from where you can scale. That part of the process doesn't change. At times, it is agonising that you have to do it again after 10 years. At the same time, you also have the knowledge from your experience as to what to do and what not to waste your time on. It helps you skip a few steps," Chaddah says.
Besides the founders' investments, Mindhouse has raised a couple of angel rounds from a bunch of seasonal entrepreneurs including Flipkart co-founder Binny Bansal; Sahil Barua, co-founder and CEO of Delhivery, Ambarish Raghuvanshi, co-founder of Info Edge; Bain & Company executives Sri Rajan and Karan Singh, and angel investor Anand Chandrasekaran.
Chaddah says Mindhouse will raise a larger Series A round to fuel its international expansion plans.
---