Digital Transformation has been a key focus area for most of the companies. With expected benefits of improved customer engagement and satisfaction, cost efficiencies, better resource utilization, more automation – it's always been a major topic of interest. So, what's new?
For most organisations, digital transformation has moved from being a strategic growth agenda for the future to an immediate need for survival.
For several organisations, this is the only way to function -- what was a multi year plan is now to be done in weeks if not days. Digital transformation seems to have leapfrogged a few steps and organisation, individuals and ecosystems have evolved in the adoption journey.
Change in demand pattern and customer expectations
There has been a sea change in the customer behavior after the onset of the Covid-19 pandemic. Customers prefer digital interaction from the safety or their homes and demand of services is pushing companies creating the supply. People are also spending more time online, be it for their work, shopping, leisure, medical checks or their kids spending time online for education and studies.
So, whether we like it or not but there is an abundance of digital interactions and with it, an increased expectation from customers that 'everything should be digital' and should work anytime and anywhere customers want it to work. Demand creates its own supply, with the change in customer expectation and in line of demand the organizations are galloping fast.
Digital transformation for survival
Need for digital transformation has been fast-forwarded with the Covid-19 impact. For a long time digital transformation was seen as an enabler for cost efficiency, better customer experience (CX), increased automation among other things. However, with the pandemic, we have seen that digital transformation is fundamentally a differentiator to judge if an organisation survives or perishes. It's no longer about 'digital transformation for enablement' it's about 'digital transformation for survival'.
Take a very simple example, working from home was seen as luxury (or a perk) for a long time. However, with the onset of Covid-19 this has become a necessity. For continuity of business it's now a must-have for organisations to be able to support this. We at Fidelity always had a digital ecosystem to facilitate working remotely, not only through our secure and easy to use audio and video conferencing and remote collaboration but also systems and data was available to be able to work in a distributed environment. In fact we were able to do our staff townhall using virtual reality and run team engagement activities digitally.
More focus on environment and sustainability
After the onset of the pandemic, there has been renewed focus on environment and sustainability. People feel more conscious about the impact of human development on nature and a need for balance. From a financial services company's perspective, this presents an opportunity to create new products and services that are focused on these key topics. Modern age technologies like artificial intelligence and natural language processing (NLP) present excellent opportunity in this space. Customers are asking for impact investing - environmental, social, and corporate governance (ESG) factors are increasingly becoming important for clients to ensure sustainability and societal impact of their investments.. Clients are seeking more transparency of investment exposure not just of the company but of the entire supply chain of these companies.
The companies find themselves in an interesting place, on one hand as economic fear and uncertainty has risen with the impact of pandemic and on the other hand the pattern of customer behavior and investing behavior is going through a change. The need for agility in the digital transformation journey is higher than ever before. Over the last few years, the digital transformation journey has moved from a world where data was insufficient to a world of abundant data. The problem on data has moved from not having the right data to having a sea of data in which right information is hard to find. So the question is -- how do we unlock the huge locked intelligence in the data and deploy it to form insights and decision making to create competitive advantage? The Covid-19 crisis has expedited the transition to respond to the need for better transparency of operation (cost) , good radiator for risk exposure (reputational) and fast response to shifts in market (customer expectation).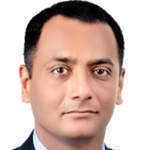 Sachin Bakliwal
---
Sachin Bakliwal is the head of asset management technology and analytics at Fidelity International. The views in this article are his own.
---