There is nothing called 'real money gaming', it's gambling: Vishal Gondal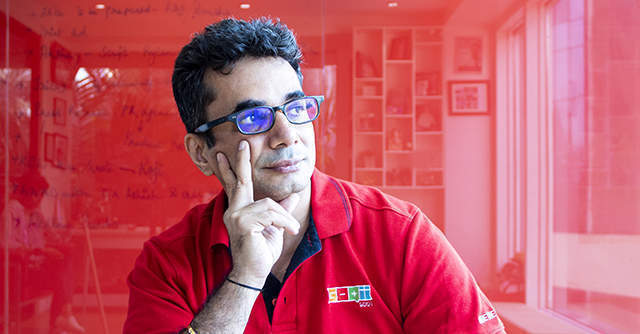 A gamer at heart, Vishal Gondal could not stay away from the world of game development longer than necessary. The founder of fitness technology company GOQii sold his game development and publishing company Indiagames to Disney in 2013 and as soon as his non-compete agreement was over, he jumped back on bandwagon with the nCore Games investment.
nCore Games recently launched FAU-G, which was touted to replace the banned Chinese battle royale game PUBG.
In an interview with TechCircle, Gondal spoke about why that assumption was unfair, sharing his views on game monetisation, as well as regulation of the 'real money gaming' and fantasy sports genre in India.

"Gaming is not binary like ecommerce or cab hailing where you go to one or the other. An average gamer will play multiple games. People have this concept in mind that we are going to replace something but we are not," Gondal told TechCircle, adding that FAU-G is the first of its kind in India.
Edited excerpts:
How deep is your engagement with nCore Games?

I don't have an operating role in nCore Games. The development is led by founder Dayanidhi MG and the team in Bengaluru. I am more involved in the creatives, marketing and product design.
After my last exit, I had a five-year non-compete agreement with Disney, which got over in 2018. In 2019, I got together with the nCore Games team. And that time, I was clear that I was already running GOQii as a CEO, which took more than 100% of my time. So, this was more about mentoring and guiding another team. It is more of a strategic adviser role.
People expected FAU-G to be a PUBG alternative.

We never said that we're a PUBG competitor. PUBG is just shooting -- it doesn't have a storyline. An average Indian doesn't connect with any theme of PUBG, although it is a great game.
There was no Indian alternative in this space.
The idea behind FAU-G was not to just create an action game -- it was also about telling people the story of our soldiers and making them aware of the sacrifices made for the country.

From a game design and game development perspective, we know we can't create a game overnight to compete with one that has been in development for several years. This is especially true when it comes to multiplayer games that involve so many complexities. We didn't want to launch it on day one, as we expected huge traffic and didn't want it to crash. FAU-G is going to get better and better.
Why does the game lack shooting elements despite user preference?
We wanted to show how the war at Galwan Valley played out between India and our neighbours. This is why the weapons on the game are unique -- clubs, sticks and rods.

Let's put it this way -- we were inspired by the real events. We're not saying that the storyline is accurate, because that involves a lot more permissions. So FAU-G is Fearless and United Guards, which is a unit of its own. Given that it is an active war right now, we didn't want to go into that.
It is unfortunate that outside of Ludo, the only top Indian games we talk about are Rummy and Teen Patti. I am sure we can make better games than that. But this whole thing of real money gaming, which is actually gambling, has spoiled the game development scene in India because all major investors are going after gambling. All the other game categories are dominated by Chinese, American and Korean players.
In the past five years, not a single game development company has invested in Indian IP.

What are your thoughts on regulation around real-money gaming and fantasy sports in India?
There is nothing called real money gaming. It is a made-up word in India. It doesn't exist anywhere else. It is gambling. Gambling needs to be treated the way gambling is treated worldwide. The US has its own laws to deal with gambling, as does Singapore. All I am saying is that these activities happen in India under the garb of gaming.
I have been in esports since 2002, having launched World Cyber Games in India. But the minute you talk about fantasy gaming, I see it as horse racing -- you're going to bet on something based on an outcome in the real world.
In case of esport, you play the sport yourself, but you can't say that I am just sitting at home and there are other people playing and I am betting on their result. That is not esport.
Going ahead, what updates can we see on FAU-G? How do you plan on monetising it?
We will introduce esports with FAU-G as well. We will introduce player vs player (PVP) and we will build a community with it. This is a medium to long term plan.
Ads are not going to be the dominant form of monetisation for us. There will be ads but we will not be making money from it. Even now, there is one spot where you see an ad to get some currency. There are other interesting ways for monetisation -- we have launched it as an Easter egg. It is called Ice Spice (in-game store for FAU-G merchandise). We will make it more prominent. We believe that there is a big market for people to buy merchandise -- that will be our means of monetisation.
---