Food tech unicorns Zomato and Swiggy are battling it out for market leadership even as the former is en route to an initial public offering (IPO) sometime this year, which will mark the first public market outing for an Indian food delivery firm.
Currently, Swiggy holds a marginal lead over Zomato in the pure-play food delivery business, according to the companies' earnings report for the financial year 2019-2020 (FY20).
The Bengaluru-based company's standalone revenue from operations grew 124% to Rs 2,515.4 crore in FY20 while Zomato's revenue stood at Rs 2,336 crore for the year, which doubled from Rs 1163 crore in the previous fiscal.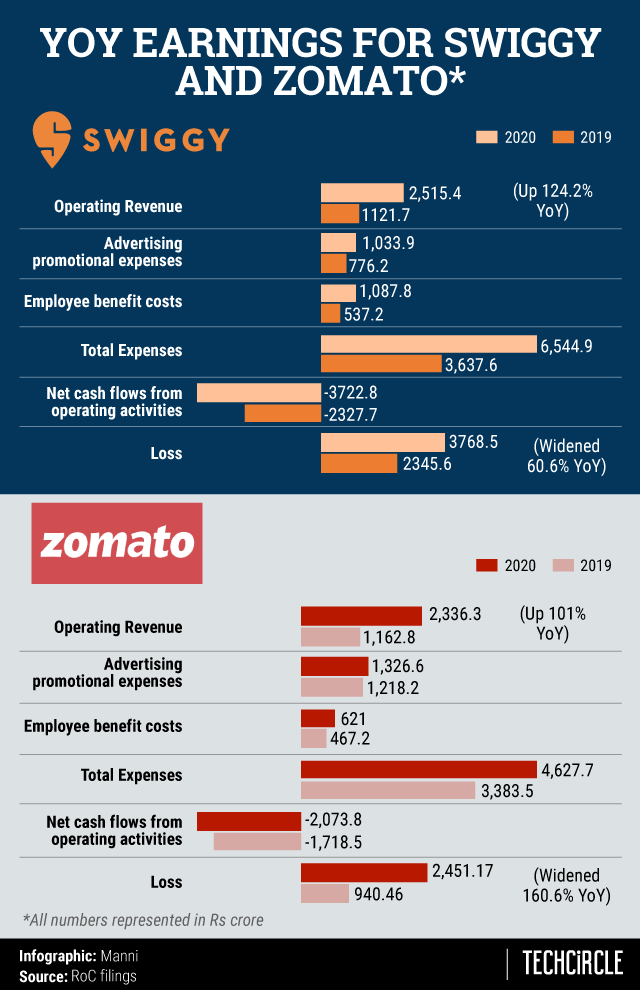 In terms of spends, food delivery continues to be a high capital-burn business. Swiggy's expenses nearly doubled to Rs 6,545 crore from Rs 3,637.6 in the previous year. It spent Rs 1,034 crore on advertising and promotions, up from Rs Rs 776.2 crore while employee costs rose to Rs 1087.8 crore from 537.2 crore.
Consequently, Bundl Technologies, which operates Swiggy, incurred Rs 3,768.5 crore of losses for financial year 2019-20, up 60% from Rs 2,345.6 crore last fiscal.
On the other hand, Zomato's losses widened over 2.5 times to Rs 2,451 crore during the year from 940.4 crore in FY19. Employee benefit expenses stood at Rs 621 crore, up from Rs 467 crore in FY19 while advertising promotional spending grew marginally to Rs 1,326.6 crore from Rs 1218.2 crore.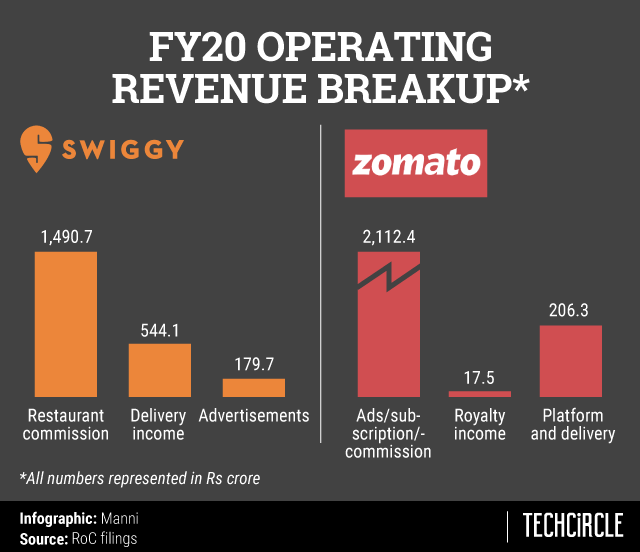 Swiggy's service income or commissions generated from restaurants contributed 59% or Rs 1490.7 crore to the operating revenue, delivery fees collected from customers accounted for 22% or Rs 544.1 crore and revenue from advertisements contributed 7% at 179.7.
Gurugram-based Zomato' primary revenue sources are advertisements, online ordering, food delivery and subscription offering Zomato Gold. The company saw its income from provision of platform and food delivery services grow nearly 13-fold to Rs 2,06.3 crore during the fiscal.
Revenues from the sale of services which includes advertising, subscription, sign up, and commission increased to Rs 2112.4 crore from Rs 1134.6 crore. This accounts for 90% of its operating revenue.
Zomato, which runs 35 subsidiaries through its acquisitions and international business units, recorded a consolidated operational revenue of Rs 2,605 crore in FY20, up 98% from Rs 1,312.5. Consolidated losses for the period stood at 2,385.6 crore, up 138% from Rs 1,001 crore in FY19.
India accounts for nearly 90% of the company's revenue (Rs 2,099 crore ) and the remainder comes from the UAE market (Rs 237.2 crore).
During the financial year FY20, Zomato sold its entire stake in Bengaluru-based Loyal Hospitality, which provides kitchens for restaurants, for an aggregate consideration of INR 33 crore. VCCircle had exclusively reported this development in February last year. Zomato had invested about Rs 30 crore in the company in 2018, according to VCCEdge.
Zomato also shut down its non-operational step-down subsidiaries in Austria, Romania and Norway during the year.
During the year, Zomato acquired ride hailing app Uber's food delivery business in India, Uber Eats, in a cash and stock transaction valued at Rs 1376 crore.
In September, co-founder and CEO Deepinder Goyal told Zomato employees that the company expected to launch an IPO by the middle of 2021. In January, Zomato closed a $660 million pre-IPO round. Overall, the company has raised over $1.2 billion across multiple rounds since its inception in 2008, as per VCCEdge data.
Swiggy impaired the entire investment of Rs 102.3 crore in Ant Farm-incubated hyperlocal delivery venture Scootsy, which it acquired in 2018 for Rs 37 crore. Scootsy delivered food, fashion apparel and accessories, home décor, and more in Mumbai. Post acquisition, Swiggy infused Rs 33 crore during FY 2018-19 and Rs 32 crore during the current reporting fiscal. Scootsy's losses grew to Rs 240 crore in Fy20 from Rs 206.8 crore in the previous fiscal.
Milk delivery startup SuprDaily, Swiggy's other 100% subsidiary, posted a loss of Rs 272.2 crore during FY20. Swiggy acquired SuprDaily in September 2019 for Rs 51.5 crore. As of March 31, 2020, the company assessed the carrying value of the investment at Rs 333.5 crore for impairment; however, based on future operational plan, projected cash flows and valuation carried out by an external auditor, it decided to carry the value on its balance sheet.
The company has classified Maverix Platform, which owns Fingerlix, as an associate company. Swiggy holds 27% in the firm.
During the year under review, Swiggy added over one lakh restaurants and had an active delivery fleet of over two lakhs. The company said it widened its reach across the country by launching 405 new cities during the year. Swiggy's contribution margin per order improved by 73% year-on-year, the company said in the filings.
In April last year, Swiggy raised $43 million to tide over the lockdown crisis. Its last major fundraising was in February 2020 when its returning investors Prosus, the investment arm of South African internet and media conglomerate Naspers; Meituan-Dianping and Wellington Management infused $112.5 million into the company. Previously, it received $1 billion at a valuation of $3.3 billion in December 2018 in a funding round led by Naspers.
---