In a first, Agnikul Cosmos develops, fires 3D-printed rocket engine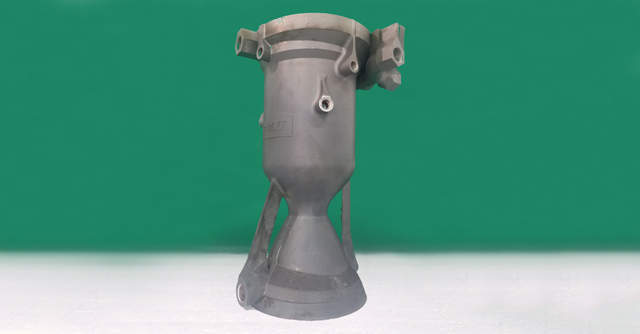 Even as India's private space sector remains in early stages of development, budding startups operating in the category have been making some significant strides.
Case in point: Agnikul Cosmos, an IIT-Madras incubated spacetech player, said it has developed and fired the world's first fully 3D printed rocket engine.
Called Agnilet, the higher stage semi-cryogenic engine has been produced as a single component in one run of a 3D printer.
Humbled to announce firing of fully #MadeinIndia Agnilet - a 100% 3d printed, 1 piece semicryo rocket engine. Compared to older firings this is new:has 0 assembly involved->the entire engine is 1 part. Grateful to @isro for continued support. @narendramodi https://t.co/V7EiiNl5Cn

— AgniKul Cosmos (@AgnikulCosmos) February 9, 2021

According to a statement from the Chennai-based startup, Agnilet encapsulates hundreds of components that go into a rocket engine -- from propellant injectors to the igniter and cooling channels -- into just one hardware, thereby automating the making of an entire engine.
"This entire engine -- Agnilet -- is just one piece of hardware from start to finish and has zero assembled parts," Srinath Ravichandran, CEO and co-founder of the firm, said in the statement.
"We don't think anyone in the world has ever pushed 3D printing of a rocket engine to this extent and we couldn't be happier to have conceived, designed, realized and test-fired this engine, fully in India," he added.

The architecture from Agnikul will simplify rocket engine development and bring production time down to less than 72 hours. This will eventually help the startup, which was founded in 2017 by Ravichandran and Moin SPM, establish the propulsion system of its planned orbital-class launch vehicle -- Agnibaan.
Commenting on the development, Moin SPM said, "...we are relieved that we would not have to track or manufacture numerous parts to realize a rocket engine from now on. All that remains after printing is bare minimum post-processing after which the engine can directly be assembled in our launch vehicle."
Agnibaan is still in the development phase. However, once the vehicle is ready, it will be able to use a plug-and-play engine configuration and deliver small satellites -- weighing up to 100 kg -- to low-Earth orbits, which is up to 700 km in altitude.

The startup plans to prepare the rocket for launch by 2022. In fact, it has already signed an MoU with the Alaska Aerospace Corporation to obtain necessary clearances and conduct test flights of the vehicle at the Pacific Spaceport Complex –Alaska (PSCA) on Kodiak Island in the United States.
Agnikul is also receiving technical and test support from ISRO's Department of Space under Indian National Space Promotion and Authorisation Centre (IN-SPACe). The organisation was formed by the government to promote and guide private firms in space activities by enabling easy access to infrastructure and maintaining a friendly regulatory environment.
---