How Vyapar, Khatabook and OkCredit are tapping new revenue streams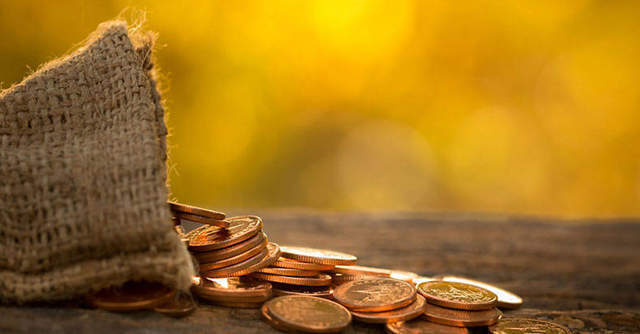 For bookkeeping applications Khatabook, OkCredit and Vyapar, the pandemic last year opened up new revenue streams. From helping small businesses to record transaction details and send notifications to suppliers and customers to make payments on time, these platforms changed lanes to help businesses digitise and create online storefronts.
While Khatabook, owned by Bengaluru-based ADJ Utility Apps, launched MyStore in August last year, Bengaluru-based Psi Phi Global Solutions, which owns OkCredit, launched OkShop in November. Khatabook and OkCredit were founded in 2018 (app was launched in January 2019) and 2017 respectively. Vyapar, owned by Bengaluru-based Simply Vyapar Apps which started up in 2016, entered the fray sometime in 2020 with its storefront solution as a part of the main app.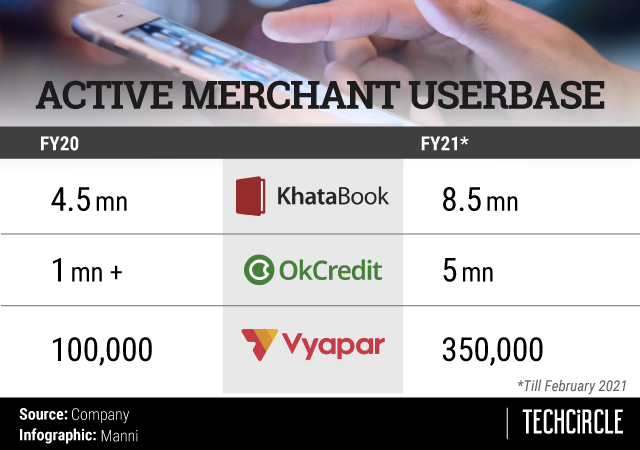 All three solutions have drummed up market traction since their launches. OkShop, according to co-founder and CEO Harsh Pokharna, had 1.5 lakh downloads within the first three months of its launch. Khatabook's MyStore has seen 2.8 million downloads till date, according to co-founder and CEO Ravish Naresh.
Vyapar's storefront solution has seen 4 million downloads, said founder Sumit Agarwal, adding that a product like this would have worked even without the COVID-19 lockdown.
Khatabook and OkCredit didn't stop at digital storefront solutions. They also came up with solutions for employee management. While OkCredit launched OkStaff in 2020, Khatabook too entered the space with Pagarkhata in December 2020.

"We had a couple of products planned already. We had developed MyStore, enabling shopkeepers to create catalogues and share with Khatabook users. Pagarkhata was launched eight weeks ago and it is scaling really well," Naresh told TechCircle. Naresh had earlier co-founded property search portal Housing.com and message organising app Kyte.
It is early to ascertain how the new business lines will impact revenues at these companies during the current financial year, which has mostly been subsumed by the pandemic. But, let's take a look at how they performed in the last financial year, 2019-2020 (FY20).
By the numbers

Khatabook closed FY20 with losses at Rs 101.54 crore on total revenue of Rs 25.66 crore. OkCredit widened losses to Rs 156.58 crore from Rs 1.77 crore the previous year, while total revenues grew to Rs 91.18 lakh from Rs 5.44 lakh in FY19.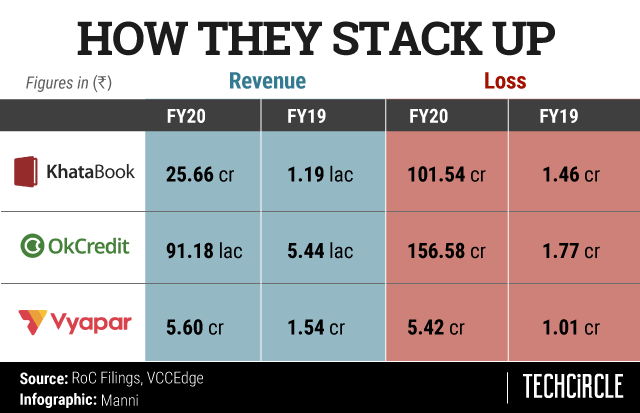 Vyapar reported FY20 losses at Rs 5.42 crore on total revenue of Rs 5.60 crore. While its revenues have grown 263.64% from Rs 1.54 crore in FY19, losses have ballooned from Rs 1.01 crore. Vyapar's business model is slightly different from peers Khatabook and OkCredit. More on that later.

Expenses for Khatabook in FY20 stood at Rs 127.21 crore, while OkCredit saw its expenses increase to Rs 157.49 crore. Both OkCredit and Khatabook spent money on team expansion, building back-end technology and advertising to capture market share.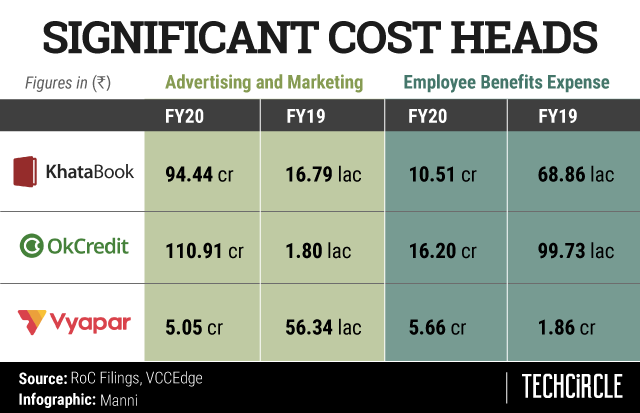 "Because we are a pre-revenue company, we had to scale massively. We started FY20 with a team of 10 people and around 10,000 merchants onboarded. We ended FY20 with 100 team members and more than a million merchants. We had to scale up technology and infrastructure. It's the scaling up cost that became losses. Major cost heads for us are salaries, infrastructure, wherein we save merchant data and marketing," Pokharna said.

Vyapar's expenses increased to Rs 12.90 crore.
"Purely digital ledger apps have started to figure out revenue models. That's definitely a challenging landscape and I believe all of the companies working in the MSME sector have the potential to become great companies. Many have started solving other MSME problems where there's potential to generate revenues. So it is going to become more and more competitive as we move up in the journey," Vyapar's Agarwal said.
Accounting is just a part of Vyapar's offering which includes other features such as managing bank accounts, cash flow, billing, invoice generation and GST Filings. It charges a fixed subscription fee annually based on the usage of its SaaS product.

Khatabook's investors include Sequoia Capital India, partners from DST Global, D Capital and Y Combinator to name a few and the platform has raised $85 million so far. OkCredit has raised a total of $84 million from Lightspeed Venture Partners, Tiger Global and Y-Combinator.
Vyapar is backed by IndiaQuotient, Axilor Ventures, and e-commerce company IndiaMart and has raised Rs 42 crore till date.
More growth frontiers
All three platforms use cloud-based storage systems to let merchants work on the ledgers both online and offline. The merchants record details on various transactions, product sales and stakeholders in their supply chains. With a treasure trove of such information on consumers and consumption patterns across the country, these startups are in a unique position to leverage data to offer B2B partnerships to FMCG conglomerates and create more value added features for small businesses.
"We don't charge any money to the merchants to use our software. Our hypothesis right now is if we build the merchant network, with millions of these shopkeepers recording their transactions with us, we gather a lot of data. This is completely unique proprietary data. I believe this data has huge potential which can help us create more value added services for the merchants," OkCredit's Pokharna elaborated.
OkCredit, he added, is currently exploring partnerships with large corporations.
Khatabook's Naresh concurred. "2020 was the year of growth and expansion into the MSME segment. We will now look to monetize it. A lot of the features like inventory building, invoice generation, GST filing will be paid. Pagarkhata too will have a paid version with more features. We are looking at monetization over this year," he said.
Khatabook has been the fastest growing among the three in terms of user base. It currently has around 8.5 million monthly active users or merchants on the platform. "With this, roughly 20% of the entire addressable market is on Khatabook now," Naresh claimed. Khatabook's core customer acquisition strategy has been through social media especially short video app TikTok.
"Before TikTok got banned, we had reached almost 90% of its customers. Our acquisition method has been entirely digital. That is something I believe we have pioneered in, which has helped us gain traction fast," he said.
These apps have a long way to go before they come out as clear winners, but they are staring at a huge market opportunity. MSMEs and small businesses contribute nearly 90% of the country's retail GDP, according to Naresh.
"We have always been working with SaaS revenue models as we understand very deeply how MSMEs work and how they think. We will definitely be building more SAAS and revenue channels on top of the core Vyapar product, " Vyapar's Agarwak said.
( Note: The article has been changed from the original to reflect altered quotes from Vyapar founder Sumit Agarwal at his request.)
---