The time has come to really focus on monetisation: Sandeep Aggarwal, Droom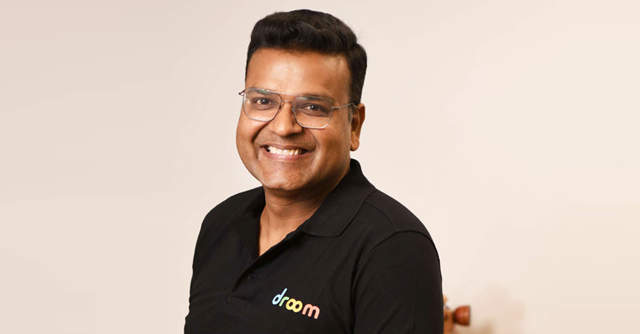 The pandemic and the subsequent lockdown surprisingly spurred growth for one segment in the mobility sector -- the new and used automobiles marketplace.
While Gurugram-based Droom did see business drop between April and June, people's preference to travel in their own vehicles post lockdown helped increase website traffic, enquiries and leads.
In an interview with founder and CEO Sandeep Aggarwal, TechCircle explores how Droom's business has picked up post lockdown, its monetisation and IPO plans, and other goals.

Edited excerpts:
How was 2020 in terms of operations?
Day-to-day operations were hit as the country went into a lockdown in March. We were doing 93 million in GMV (gross merchandise value) in February 2020. That number came down to nearly zero by the end of March-April 2020. We did not have good day-to-day business between March and June -- in hindsight, that hurt us quite a bit. However, the business started to pick up in July and it has only increased each month since.

Was there an increase both in the number of enquiries and sales?
In May 2020, the number of orders was at 2,000, with traffic at 2 million. Now, the orders have almost touched 30,000 with 12 million traffic.
In the past, we had a different strategy -- we were driving even 40 million traffic. Even in absolute numbers, organic and direct traffic was only 1-2 million of the total traffic of 40 million.

Today, of the total 12 million traffic, 50-70% -- or 5-8 million -- is direct and organic. This un-induced, high quality traffic can only come when you or your category experiences strong digital adoption.
Between March and now, traffic has gone up 6X, number of leads 5-7X, and orders 15X. GMV, obviously, went from almost zero in March-April to a record 104 million last month.
How did Droom manage remote operations?

It was not at all easy. No one was prepared for it. We had to implement a lot of changes, from cost cutting to looking at our infrastructure.
We are an internet company and hence have a different type of cost structure. At least we did not have to worry about physical retails, unsold and decaying inventory, or that someone was removing the tire or music system from our unsold cars... We had none of those problems.
On the other hand, it was quite tough to contain our course. We were able to overcome the hurdles in terms of profitability, higher quality traffic and cost cutting. We wanted to achieve them anyway, but with Coronavirus, it was done sooner and in a more concentrated manner.

How close does profitability look?
From September, we have become contribution margin positive. It means that with our net revenue, we are fully recovering the cost of goods sold, 100% of marketing and 100% of every other variable expense. So, we have a positive contribution margin.
What we are not recovering is fixed expenses on product and engineering, R&D, or general administrative overheads.

But by just doubling our scale, even on an EBITDA basis, we will be profitable.
But for an ecommerce company, being contribution margin positive, if I'm not wrong, is not easy. This is true for companies including Flipkart or Amazon, even after a decade and with such large scale.
Since we are a marketplace, we don't buy and sell. Hence, our net revenue is more than 3% and our marketing spend is under 2.7%. That made us achieve a positive contribution margin, and we have a very little cost of goods sold.
We worked on having higher quality traffic and made changes in our algorithm. So for the same expense, our conversion improved by 2.3 times. We are very close to becoming fully profitable on an EBITDA basis.
We improved our traffic as we got market tailwinds. People no longer prefer public transportation, or rideshare. People are avoiding physical centres to buy used automobiles. These worked in our favor. I think we are maybe less than a year away from being EBITDA positive.
What are Droom's plans for 2021?
Automobile is an extremely large category. In fact, it is bigger than any other category in retail. But unlike mobile phones, fashion, electronics or computers, it has very low online penetration at just 7%.
In the past, we spent most of our time, energy, money and resources building the basic infrastructure to take this category online. We had to build a pricing engine, an inspection service, and used vehicle historical record service.
This year, we will continue to build infrastructure but the time has come for us to really focus on monetisation.
So in 2021, we will focus on attaching loans and insurance with every transaction. We are also introducing new algorithms, which will work on a matching principle rather than a self-discovery principle. Here, you will create your requirements and based on that, we will start getting matches, and once you like the match, you can drill down to know that vehicle more, post which a transaction can take place. This is different from classic ecommerce.
We are also placing more emphasis on doubling our penetration in the top 100 cities. We will be more aggressive in our growth this year. We are also looking to play a larger role in last mile in terms of test drive and doorstep delivery.
What's the status of the IPO plan?
We will IPO in the second half of next year. We would like to be listed on NASDAQ or NYSE.
You've raised about $125 million so far. Is there a pre-IPO round on the cards?
Yes, we will absolutely raise one round of funding between now and the IPO.
---