In 1998 when VMware launched its services, the movie Titanic was sweeping the Oscars, Friends, the popular sitcom, was in its fifth season, and a little known search engine called Google was operating out of a garage.
Twenty three years later, the Palo Alto, Californial headquartered company has survived two ownership changes and is now preparing for an imminent spin off from parent Dell. Adding to this, several top executives have exited over the past few months, the most notable being CEO Pat Gilsinger's move to chipmaker Intel.
Gilsinger's replacement, not announced yet, will have a lot on his or her plate, the most important of which will be to build on the subscription and SaaS momentum, which helped the company clock revenues at $11.8 billion for the financial year 2020-2021 (FY2021), an increase of 9% from the previous financial year, according to the company's earnings reported on Thursday.
Although VMware did not address the spinoff from Dell and new CEO at its earnings call last week, the revenue numbers are a positive sign for the company.
Meanwhile, in the short term, the interim head, Zane Rowe (the company's current CFO) will have to deal with the repercussions of a cybersecurity issue. According to threat intelligence firm Bad Packets, a code-execution vulnerability had left over 6,700 VMware servers vulnerable to attacks. Although VMware was quick to release two patches to correct the vulnerability on February 23, it could potentially be of slight concern for the company, given that VMware itself rated the severity of the issue a 9.8/10.
From the fourth quarter of fiscal 2019-2020, VMware started reporting revenues from subscription and SaaS as a separate revenue line item, breaking out components that had previously been included in its license revenue and services revenue. Subscription and SaaS revenue for FY2021 were at $2.6 billion, an increase of 38% from the previous year.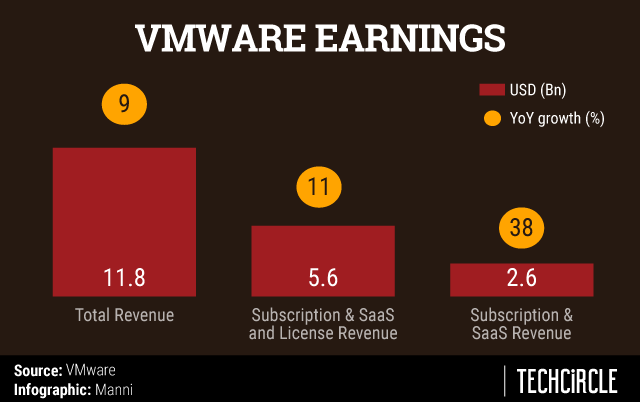 SaaS and subscriptions contribute to about 22% of the company's revenue currently.
In in the fourth quarter of FY2021, the subscription and SaaS revenue increased 27% YoY to $707 million, mostly led by growth in VCPP (VMware Cloud Provider Program), EUC (End User Computing), cybersecurity security subsidiary Carbon Black and VMC on AWS.
Apart from the above mentioned areas, the SaaS numbers also include revenues from key acquisitions by VMWare such as Pivotal, CloudHealth Technologies, VeloCloud, Wavefront, AppDefense and other 'as a service' offerings.
India plays a significant role in VMware's operations. The country has close to 7,000 employees across Bengaluru, Pune and Chennai. Back in 2018, VMware had earmarked a $2 billion in direct investment in India by 2023. The company also announced upskilling programme VMinclusion Taara to address the increasing gender gap in the technology sector in India. Courses listed under the programme are free of cost.
Cash cow -- VMC on AWS
While VMware enjoys partnerships with major cloud providers such as Azure, Google Cloud and Oracle cloud, its highest revenue generator is the partnership with AWS.
The revenues and workloads on VMware cloud have nearly doubled YoY in the fourth quarter, according to the company.
"We're also very pleased with the work that's going on with VMC on AWS. Candidly, with much of our subscription and SaaS portfolio, we think there's a great opportunity ahead," Rowe said in the earnings call.
In the backdrop of Covid-19 and the resultant economic slowdown, the company saw 35 deals over $10 million, in comparison to only 28 a year ago.
"We expect total revenue of approximately $12.7 billion or a growth rate of 8%. We expect to generate approximately $6.3 billion from the combination of subscription of SaaS and license revenue or an increase of 12% with approximately 55% of this amount from subscription of SaaS," Rowe said about guidance for FY22.
VMware launched a business group in partnership with consulting major Accenture in January 2021. The new business group will be a multi-year, multi-million-dollar investment from the two companies in the areas of sales operations and training. The company also announced an extended partnership with Monroe, Louisiana based telecommunications giant Lumen, focusing on edge computing solutions.
Dealing with competition
Understanding VMWare's offerings, the company helps customers manage functions across three categories: software-defined data centre (SDDC), hybrid and multi-cloud computing, and digital workspace—end-user computing (EUC).
The company had traditionally relied on server utilisation products for a chunk of its revenue, more specifically, through its vSphere offering, but had to move towards SDDC, network virtualisation and SaaS offerings to keep up with the surge in cloud adoption.
"Although sales of vSphere have declined as a portion of our overall business, and we expect this trend to continue, vSphere remains key to our future growth as it serves as the foundation for our newer SDDC, network virtualization and our newer subscription and SaaS offerings," the company said in its annual report for FY20.
The company has been facing competition from several fronts. public cloud providers -- such as AWS and Microsoft Azure -- have partnered with on-premises hardware vendors to deliver their cloud platform as an on-prem solution, including Azure Stack and AWS Outposts. This shift has affected VMware Cloud Provider Program - as it is a subscription plan billed to customers on a consumption basis.
Another threat to VMware's business are open source technologies for virtualization, containerization and cloud platforms, such as Xen, KVM, Docker, rkt, OpenShift, Mesos, Kubernetes and OpenStack, and other open source software-based products. IBM's Red Hat and Nutanix, with their solutions targeted at data centre solutions and private cloud, compete directly with VMware.
Key acquisitions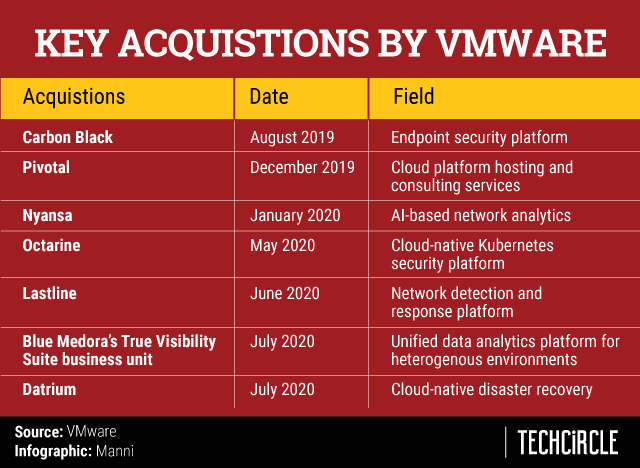 From the security perspective, VMware's Carbon Black competes against legacy antivirus solution providers such as McAfee and NortonLifeLock and next-generation endpoint security providers such as CrowdStrike.
Another key service offering is the VMware Tanzu portfolio, which made its debut in fiscal 2020. The portfolio focuses on simplifying the use of Kubernetes. A critical component of Tanzu is Pivotal, a Kubernetes company VMware bought in 2019.
"With the announcement of general availability of Tanzu Advanced edition, we now have 3 Tanzu additions in the market: Basic, Standard and Advanced. Each addition is targeted at a common customer challenge of modernizing infrastructure and applications," Rowe said on the importance of Tanzu to VMware.
"We also added container security to VMware Carbon Black Cloud, leveraging technology from our recent Octarine acquisition to provide visibility into on-prem and public cloud Kubernetes clusters," he added.
The comments from Zowe shows how the strategic acquisitions of Pivotal, Carbon Black and Octarine have helped VMware better its Kubernetes offerings through the Tanzu portfolio.
Top deck churn and a potential spinoff
The company has seen several exits in its leadership roles in the past few months Apart from Pat Gelsinger, VMware recently lost its COO to rival Nutanix. Late December, VMware sued its former COO, Rajiv Ramaswami, for alleged material and ongoing breaches of his legal and contractual duties and obligations at VMware.
It accused Ramaswami of meeting Nutanix executives in his bid for the CEO position during the same time he was tasked with building and running VMware's cloud business.
Since then, it has lost another cloud leader in Ajay Singh, who departed from VMware early January, to become chief product officer at Pure Storage.
Amid all the exits and rejigs, VMware is still without a permanent CEO. According to media reports, COO Sanjay Poonen is a top internal contender for the CEO post along with the Chief operation officer, Product and Cloud Services, Ragu Raguram.
VMware parent Dell, which controls 80.9% of VMware's outstanding common stock as of January 2020, is looking to spin off the company.
"I'm pleased to tell you that we are making progress on the potential spinoff of VMware from Dell. While our special committee of Independent Directors continues to evaluate the spin-off, we believe that it could be value-enhancing to VMware and its stockholders. We will not be commenting further on these discussions until there's more definitive news to share," a tight lipped Rowe said.
While VMware looks towards the next few quarters positively, the incoming CEO as well as the spinoff will decide the growth trajectory for the company. Right now, all eyes are on Dell as to the next steps for the spin off.
---