Automobiles have undergone a tremendous evolution and transformation in the last century, including concepts like electric vehicles and autonomous vehicles - automobile buying and selling not so much.
Here's a look at trends emerging in the space:
Digital adoption: In any country automobile industry is 8% to 12% of GDP and the largest or among the top 3 retail categories. However, unlike travel, mobile phones, electronics, fashion, food or jobs, automobiles are very low penetrated online. When we started Droom only 0.1% of automobiles in India was online and while it remains very low, it is now at 0.7%. Before Covid-19, we were estimating that online penetration for automobiles will reach 4% to 5% by 2025 but digital adoption has accelerated and we feel 6% to 8% of automobile buying and selling can shift online by 2025.
Used is the new black: Indian consumers have always been price-savvy, and love a great bargain. Given, vehicles witness a steep depreciation in the initial years, it is logical for customers to prefer used vehicles. The moment a new vehicle is pulled out from a dealership, 10% of its value is gone. In 2 years, an automobile can depreciate as high as 35%. Indian consumers are becoming more and more aware of this depreciating asset phenomena. Besides, economic uncertainty along with India scrap policy keeping vehicles longer on roads, the used automobile demand has been accelerating. Today for every new car 1.65x used cars are sold in India. When we stated Droom 6 years back, this ration was 1.2x. At 1.65 used cars sold for every nee car, the ratio is significantly lower than that of the UK at 3.3x, USA and Germany at 2.8x and Japan at 2.5x. We believe by 2025, India will cross 2.5x used cars sold for every new car.
Reducing average duration of ownership: Increasing disposable income in India has resulted in higher aspirations, leading to a reduction in the average duration of ownership. Moreover, regulatory interventions like banning the sale of diesel cars that are more than 10 years old in Delhi NCR have further reduced the average ownership in the largest automobile market in India.
Opportunity for interstate transactions: Currently, interstate automobile transactions are inconvenient and costly, thereby restricting the growth of the used vehicles market. In line with the government's reform agenda, we expect changes in the regulations which will make an interstate transfer for vehicle hassle-free, convenient, and cost-effective.
Dealership is overrated: When cars first began to become a favorable mode of transport it was important to explain even the basic features like a clutch, gear, wipers, etc. However, with cars becoming ubiquitous, many customers are now shunning a visit to the dealerships. As per a study by Google, 94% of consumers in India now research online before buying used cars.
EV is adopting all online channels and it can all online distribution: EV OEMs are increasingly adopting the online-only approach, as it is in line with their focus on avoiding the costs associated with physical centers, and investing in the R&D. Elon Musk in 2019, announced plans to reduce headcount in sales, and closing most of its stores and instead sell cars online only.
Traditional OEMs adopting online: Even the traditional OEMs are now rationalizing their physical presence, and are focusing on building an online presence. In the recent past, OEMs have also partnered with digital platforms like Droom for new vehicle launches.
Vehicle ownership is in vogue vs. public transportation or ride-sharing: Preference for private ownership of vehicles accelerated significantly in 2020, primarily due to increased focus on personal safety on account of COVID-19. As per BCG, 70% of car owners now prefer private/ owned cars and seek to avoid public/ shared transport for daily commute post-Covid-19.
Premiumization: Over the years, rising income levels have translated into premiumization of both 2w and 4w. Scooters are ~Rs 5-10K more expensive compared to entry-level bikes, yet they account for 40%+ of sales from just 10% in 2010. Within bikes too, premium segment bikes have grown from 19% total bike sales to 24% of total bikes. Even in 4w, the mix-shift towards SUVs is very apparent with SUVs now accounting for 35% of the sales vs. just 16% in 2005.
Customer is becoming more demanding and aware: As Indian consumers have adopted online commerce (grocery, fashion, electronics, etc.), they have become more savvy and aware about how to use the information available online (like reviews, pricing, etc.) to make an informed choice. This coupled with our ecosystem services has given a fillip to online adoption in the used automobile segment.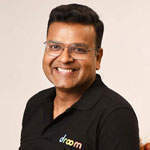 Sandeep Aggarwal
---
Sandeep Aggarwal is a serial entrepreneur is the founder and CEO of Droom. The views in this article are his own.
---