Zomato IPO: Taking a leaf out of Amazon's optics playbook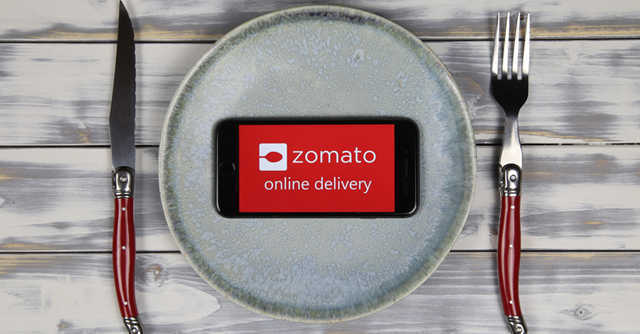 As food delivery unicorn Zomato emerges out of what was probably the biggest stress test of a century for startups and is going full steam ahead on its IPO plans, ecommerce giant Amazon's initial years at the public market and its subsequent outsized success offers it a playbook on how to leverage optics for growth.
Gurugram-based based Zomato, like its rival Swiggy, was enjoying spectacular growth until 2020 when Covid-19 induced lockdown decelerated business. Responding to an unprecedented situation, both companies had to tap into other revenue streams to cushion the bottom line.
With the public outing, CEO Deepinder Goyal-led Zomato could end up scripting a rare resurgence story in the Indian startup ecosystem.

While the IPO's initial success will depend more on institutional rather than retail investors, Zomato will need to build a growth narrative to move its stocks for a few years before reaching profitability.
Read: How the numbers stack up in the Swiggy versus Zomato foodtech battle
Looking at its last-reported numbers, Zomato is on the right track.

The 13-year-old company is growing a lot quickly and losses are falling. Revenues have doubled to Rs 2,336 crore for the financial year 2019-2020 (FY20) from Rs 1163 crore in the previous fiscal, of which 90% fall under its primary revenue sources including advertisements, commission, and subscription offering Zomato Gold (now Zomato Pro).
In July last year, Zomato said it expects its monthly burn rate to be less than $1 million, which marks a significant decrease from an estimated $50 million monthly burn in early 2019. It enforced two rounds of layoffs to reduce about 13% of its 4,000-strong workforce among other cost-cutting measures including make partial and full remote work a permanent feature.
Game of optics

Amazon, which was then a money-losing online bookseller, went public on May 15, 1997 and continued to bleed for its first several years as a public company. The sole focus for founder Jeff Bezos was growth over profitability. However, he also made sure the company didn't lose so much capital that it was labeled as a perennial money loser. Bezos expanded his businesses to new horizons, which kept its cash flow rolling and gave it enough dry powder to keep ahead of competition, recover from experimentations like Fire Phone and try new revenue paths.
Persistence paid off as it gradually become not so difficult to convert this cash flow into profits and reported its first quarterly profit in the fourth quarter of 2001, about four years after the IPO.
Subsequently, the Seattle-based firm became nearly synonymous with e-commerce while establishing strong business units in other sectors such as cloud infrastructure, streaming services, consumer devices, advertising business, and beyond.

Amazon's success over the past two decades offers a playbook for Zomato.
Launched as a restaurant guide in 2008, Zomato's mainstay today - food delivery – is a relatively recent venture. Although it began food delivery services in 2015, it was mostly fulfilled by restaurant partners. The acquisition of Runnr in 2017 strengthened its delivery fleet capacity and elevated the service quality to match up to its rival Swiggy.
Today, as it readies to list on the public market, the relatively young and untapped market is its largest bet. According to a 2020 report by Google and Boston Consulting Group (BCG), India's online food industry is expected to growing at a CAGR (compound annual growth rate) of 25-30% to become an $8 billion market by 2022. Therefore, the real hyper-growth years are yet to arrive for food delivery firms, which gives the company a strong base and enough time for expansion and experimentations while being listed.

"If they say they lose money on every order, people wouldn't value the company. Deepinder will smartly play up the numbers, in terms of optics. The optics will always be surrounded around monthly order growth, daily active user growth during festivals or special events, higher AOVs, economies of scale, new verticals and growth areas, various subscription plans, and a path to profitability. The optics will play a key part," an investor heading an early-stage venture capital fund, told TechCircle.
The intent is clear. Goyal, in an internal email to employees back in September, said the company is working on its IPO and is raising a war-chest to "future M&A, and fighting off any mischief or price wars from our competition in various areas of our business." The company subsequently went on to raise over $1 billion from a consortium of global marquee investors, at a valuation of $5.4 billion.
Zomato is expected to go wider and deeper in its primary business of food delivery while it is expected to explore all possible opportunities to improve the optics and demonstrate a clear path to profitability to keep its retail investors excited about its share prices.

"We shouldn't be looking at all the companies with the same lens. It's not fair. These are high-growth companies, they are not profitable right now, just like Amazon took its time to get to profitability. Institutional investors understand this. Will the retail investors understand this? My question is - how many retail investors are concerned about it? How many of them really open the annual reports and read it? They identify the brand, the sector is familiar and simple to understand, I don't think they care too much about profitability," an investor in Zomato who wished to remain anonymous, said.
Zomato has periodically retreated from its many attempts at diversification, including grocery delivery, subscription programme Zomato Treats, loyalty program Piggybank, and cloud kitchens (Loyal Hospitality). Yet, it has a bunch of products to improve its optics, some that lie in close adjacency to its primary business, such as corporate catering arm TongueStun, farm-to-fork business unit Hyperpure, discovery and dining out, subscription package Zomato Gold (now Zomato Pro), and some in totally unrelated sectors like its recent acquisition of sports facilities startup Fitso.
"It's not a winner takes all market. Zomato was not a food delivery firm, they changed and did it. It's a never say never market. Even Deepinder doesn't know if he's going to stick to this strategy or change it, you have to be agile. These are tactical things. In the long terms, we will see what happens," he said.
On the menu – a hot IPO
Food industry related IPOs have been well received in India. Jubilant Foodworks, which runs the Indian unit of Domino's Pizza; Westlife Development, which operates McDonald's outlets in southern and western India and most recently Burger King India and Barbeque Nation have all grown their valuations with IPOs.
Unlike a Burger King, an online food retail company such as Zomato enjoys a much wider reach and growth potential. Retail investors understand food, rely on its stable demand and the segment has high repeat purchase rates, making it a viable bet.
Zomato might also benefit from being a home-grown technology-led retail company, used on a daily basis and a known brand, which could tempt retail investors to overlook unit economics.
Also, the exposure to a consumer tech company can lure retail investors, who see how internet companies do well in foreign markets.
"If you get into the mind-set of a retail investor, he basically is clueless because he doesn't know what to do with his cash. He wants new avenues to making money. He doesn't have access to startup investing, also he can't cut an Rs 25 lakh check. When he looks at a brand like Zomato, he gets enamoured by the fact that he's buying into a tech company, which is currently the flavour of the season. There is an inherent aura created around technology companies of which there is food, which everyone pretty much understands," the VC told TechCirle.
Besides, the public market success of global online players like DoorDash in the US, Meituan in China and Delivery Hero in Europe adds power to Zomato's IPO ambitions.
Institutional investors, who are in it for the long haul, also wouldn't want to miss out on making the first bet in an unconquered market for the world.
The Info Edge factor
The backing of Info Edge, the largest public listed internet company in India, is an advantage that would be of great value to Zomato's IPO run. Sanjeev Bikhchandani-founded Info Edge first invested about Rs 5 crore in the company in August 2010 and subsequently did several follow on to hold shares worth over Rs 7000 crore in the company today.
"There is a man at Info Edge who understands optics better than anyone else does. This guy knows how to sell stories and knows global investors. In a tag team of him with Deepender in front., there is no way as a large fund you will not buy into this IPO. On the other hand, retail investors will get smitten by this story of an everyday food-tech company promoted by Info Edge," the VC said.
According to a media reports, Zomato looks to raise about $750 million to $1 billion through the IPO. Info Edge brings some of the largest global and Indian private equity funds to the game including Schroders, Matthews, Amansa, Ward Ferry, Vanguard and Nalanda, who along with other institutional investors, are expected to fuel initial success for the IPO.
Listed on BSE in 2006, Info Edge's stock has grown about 16 times in the last 10 years. It recorded a net profit of Rs 69.87 crore for the third quarter of financial year 2019-20. The billing for the quarter stood at Rs 297 crore, down 1% as compared to the corresponding quarter in the previous financial year, indicating recovery from loss of business due to Covid-19 pandemic. The company is today valued at about Rs 61,000 crore market cap.
The Noida headquartered internet company operates recruitment solutions business including jobs portal Naukri.com, real estate business 99acres.com, matrimony services provider jeevansathi.com and education related services under Shiksha.com.
"Info Edge has been able drive a lot of scale with different vertical internet players and with their investments along the way, they continued to improve the performances of those businesses significantly. Zomato had that journey with Info Edge for a number of years before they diversified their investor base. To us, this is a great methodical journey," Pravin Advani, Managing Partner at SA Global Advisors, said.
---