The terms fintech and SaaS are fast becoming popular in current times as we head towards a pivotal shift in the financial and banking sector. These two technologies have emerged as the knights in shining armor to an inept and archaic economic and business infrastructure.
Since time immemorial, the banking and business sectors have struggled to service their clients quickly due to the legacy of primaeval banking systems that are slow and create roadblocks for quick customer service. To illustrate, earlier customers and employees would have to wait for an indefinite period for something as basic as salary processing and money transfers. However, the advent and use of fintech has revolutionised this process and made it so easy that with just a simple click, money can reach another account in a fraction of a second.
There are several such examples wherein fintech SaaS has played a significant role in transforming and revitalising the financial and business sectors.
As per a study, India has emerged as the largest hub for fintech globally, with an adoption rate of 87% compared to the global average of 63%. This could be attributed to banks and businesses increasingly realising the prowess that fintech as SaaS holds and how it can simplify the intricate banking processes and complex business operations.
Fintech has emerged as a disruptor in the financial world, and one of the pertinent sectors where it has propelled a sweeping change is the digital payments system. The adoption of fintech in this realm has made transactions, payments and fund routing seamless and handy for their customers.
When it comes to banks, their collaboration with fintech SaaS platforms has not only led to the upgradation of services and value addition for customers, but has also led to banks incorporating AI (artificial intelligence) technologies such as ML (machine learning) and blockchain which offer comprehensive banking security to customers.
As per a survey in the United States, one out of three individuals suggested that they would change their banking partner every 90 days in the hope of better service. This statistic suggests that customers are no longer sticking to traditional banking in favour of fintech firms which provide convenience, immediacy and agility while ensuring end to end data security, making SaaS platforms quite a hit with new-age and Gen Z customers. This has led to a paradigm shift from physical banking to digital-only transaction platforms globally.
At a time when fintech platforms offer financial solutions at the press of a button, using old-school methods of fund and payments transfer is nothing but harrowing not only for customers, but also for banks. Further, the increasing use by fintech companies of voice assistants and bots to automate processes such as client on-boarding, customer engagement and renewals and detect frauds is disrupting the regular banking processes.
Moreover, fintech SaaS is highly economical and the IT costs are considerably low. The plug and play panaceas offered by fintech platforms facilitate seamless incorporations of new features and services. The concept of open banking too is evolving which is enabling traditional banks to add value to their services through data sharing and prudent partnerships. Banks that are quick enough to embrace all of these new age technologies are the ones who are able to plant themselves as unique, agile and nimble in front of their customers.
This makes it vital for banks to adopt SaaS platforms, not only for a hassle-free customer experience but also to compete in the market.
Apart from banking, businesses and large institutions that have adopted fintech SaaS have seen a radical change in their operations in their daily functioning and there are numerous advantages of incorporating this software.
To begin with, fintech SaaS eases the process of managing business activities and makes them scalable and agile. Second, this software acts as a one-stop solution for businesses and large-scale enterprises to consolidate their financial operations under one platform thereby help them cut additional overheads such as IT and human resources. Third, the use of fintech SaaS offers businesses real-time data and insights at the fraction of a cost, which allow them to make quick and sensible decisions to take advantage of favourable market conditions for their product or service.
Lastly, the use of such software, via its gamut of features, not only allows companies to manage their financial operations but also integrate employee expense management and rewards and recognition system; all of which simplifies and transforms the whole financial process.
And when it comes to its use in operations, fintech SaaS is extremely simple and doesn't require any additional technological investment, as it is pre-configured and requires primary know-how of technology.
To summarize, fintech SaaS as a whole has opened up a world of opportunities for banks and businesses, enabling them to offer enhanced customer service, make good profits and stand out in the crowd of traditional banks and businesses. All of this has resulted in increased interest, growth, and adoption of fintech SaaS in the present times. As per BCG and FICCI, the Indian fintech market is likely to reach a valuation of $150-160 billion by 2025, which wouldn't be surprising, considering the phenomenal job the fintech sector in India is doing.
Besides, with new fintech companies with their unique prepositions entering the market, it is understood that they will be incomparable to traditional banking and business services.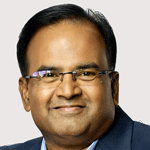 Raj N
---
Raj N is founder and chairman of Zaggle and ZikZuk. The views in this article are his own.
---