Mukesh Bansal backed spacetech startup Skyroot raises Series A led by Greenko founders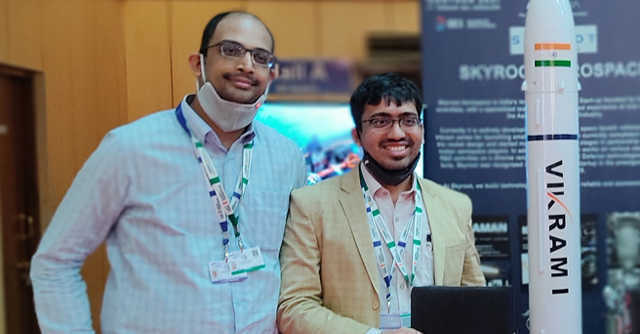 Skyroot Aerospace has raised $11 million in a Series A funding round as the homegrown spacetech startup prepares for get its first launch vehicle, Vikram-1, off the ground. The round was led by Anil Chalamalasetty and Mahesh Kolli, founders of renewable energy company Greenko Group.
Curefit founder Mukesh Bansal, an existing investor, former WhatsApp CBO Neeraj Arora, space and defence supplier Solar Group, Graph Ventures and Sutton Capital were among the other investors who participated in the round, the Hyderabad, Telengana based startup said in a statement. Solar Group, along with Chalamalasetty and Kolli will join the Skyroot board following the investment round.
The startup also outlined plans to raise a further $40 million to finance its growth plans. It raised a 1.5 million seed round earlier from Mukesh Bansal backed incubator Meraki Labs.

"This round adds more fuel to our rocket programme and will support in completing development and testing of all subsystems of our first launch vehicle Vikram-1 and strengthening our world class team" Skyroot co-founder and CEO Naga Bharath Daka said.
Founded in 2018 by former ISRO scientists Daka and Pawan Kumar Chandana, has carried out initial rocket stage tests and plans to take its first launch vehicle, Vikram I, to the skies by December 2021. It will start booking for launches in the middle of next year and said it is actively engaging with global customers. The startup currently has a team of more than 70 rocket engineers and has been working on the Vikram series for the past two years.
In February this year, the ISRO's Department of Space signed a non-disclosure agreement (NDA) with Skyroot to share its facilities and offer technical expertise. The collaboration will provide the startup resources to develop, test and launch private satellite launch vehicles.

The same month, the startup announced a partnership with Bellatrix Aerospace. The partnership will allow Skyroot to use the Bengaluru based startup's orbital transfer vehicle (OTV) technology for its Vikram series of rockets.
---